The degree of Master of Philosophy (MPhil) entails a longer research programme than the MA by Research, allowing greater scope for subject, methods and critical enquiry. It continues for at least eighteen months of full-time study. For many it is a bridging stage between study at masters and at doctoral level.
Find out more about the MIRIAD Research Degrees Programme at Manchester School of Art at www.art.mmu.ac.uk/postgraduate/research
18 months full-time, 36 months part-time
Features and benefits of the course
MIRIAD is the home to Manchester School of Art's interdisciplinary research degree programme in the practices, professions, histories and theories of art, design and architecture. It continues the proud 175-year tradition in art and design education established by the original Manchester School of Art.
MIRIAD collaborates with the cultural industries and centres of art education, creative arts organisations and galleries on a local, national and global level. It has one of the largest communities of researchers and postgraduate students in the practices, theories and professions of art and design in the UK.
Staff within the School are practicing professionals and researchers in their fields, either as creative artists and designers, or through theoretical approaches to their subject. Particular strengths are in Arts and Health, Asian Cultures, digital arts and contemporary ceramics and textile arts practice, but our researchers span the full reach of art, design, architecture and media research.
As research student you will study in a well-established research environment that encourages  innovative research. You will be supported by:
A supervisory team of normally three academic members of staff
If appropriate, multi-disciplinary supervision
Training in practice as research and writing workshops
Skills development opportunities with outside organisations
Online support workshops
About the course
Please refer to the MIRIAD Research Degrees Handbook available to download from www.art.mmu.ac.uk/postgraduate/research
Programme Review
Each programme of study that we offer undergoes an annual review to ensure an up-to-date curriculum supported by the latest online learning technology. In addition, we undertake a major review of the programme, normally at 6-yearly intervals, but this can take place at a more frequent interval where required. Applicants should note that the programme currently provided may be subject to change as a result of the review process. We only make changes where we consider it necessary to do so or where we feel that certain changes are in the best interests of students and to enhance the quality of provision. Occasionally, we have to make changes for reasons outside our control. Where there are changes which may materially affect the current programme content and/or structure, offer holders will be informed.
Teaching Staff
Your studies are supported by a team of committed and enthusiastic teachers and researchers, experts in their chosen field. We also work with external professionals, many of whom are Manchester Met alumni, to enhance your learning and appreciation of the wider subject. Details of departmental staff can be found at: http://www.art.mmu.ac.uk/staff/
Why study in Manchester?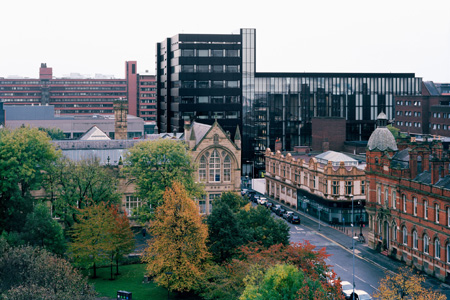 Based in the heart of Manchester, a vibrant and multicultural city, Manchester School of Art is a pioneer of art and design education in the UK. As the second oldest design school in Britain, established to provide design training to the manufacturing industry, we offer undergraduate, postgraduate and research courses that are still very much influenced by the specialist needs of industry to provide our students with the essential skills and knowledge for their chosen pathway.

Today MIRIAD is the home to the School's interdisciplinary research programme, continuing the proud 175-year tradition in art and design education established by the original Manchester School of Art, which first awarded research degrees in 1968.

Research students are based on the University's main campus, providing them with access to a range of high quality facilities, including those of the School of Art. A dedicated space has been created for research students, offering them the environment they need to explore their subject area and work easily with a highly respected staff team.
Students benefit from being just a short walk from the City Centre, where inspiration is at every corner.
Manchester
Described as the media and cultural hub of the North, Manchester is the place where culture, commerce and life run shoulders easily.
The School of Art at Manchester Met' University is perfectly positioned to benefit from Manchester's dynamic and evolving creative scene. Within recent years many cultural and creative agencies have chosen Manchester and Greater Manchester as their base, providing excellent opportunities for the School of Art and its students.
A city of innovation, Manchester continues to lead the way in culture, music and sport.
For culture, Manchester hosts numerous events throughout the year, including the biennial International Festival, which is acclaimed for introducing original work to a global audience and has recently enjoyed its fourth run in the City.
A world-renowned music scene, Manchester is also responsible for introducing the world to the, now legendary, music of The Smiths, The Stone Roses and Oasis to name a few, and emerging new talent such as Money, Delphic and Everything, Everything.
The City can also lay claim to its fair share of sporting accolades. Home to, arguably, two of the best football teams in the world, Manchester also boasts world-class sporting facilities including the national cycling centre, which was an Olympic 2012 training track, and the Manchester Aquatics Centre, built for the Commonwealth Games 2002 and was the training pool for the British Paralympics swimming team.
With such strong credentials and as one of Europe's most extensive higher education centres, Manchester is undoubtedly a popular choice for students. It has a unique identity and a diverse population, attracting students from around the globe, each adding to the sense of a place where anything is possible.
There's further information for international students on our international website if you're applying with non-UK qualifications.
How do I apply for this course?
Career options after the course
Opportunities may exist in further and higher education; arts administration; the creative industries and associated professions; teaching; art, design, craft and new media professions.
Confirmation of Regulator
The Higher Education Funding Council for England is the principal regulator for the University.
Important Notice
This online prospectus provides an overview of our programmes of study and the University. We regularly update our online prospectus so that our published course information is accurate and up to date. Please note that our programmes are subject to review and development on an ongoing basis. Changes may sometimes be necessary. For example, to comply with the requirements of professional or accrediting bodies or as a result of student feedback or external examiners' reports. We also need to ensure that our courses are dynamic and current and that the content and structure maintain academic standards and enhance the quality of the student experience.
Please check back to the online prospectus before making an application to us.
The provision of education by the University is subject to terms and conditions of enrollment and contract. The current Terms and Conditions Applicable to the provision of the University's Educational Services are available online. When a student enrolls with us, their study and registration at the University will be governed by various regulations, policies and procedures. It is important that applicants/students familiarize themselves with our Terms and Conditions and the Key Contract Documents referred to within. Applicants will be provided with access to an up to date version at offer stage. This can be found within the Information for Offer Holders document.