This innovative course focuses on the development of a significant experimental animation production that synthesises research undertaken in areas such as drawing, live-action, drawing on film, under camera manipulation, stop-frame animation, pixilation and sound as art. A strong independent research base will underpin individual practice.
Challenging the parameters of film and video production, and identifying new approaches to the notion of art films will be encouraged, as will incorporating experimentation in production and post-production stages.
Find out more about this course and view student work at www.art.mmu.ac.uk/ma-mfa-animation
MA - 1 year full-time, 2 years part-time · MFA - 2 years full-time, 4 years part-time
UK and EU students
UK and EU students: Full-time fee: £1542 per 30 credits per year. Tuition fees will remain the same for each year of your course providing you complete it in the normal timeframe (no repeat years or breaks in study).
UK and EU students: Part-time fee: £1542 per 30 credits studied per year. Tuition fees will remain the same for each year of your course providing you complete it in the normal timeframe (no repeat years or breaks in study).
Non-EU and Channel Island students
Non-EU international and Channel Island students: Full-time fee: £2584 per 30 credits per year. Tuition fees will remain the same for each year of your course providing you complete it in the normal timeframe (no repeat years or breaks in study).
Non-EU international and Channel Island students: Part-time fee: £2584 per 30 credits studied per year. Tuition fees will remain the same for each year of your course providing you complete it in the normal timeframe (no repeat years or breaks in study).
Additional Information
A Masters qualification typically comprises 180 credits, a PGDip 120 credits, a PGCert 60 credits, and an MFA 300 credits. Tuition fees will remain the same for each year of study provided the course is completed in the normal timeframe (no repeat years or breaks in study).
Specialist Costs
Optional Estimate: £1,000
Placement Costs
Optional Estimate: £100
Professional Costs
Other Costs
Optional Estimate: £100
Features and benefits of the course
Animation is part of the Department of Media at Manchester School of Art which has an established community of interdisciplinary staff, and research students with expertise in fields that include Animation, Filmmaking, Photography, Media Theory and Multimedia Digital practices.
The Department promotes a blending of arts practices responsive to current cultural and digital industries demands; inspiring students to engage with real world scenarios through creative and imaginative responses.
It has developed a framework that fosters interesting and diverse approaches to engage with external partners within the city, the region, nationally and internationally. Recent partners include HOME, BBC (Media City), CITV, Manchester City and Regional Art Galleries, Open Eye Photography Gallery, Red Eye Photography Network, International Anthony Burgess Foundation and international partnerships in China, India, Brazil, Russia and Europe.
Core to all of the teaching and research in the Media department is the continuing exploration of new modes of expression through digital technologies and support students in developing a robust and individual creative practice that has relevance to a diverse range of cultural industries.
About the course
The MA Animation is made up of four units totalling 180 credits.
The programme is designed to help you acclimatise to the challenges of MA level research and practice, enabling you to identify and describe a clear direction for your postgraduate design study.  
You will be encouraged to develop design propositions that encompass key design issues and have complexity and ambition, taking full consideration of the relative contextual drivers.
You will also be encouraged and supported to extend your experience in the professional sphere, either through a practical project, research context, exchange, work experience, or other negotiated professional set of interactions with an external partner, groups of students and creative industry.  
Towards the end of the programme you will undertake a major project to consolidate your past research and practice into fully realised collections, pieces, proposals, business plans, or exhibitions – whatever means is appropriate to the work.  ou will also have developed a strategy for the continuation of your practice located and contextualised to the profession or discipline.
If you choose to progress to MFA Animation award you will study a further two units of 60 credits each.
This route is focused on the continuation of your practice aligned to the research and selection of appropriate public or professional venues and platforms to disseminate a significant body of work. You will be required to produce work for a public audience in the most relevant and appropriate form along with any implicit publicity and dissemination material.
Typical units of study may include
Year 1
The MA Animation is made up of four units totalling 180 credits.
Core Units
Practice 1 Media: Project Synopsis and Development
The unit will develop the outline and first framework for a future large-scale project by investigating a range of practical research methods, and experimenting and exploring with the innovative application of related media and theory content, through visual and theoretical outputs and display forms. This unit explores the pre-production and prototyping phase of the specialist creative process and project development.
Practice 2 Media: Animation Major Project
This unit builds upon the previous practice 1 unit and provides an opportunity to complete the animation ready for screening. Within this unit students will be expected to resolve a comprehensive understanding of individual and/or collaborative animation practice, its place in relation to the broader related discipline and the potential professionalization and sustainability of their future practice.
Professional Platforms
This unit extends your experience into the professional sphere, either through a practical project, research context, exchange, work experience or other negotiated professional set of interactions with an external partner, groups of students and creative industry. Projects and placements take place in a set network of art, design and media organisations in the region, but can also be arranged by individual students if based on similar frameworks of professional development and experience. The PDP also takes place in this unit.
Likely Optional Units
Commercial Aspects of Design
This unit includes topics such as market research and service design; consumer behaviour – needs and attitudes; diffusion of innovation; commercial aspects of product design including bringing product to market eg production and distribution channels, costing and pricing, and advertising and promotion.
Contested Territories
This unit will address the contested nature of the conceptual and material territories upon which human identities and cultures are developed.
Digital Futures
This unit offers focused opportunity for students to extend and enhance their practice by including, exploring and developing digital content in a wider research community.
Health and Wellbeing
This unit focuses on public health and wellbeing with an emphasis on Inequalities; Prevention; Promotion and Protection. By building on the strong legacy of art/design in clinical environments, this unit will expand your understanding of theory and practice in the emerging public health agenda and through real-life research opportunities, will offer exploration of individual practice in diverse contexts: eg mental health, long-term conditions, healthy ageing and proactive wellbeing.
Images and Archives
This unit explores theoretical, critical and practical perspectives on art, photography and the archive.
Making Our Futures - Ecological Arts and Sustainable Design
This unit will address the future conceptually, tangibly and critically through ecological arts and sustainable design practices. Adopting a 'question-based learning' approach to 'real world' challenges, students will consider the potential to intervene into and re-invent social and cultural lifestyles, economics, technologies, and their impact on Climate Change, species extinction, natural resources depletion and diminishing civic services. How will we make our futures? How can arts and design promote resilience for adaptation?
Negotiated Study
This unit offers you an individual focused opportunity to extend and enhance your practice by including a self-negotiated study. This will enable students to:
Extend ideas and proposals developed in Practice 1
Facilitate a deeper level of learning in a particular workshop or subject discipline, or conceptual paradigm
Pursue an external project or competition brief appropriate to your practice.
Object and Context
This unit will introduce you to notions, ideas, principles and practices concerning objects. A series of delivered lectures, seminars and workshops will discuss and explore the role of objects in design. It will enable the location of these ideas into individual or collaborative practice and give experience of individual and collaborative practice.
SciArt
You will learn about the interdisciplinary field of SciArt by developing a body of personal work that is technically proficient and intellectually resolved.
The Museum and the City - The City as a Museum
The unit explores the relationship between the museum and the city and the city as museum. Attention shifts between theoretical and historical models, as well as making use of specific locations and institutions within the city.
Writing Research and Funding Proposals
An introduction to writing proposals to funding bodies such as the Arts and Humanities Research Council (AHRC) and Arts Council England (ACE). This unit will cover such topics as: generating fundable ideas; developing critical and conceptual frameworks; establishing credible methodologies and approaches; awareness of the the parameters of the North West Consortium Doctoral Training Partnership, AHRC and ACE; the importance of collaboration; working in groups, public engagement and impact; presenting ideas to the group, giving and receiving informed criticism; developing an effective writing style; structuring proposals and writing to length; writing a budget and the importance of cost-effectiveness and match-funding; time management; familiarity with Je-S.
Year 2
The MFA Animation continues with the following two units totalling 120 credits.
Core Units
MFA - Practice 3: Contextualising
This unit is centred on continuation of your practice aligned to the research and selection of appropriate public or professional venues or platforms with which to disseminate a significant body of work. Through the unit you will be asked to approach, propose, negotiate and progress a plan for the dissemination of your body of work.
MFA - Practice 4: Realisation and Publication
This is the final unit towards an MFA award in which you are required to realise a significant body of work for a public audience in whatever form is most appropriate along with any implicit publicity and dissemination material. Work at this level is significantly self-determined and as such you will be asked to define and appraise your own learning outcomes through negotiation.
Programme Review
Each programme of study that we offer undergoes an annual review to ensure an up-to-date curriculum supported by the latest online learning technology. In addition, we undertake a major review of the programme, normally at 6-yearly intervals, but this can take place at a more frequent interval where required. Applicants should note that the programme currently provided may be subject to change as a result of the review process. We only make changes where we consider it necessary to do so or where we feel that certain changes are in the best interests of students and to enhance the quality of provision. Occasionally, we have to make changes for reasons outside our control. Where there are changes which may materially affect the current programme content and/or structure, offer holders will be informed.
Additional Information About this Course
There are variations to the standard University Assessment Regulations on this course. Progression on to the MFA requires at least a 50% pass of the 180 credits of MA units that constitute the first 180 credits of the MFA award. There are also limitations on re-sits in the MFA units. The MFA units are assessed as Pass or Fail and do not count towards the final MFA Award classification.
Teaching Staff
Your studies are supported by a team of committed and enthusiastic teachers and researchers, experts in their chosen field. We also work with external professionals, many of whom are Manchester Met alumni, to enhance your learning and appreciation of the wider subject. Details of departmental staff can be found at: http://www.art.mmu.ac.uk/staff/
Why study in Manchester?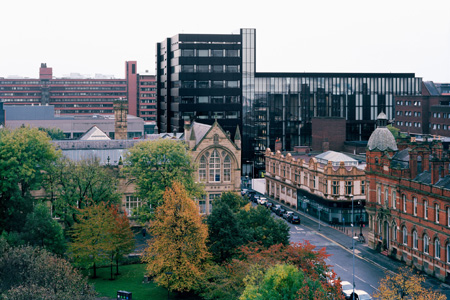 Manchester School of Art
Based in the heart of Manchester, a vibrant and multicultural city, Manchester School of Art is a pioneer of art and design education in the UK, celebrating our 175th Anniversary in 2013. As the second oldest design school in Britain, established to provide design training to the manufacturing industry, we offer undergraduate and postgraduate courses that are still very much influenced by the specialist needs of industry to provide our students with the essential skills and knowledge for their chosen career.
At postgraduate level we have designed a network of art, design and media courses that are intellectually engaging and professionally focussed. Students of the network have a range of opportunities available to them, including the chance to collaborate across disciplines, work with leading practitioners or connect their work to key research themes.
The postgraduate studios are located at the heart of the School, providing a sense of community and easy access to an extensive range of workshops and facilities. Equipment available ranges from the traditional to state of the art, and has recently seen significant investment.
The School is just a short walk from the City Centre, where inspiration is at every corner.
Manchester
Described as the media and cultural hub of the North, Manchester is the place where culture, commerce and life rub shoulders easily.
The School of Art at Manchester Met' University is perfectly positioned to benefit from Manchester's dynamic and evolving creative scene. Within recent years many cultural and creative agencies have chosen Manchester and Greater Manchester as their base, providing excellent opportunities for the School of Art and its students.
A city of innovation, Manchester continues to lead the way in culture, music and sport.
For culture, Manchester hosts numerous events throughout the year, including the biennial International Festival, which is acclaimed for introducing original work to a global audience with the 5th festival running in 2017. The art scene is also thriving with the award winning Whitworth Art gallery bringing world renowned artists to the city and new gallery spaces/studios opening regularly. 
A world-renowned music scene, Manchester is also responsible for introducing the world to the, now legendary, music of The Smiths, The Stone Roses and Joy Division to name a few, and emerging new talents playing across the city every night of the week.
The City can also lay claim to its fair share of sporting accolades. Home to two the biggest football teams in the world, Manchester also boasts world-class sporting facilities including the national cycling centre, home of Team GB, and the Manchester Aquatics Centre, built for the Commonwealth Games 2002 and was the training pool for the British Paralympics swimming team.
With such strong credentials and as one of Europe's most extensive higher education centres, Manchester is undoubtedly a popular choice for students. It has a unique identity and a diverse population, attracting students from around the globe, each adding to the sense of a place where anything is possible.
Typical entry requirements
You will normally have an undergraduate UK honours degree or international equivalent or a degree-equivalent postgraduate diploma or a professional qualification. Alternatively, you may be admitted if you can demonstrate appropriate knowledge and skills at honours degree standard. In addition you also need to submit a Digital Portfolio.
There's further information for international students on our international website if you're applying with non-UK qualifications.
How do I apply for this course?
The quickest and most efficient way to apply for this course is to apply online. This way, you can also track your application at each stage of the process.
If you are unable to apply online, you can apply for full- and part-time taught courses by completing the postgraduate application form. There are exceptions for some professional courses – the course information on our on-line prospectus will give you more information in these cases.
Please note: to apply for this course, you only need to provide one reference.
Career options after the course
We cultivate highly motivated, independent and creative thinkers who can transfer their skills into the creative marketplace, as entrepreneurial innovators, freelance practitioners and innovative team players. Past graduates predominantly achieve graduate-level positions or practise as sole traders, design studio artists, exhibiting artists, museum curators, archivists, researchers, academics, community practitioners, specialist technicians and filmmakers at national and international levels.
Confirmation of Regulator
The Higher Education Funding Council for England is the principal regulator for the University.
Important Notice
This online prospectus provides an overview of our programmes of study and the University. We regularly update our online prospectus so that our published course information is accurate and up to date. Please note that our programmes are subject to review and development on an ongoing basis. Changes may sometimes be necessary. For example, to comply with the requirements of professional or accrediting bodies or as a result of student feedback or external examiners' reports. We also need to ensure that our courses are dynamic and current and that the content and structure maintain academic standards and enhance the quality of the student experience.
Please check back to the online prospectus before making an application to us.
The provision of education by the University is subject to terms and conditions of enrollment and contract. The current Terms and Conditions Applicable to the provision of the University's Educational Services are available online. When a student enrolls with us, their study and registration at the University will be governed by various regulations, policies and procedures. It is important that applicants/students familiarize themselves with our Terms and Conditions and the Key Contract Documents referred to within. Applicants will be provided with access to an up to date version at offer stage. This can be found within the Information for Offer Holders document.