Manchester Metropolitan's degree apprentices recognised for outstanding work and commitment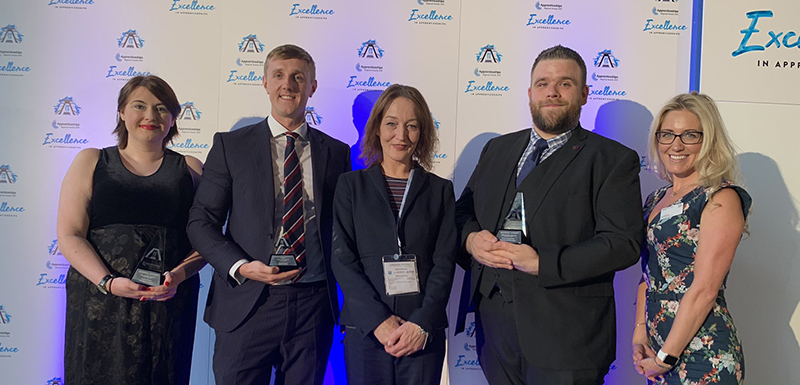 Two degree apprentices from Manchester Metropolitan University have picked up awards at the regional finals of the National Apprenticeship Awards.
Aaron Oreschnik and Sarah Herdan were presented with the "Higher or Degree Apprentice of the Year" and "Apprenticeship Champion of the Year" awards respectively, at an awards ceremony in Liverpool this week.
Fellow Degree Apprentice Howard Jackson was also nominated for the "Higher or Degree Apprentice of the Year" and was highly commended by the judges in a highly competitive group of finalists.
Aaron, who balances his managerial role at Pizza Hut Restaurants with his studies on Manchester Metropolitan's Chartered Manager Degree Apprenticeship, was given the award for the outstanding contribution made in his organisation since beginning his apprenticeship.
Aaron said: "I am deeply honoured to have won this award. I can't quite believe it if I am honest. These awards are so important in putting a spotlight on apprenticeships and it was great to hear about the experiences and stories of other apprentices and employers.
"It has been an amazing experience and I would like to thank Pizza Hut Restaurants and Manchester Metropolitan for their continued support throughout my studies."
Championing apprenticeships
Sarah, who also studies on Manchester Metropolitan's Chartered Manager Degree Apprenticeship alongside her full-time role as an Economy, Work and Skills Officer at Stockport Council's Apprenticeship Store, was recognised for going above and beyond in proactively championing apprenticeships as an excellent career route.
Sarah said: "I'm delighted to have won this award and for the National Apprenticeship Service to recognise the value in an accessible, flexible approach to apprenticeships.
"Manchester Metropolitan supported me in returning to my apprenticeship after a period of absence and it's exactly that sort of attitude that allows people to succeed despite the barriers they're facing."
Now in their 16th year, the National Apprenticeship Awards showcase the diverse range of sectors engaged with apprenticeships and the success stories of those who have embraced apprenticeships.
Both Aaron and Sarah will now go on to national final, which takes place on Wednesday, November 27, in London.
Pioneering programmes
Liz Gorb, Director of Apprenticeships at Manchester Metropolitan University, said: "Congratulations to Aaron, Sarah and Howard on their recognition at such a prestigious awards ceremony.
"This is a testament to their hard work and commitment to our pioneering Degree Apprenticeship programmes, which are driving the development of specialist workplace knowledge, skills and behaviours demanded by the UK's business community."
Manchester Metropolitan has been at the forefront of the development of Degree Apprenticeships since they were introduced by the government in 2015. Since then, over 1,500 degree apprentices have joined the University over the last four years, from more than 260 employer partners.
Find out more about Degree Apprenticeships at Manchester Metropolitan at mmu.ac.uk/apprenticeships.
Manchester Metropolitan representatives recognised in the regional finals also included:
Jessie Stow (Astex Pharmaceuticals), "Higher or Degree Apprentice of the Year Winner" and "Rising Star of the Year Winner", East of England region
Joshua Bray (Lloyds Banking Group), Highly Commended, North West region
IBM, "Employer of the Year Winner", London region
Lloyds Banking Group, "Recruitment Excellence Winner", Yorkshire and the Humber region
Mitchells & Butlers Careers, "Macro Employer of the Year", West Midlands region