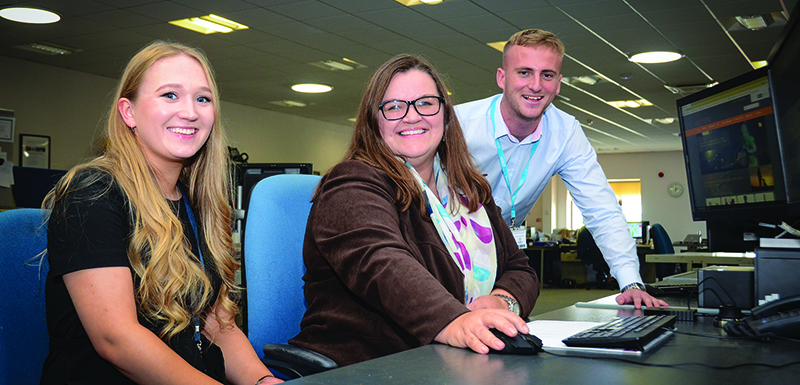 A new degree apprenticeship aimed at bridging the skills gap in digital marketing expertise across a range of industries has been launched by Manchester Metropolitan University.
There are 29 apprentices from 25 leading employers who joined the University in September 2019 from locations across the UK, including Somerset, Shropshire and London, to become the first cohort on Manchester Metropolitan's new Digital Marketer Degree Apprenticeship.
The programme provides a pathway for apprentices to start or progress a career in digital marketing, while working full-time and studying towards a fully accredited degree.
Danielle Walker, Marketing Trainee at SME Elcometer Limited, said: "Manchester Met is providing me with the perfect opportunity to study and work simultaneously. I'll be gaining valuable industry experience while building my knowledge of the latest digital marketing techniques and applying these skills at work to help benefit my business.
"I've felt nothing but excitement since starting the course. It has made me optimistic for the future and enthusiastic to be studying at the University. I'm overwhelmed by how much I've learnt in such a short space of time and I can't wait to see where I'll be in four years' time."
Over the next four years, the degree apprentices will study a curriculum centred on developing a broad understanding of the principles of marketing, web technologies and consumer behaviours.
By the end of the course, the apprentices will be fully equipped to lead on the creation and execution of digital marketing strategies and will benefit from industry best practice and innovative academic thinking.
Catherine Lund-Barker, Marketing Manager at Elcometer Limited, said: "The University has been fantastic to work with, providing both us and our employees with all the support and resources we need. Our company can benefit from the new skills and techniques our employees are taking away from their course, which we can then incorporate into our marketing department.
"The programme will empower our employees with a new level of confidence in their area of work and we're looking forward to seeing them grow."
The University has been at the forefront of the development of degree apprenticeships since they were introduced by the government in 2015. Since then, over 1,500 degree apprentices have joined Manchester Metropolitan over the last four years, from more than 260 employer partners.
Liz Gorb, Director of Apprenticeships at Manchester Metropolitan, said: "The launch of our Digital Marketer Degree Apprenticeship adds to our pioneering offering of industry relevant programmes that have been developed in collaboration with employers.
"It was fantastic to welcome the first cohort to the University and we look forward to helping them develop their skills over the course of their studies."
Find out more about Manchester Metropolitan's Digital Marketer Degree Apprenticeship.