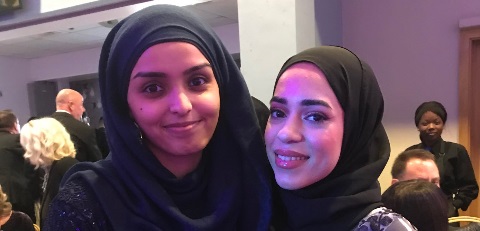 A Manchester Metropolitan Degree Apprentice has been highly commended in the "Judges' Choice" category at the Asian Apprenticeship Awards 2019.
Sabreen Anwar has been recognised for her outstanding work on the University's Digital & Technology Solutions Degree Apprenticeship, combining her studies with her full-time role at Lloyds Banking Group.
Sabreen said: "I was honoured to be nominated for the Asian Apprenticeship Award. Never did I think I would become a finalist and then go onto being 'highly commended' in the Judges' Choice category. It all felt surreal! The evening finished perfectly with Lloyds winning the largest employer award. I am grateful to be employed by such a fantastic company.
"I am really passionate about spreading the word about apprenticeships and the life-changing opportunities they bring. I realise how this impacts young girls, especially from BAME backgrounds who sometimes don't get the opportunity to do any further study. Even now, I sometimes can't believe I attend University, this would not have been possible without the apprenticeship scheme through Manchester Metropolitan and Lloyds."
Fellow Manchester Metropolitan degree apprentice Iram Akhtar joined Sabreen at the awards ceremony after been nominated for the same award.
Now in their fourth year, the Asian Apprenticeship Awards celebrate the talent and diversity of the British Asian Apprentices, their employers and learning providers. The awards continue to work towards raising the profile of apprenticeships within British Asian communities, putting a spotlight on a generation of role models for young people to emulate.
This year's winners were announced at a glittering black-tie ceremony at Edgbaston on 31st October.
Liz Gorb, Director of Degree Apprenticeships at Manchester Metropolitan, said: "We are very proud of our two Digital Degree Apprenticeship finalists, Iram Akhtar and Sabreen Anwar – who was highly commended by the judges. Sabreen and Iram are proving to be fantastic role models for BAME young women in Digital.
"We would also like to wish many congratulations to our employer partner, Lloyds Banking Group, for winning the 'Large Employer of the Year' award."
Joanne Saltonstall, QA Transformation Lead and Sabreen's manager at Lloyds, added: "I'd like to say how proud of Sabreen we all are, she has really embraced all the opportunities Lloyds Banking Group has to offer and has not been phased by balancing full-time working alongside of Apprenticeship activities.
"Sabreen is an absolute role model and fully deserves the nominations and recognition. She consistently demonstrates the skills and values we look for and is a true advocate for the team. Sabreen is star for the future and we look forward to seeing her career take off."