Isobelle won 'Degree Apprentice of the Year' in the north of England category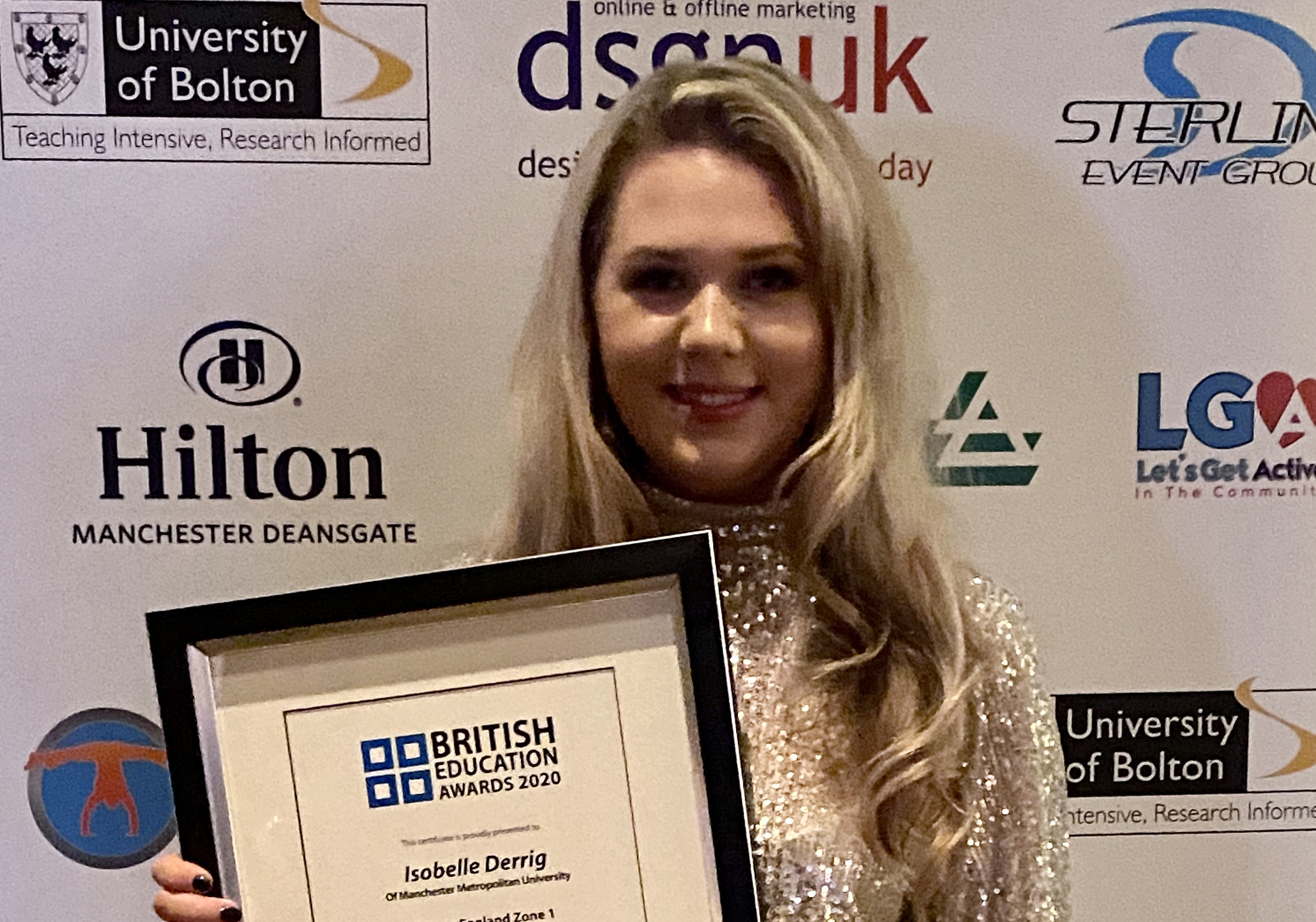 The British Education Award winners are ambassadors for British education and are chosen for their achievements both on a national and international stage. Isobelle was presented her award by Manchester Metropolitan University's Vice-Chancellor Professor Malcolm Press at a glittering ceremony at the Hilton Manchester on Thursday 30th January.
Speaking at the ceremony, Isobelle said: "I am delighted to have been nominated and then win the Degree Apprenticeship category at the British Education Awards. Thank you Manchester Met University and AstraZeneca for your support during my Degree Apprenticeship."
Liz Gorb, Director of Apprenticeships added: "Izzy is a great ambassador for our Degree Apprenticeships and she is already well on her way to a fantastic career at AstraZeneca."
Isobelle graduated with a first class honours degree from the Digital & Technology Solutions Degree Apprenticeship with our first cohort of apprentices in July 2019, and works as a User Experience Researcher at AstraZeneca.
She was put forward for the award for the work she has done to raise the profile of Degree Apprenticeships, her charity fundraising, and her achievements at AstraZeneca.
Isobelle and her fellow apprentices have raised over £50,000 for the Teenage Cancer Trust through activities both inside and outside work, including cake sales, a skydive and sponsored walks.
A big supporter of Degree Apprenticeships, Isobelle regularly visits local schools to speak at assemblies, encouraging students to think about Degree Apprenticeships as an option for their future. She regularly volunteers at Manchester Metropolitan open days and partner events, mentors younger apprentices, and most recently has been involved in discussions to shape the new Digital User Experience (UX) Degree Apprenticeship. Isobelle also helped raise the profile of Degree Apprenticeships through appearing on a BBC Radio 4 documentary called 'The Free Degrees'.
As part of her work at AstraZeneca, Isobelle has focused on researching asthma drugs and how they affect patients. She plans the research as part of the UX team and works with patients and agencies across multiple research sessions.
Since their launch in 2015, Manchester Metropolitan degree apprentices have been extremely successful. 94% of graduates achieve a first or a 2:1 in their degree, and a distinction or a merit in their end-point assessment, and almost 30 apprentices have won awards for their incredible achievements.