Our Apprenticeships Team share their top tips to becoming a successful Degree Apprentice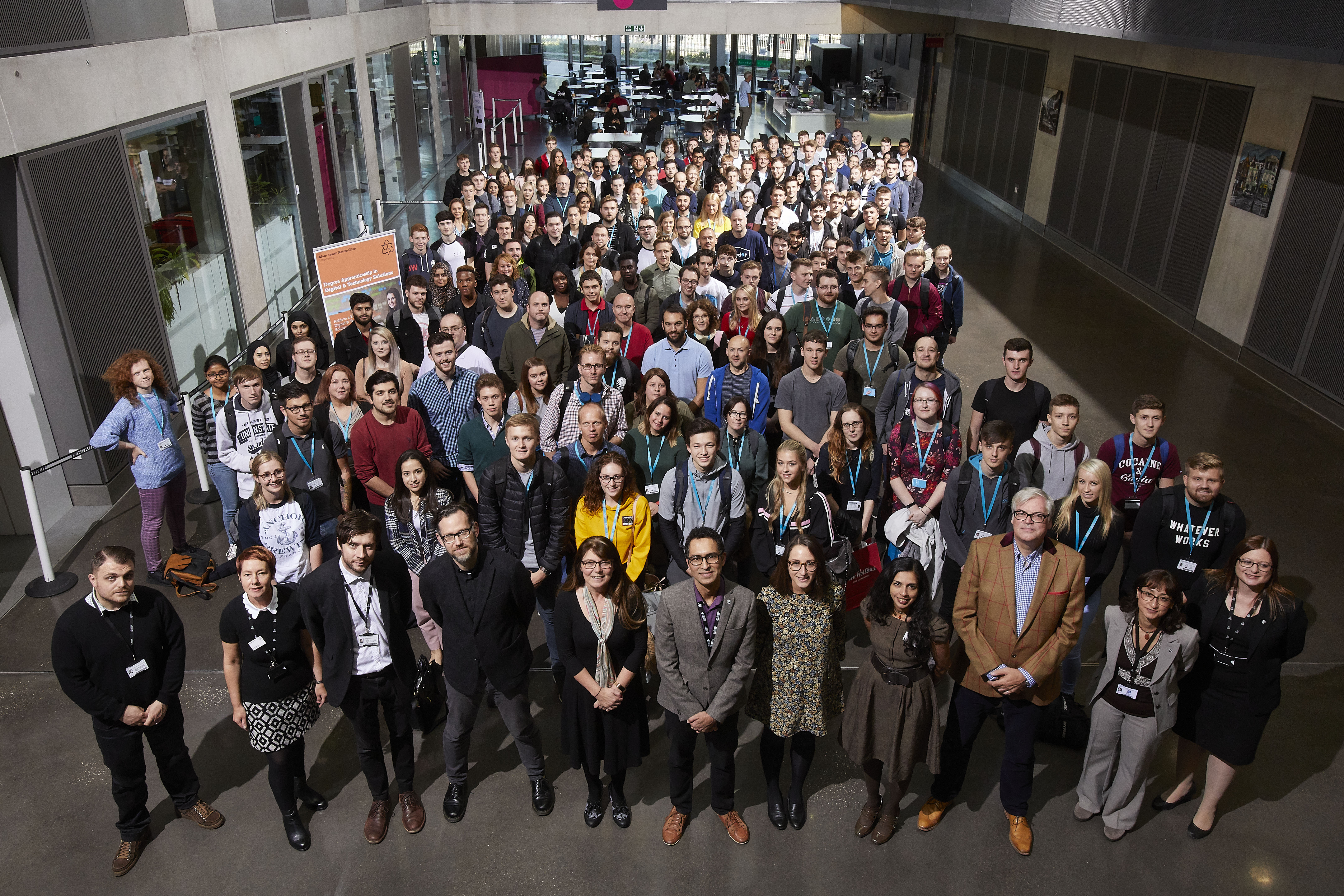 If you are interested in earning while you are learning, a degree apprenticeship could be for you.
Introduced in 2015, with a degree apprenticeship students combine studying part-time at Manchester Metropolitan with working for one of the University's employer partners.
Degree Apprentices are employed throughout their apprenticeship and achieve a full BSc or BA Honours degree once they graduate - the same as any other student studying at Manchester Metropolitan University.
Here, the University's Apprenticeships Team share their six top tips on how to secure a degree apprenticeship:
Step one
Gather information
Start to gather as much information as you can about the programmes that interest you and make a note of which employers may be offering them. At Manchester Metropolitan we offer programmes in Business, Digital and Technology, Digital Marketing, Digital User Experience (UX) and Laboratory Science.
We also hold a number of open events during the year where you can chat to our lecturers, our employer partners, and some of our degree apprentices.
Tip: If you have not already done so, make sure you still complete your UCAS application. It does not affect your ability to apply for Degree Apprenticeships and we would always recommend giving yourself options and a Plan B.
Step two
Find degree apprenticeship vacancies
Usually degree apprenticeships will be advertised online and we advertise all ours on our website. You can register for job alert emails so you are one of the first ones to receive information. You could also look at other degree apprenticeship providers in your area, the National Apprenticeship Service website and websites such as Not Going to Uni and GetMyFirstJob.
The busiest times for job vacancies are usually March until June.
Step three
Apply for the apprenticeship
Degree apprenticeship applications are more like applying for a job than a university place. You need to apply directly to the employer and the nature of the application will vary by the organisation. However, making sure you have an up-to-date CV and covering letter is a great place to start.
We have a Degree Apprenticeships 'How to Apply' booklet that gives you more information on how to structure your CV and covering letter. Alternatively, you can visit our website for more information.
Tip: Make sure you consider things like where you are going to live and any travel arrangements when thinking of which companies to apply to. Unfortunately, as apprentices receive a wage, they are not eligible for student accommodation.
Step four
Be resilient
Degree apprenticeship places can be very popular, especially with well-known employers. Don't give up if you don't secure a place on your first go - keep applying and learn from your application and interview experiences.
You could also ask friends and family for feedback on your interview technique, ask the recruiter for honest feedback or keep an eye out for CV workshops and skills events.
Step five
Get the job
Well done if you secure a place! Once you accept the job, you may want to find out things like when you will start, how to travel to your new job and when you can expect your employment contract.
Step six
Complete your University application form
Once you have secured a place, you will still need to complete your university application and enrol on the programme with us. We will send you all the information you need once your employer has informed us that they have hired you. This usually takes place a couple of months before you are due to start your programme, but can sometimes be later. The university application is not difficult to complete and we can provide guidance when required.
If you are interested in finding out more about degree apprenticeships, visit mmu.ac.uk/apprenticeships.