Thirty employers attend event to learn more about the advantages of Degree Apprenticeships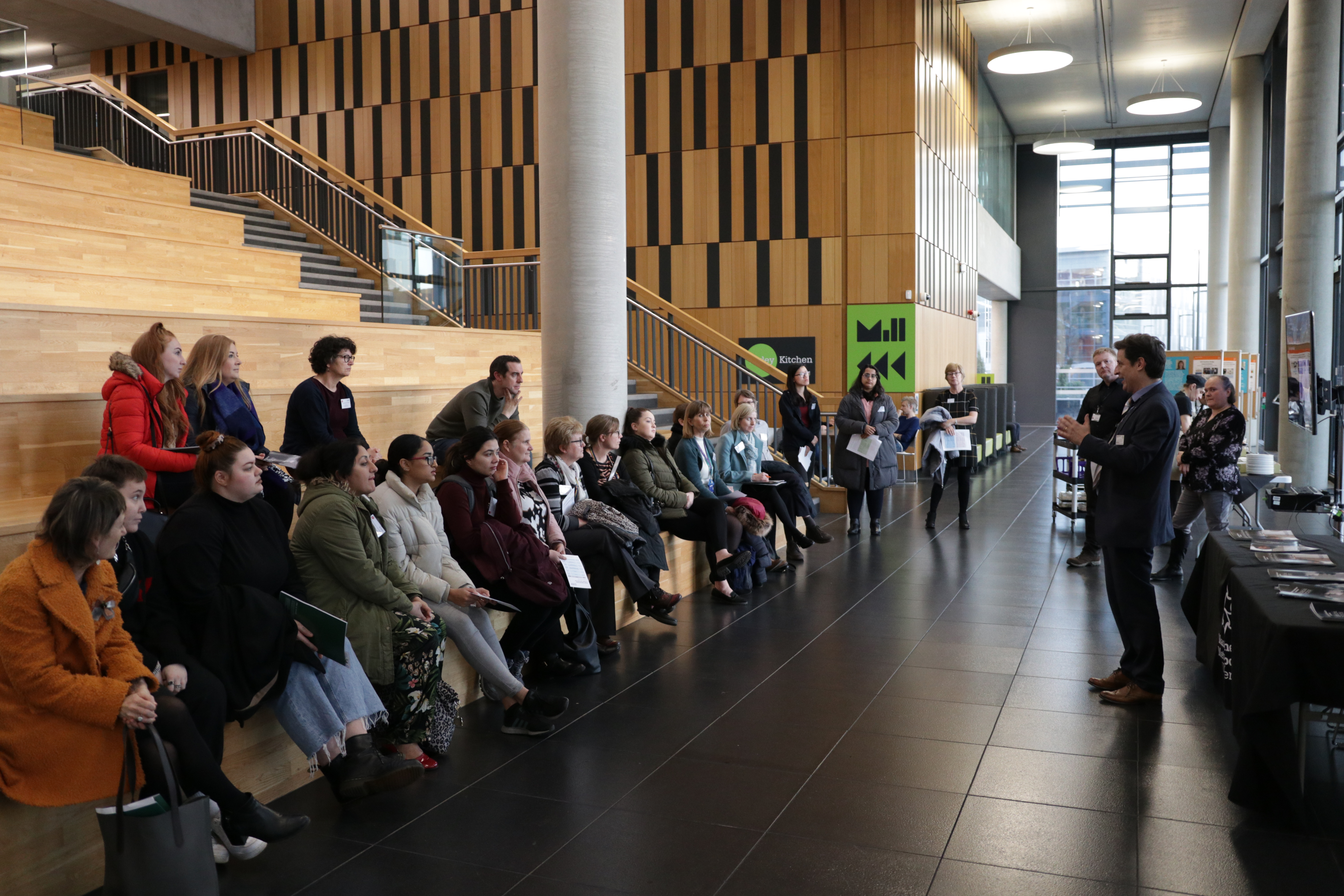 Manchester Metropolitan University's Health and Social Care Degree Apprenticeships team welcomed 30 employers to a special showcase event focussed on the positive value of Degree Apprenticeships.
The event, held on Thursday, February 6, saw the showcase of Manchester Metropolitan's Health and Social Care Degree Apprenticeships, with Q&As from employers and apprentices. Hosting the event was Pro-Vice-Chancellor Professor Alison Chambers who welcomed employers including Stockport NHS Foundation Trust, Salford Royal Foundation Trust, the North West Ambulance Service, and many more.
Visitors to the event were able to visit the clinical simulation suite and find out more about what the Advanced Clinical Practitioner (Masters) Degree Apprenticeship programme offered, as well as hear testimonials from apprentices.
Sara Harris, a Community Specialist Paramedic at North West Ambulance Service, outlined how she had benefitted from her Degree Apprenticeship.
Sara said: "I would encourage anyone who is looking to improve their patient care, their knowledge and understanding of body systems and diseases, as well as research, education and leadership skills to consider this programme."
Visitors were also able to view Manchester Metropolitan's Social Worker Flat, a space specially designed to carry out role-play scenarios during the University's Social Worker Degree Apprenticeship training.
Pauline Black, Senior Lecturer in Social Work at Manchester Metropolitan, said: "This programme offers a really exciting opportunity for people who may not have felt able to qualify as social workers, to come to university and gain a professional qualification based on their previous work experience. This will then enable them to progress into a role where they can practice as a qualified social worker."
A special project exhibition space had been set up for visitors wanting to find out more about Manchester Metropolitan's Chartered Manager Degree Apprenticeship (CMDA) in Health and Social Care. They were able to review the work of our most recent cohort of CMDA graduates who all achieved a 95% distinction or merit in their end-point assessment and a First or 2:1 classification in their degree.
Speaking at the event, Anna Kime, Senior Lecturer in Nursing at Manchester Met, said: "As a faculty and as a University we work with a wide range of employers, NHS trusts, local councils, GP practises and CCGs. Those employers have come to Manchester Metropolitan University because of the excellent facilities that we provide. Our Degree Apprenticeships are employer-lead. We design and develop our curriculum with our local employers, so at the end of the day you know what you're getting out of your Degree Apprentice."
To find out more about our Health and Social Care Degree Apprenticeships contact us on apprenticeships@mmu.ac.uk or call 0161 247 3720.