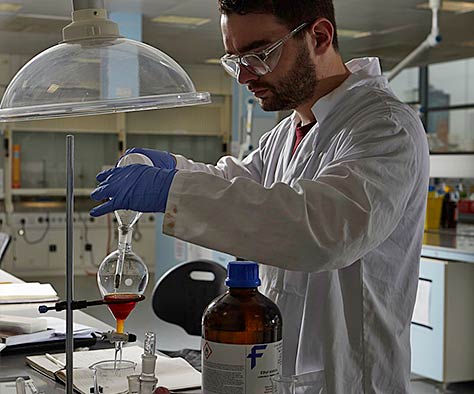 APPRENTICE scientists are being trained by Manchester Metropolitan University and getting on-the-job experience to prepare for life in the chemical industries.
New Higher Level Apprenticeships (HLA) sees firms directly recruit youngsters and train them up, with universities providing the teaching.
MMU is one of only two universities in the country to offer this long-distance work-based learning route for chemical scientists.
The trainee scientists gain a foundation degree at the end of three years while still learning their trade for their companies, which include pharmaceutical giant GlaxoSmithKline.
Partnership
It is just one of many partnerships the University has developed with businesses to help train apprentices who have chosen that route into the world of work.
And the HLA in Chemical Science is going from strength to strength since launching in 2012 - the cohort has jumped from eight in the first year with up to 60 expected next year.
Dr Mike Cole, principal lecturer who leads the HLA at MMU, said: "Three years ago we started our foundation degree (FdSc Chemical Science) course not really knowing too much about apprenticeships. This foundation degree is a part-time online course for people who work employed in the chemical-related industries.
"In the meantime, raising the profile of HLAs has been a big government initiative and subsequently they are now getting a lot more publicity. The HLA is a national framework which our foundation degree fits perfectly."
One of the first
He added: "Companies are picking up on this and are looking to this type of apprenticeship scheme. They are shifting towards this model of apprenticeship.
"It's taken off. We were one of the first courses to be part of this HLA framework and people are only just picking up on it in the last six months. They are only just becoming aware of the possibilities."
The students will study online with a residential week at MMU every year until the HLA and foundation degree are finished. They then will have the option of taking an extra two years 'top-up' qualification to gain a full BSc honours degree.
The scheme has been developed with the help of Cogent, the Sector Skills Council for the chemical, pharmaceutical, nuclear, life science, petroleum and polymer industries.
Expertise
Cogent is licensed by Government to help employers in the science industries to help their workforce's training needs so that they can compete successfully.
Cogent - through its Technical Apprenticeship Service - helps recruit the apprentices and runs the administrative side with MMU providing the academic expertise.