Manchester Met opened up its business school to Lloyds Banking Group and 350 school pupils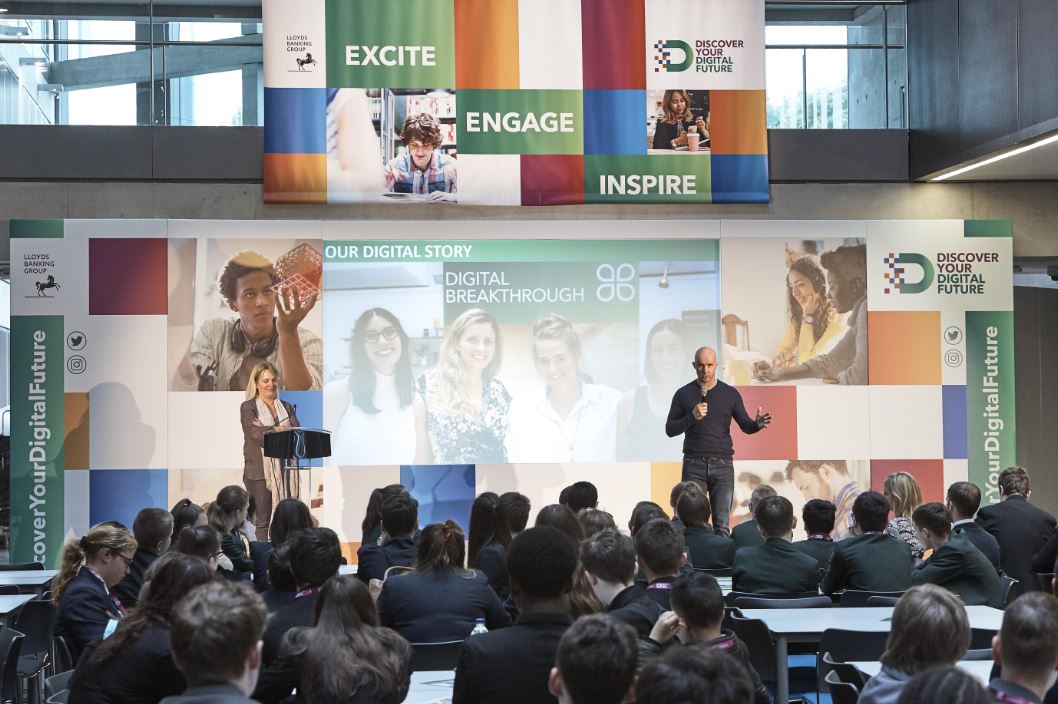 Digital leaders from Lloyds Banking Group, Microsoft, IBM, Facebook, BBC Make it Digital, TCS, Vodafone and Apadmi got together at Manchester Met Business School this week to give 350 school pupils from across Greater Manchester a chance to explore a career in digital.
The event, led by Lloyds Banking Group's Ambassador for the North and Managing Director, Digital, Nick Williams, also aimed to encourage more pupils, in particular girls, to choose science, technology, mathematics and engineering (STEM) subjects at A-Level as a stepping stone to a job in the region's growing tech industry.
Creating the next generation of tech talent
Explaining the need for the event, Nick Williams said: "Nationally the industry is missing out on half of its potential workforce, with just sixteen percent of digital specialist roles held by women. Looking at our own region, of those students opting for an A-level in Computing, only around twenty percent are based in the North, compared to fifty percent in the South.
"Given latest figures from the Tech Nation report values the contribution of Manchester's digital sector to the local economy at £2.9bn, this is a concerning picture for the sector's future sustainability. We have a booming industry in this region but we need to future proof it. As a part of our Helping Britain Prosper plan, we want to increase the future pool of homegrown digital talent in Greater Manchester."
Manchester, a digital hub
Mayor of Greater Manchester, Andy Burnham, wants to build on Greater Manchester's tech scene to develop a world-leading digital city region. He said: "Greater Manchester is home to the some of the most cutting-edge tech firms in the world, but we absolutely must make sure we maintain our industry leadership by fostering and retaining home-grown, local talent."
Howard Simms, CEO and BBC iPlayer Radio app creator at Manchester's Apadmi Ventures, spoke at the event. He said: "The UK needs an army of digitally capable people. With our burgeoning digital community in Manchester, there are already more jobs than there are skilled candidates. If we could encourage more young people into digital careers, we could continue to enhance our local tech scene and be in an even better position to attract some of the biggest names in global technology to the city.
Thinking digitally
Hannah Rashidi, a pupil at Manchester Communication Academy, said the event had helped to broaden her view on what a role in the digital industry might be: "I always thought a job in digital meant coding," she said, "but this event has really made me think differently about digital jobs and the variety of opportunities out there."
The role of universities
Faculty Pro-Vice-Chancellor for Business and Law at Manchester Met, Professor Julia Clarke said:
"As a passionate supporter of digital skills in the North West, Manchester Metropolitan University was delighted to work with Lloyds Banking Group on this event to inspire the next generation of digital professionals. Digital skills are now vital across all sectors and in a huge range of job roles. The development of our ground-breaking degree apprenticeships in Digital Technologies is just one of the ways in which we have been responding to the need to build these capabilities in the national workforce. We hope the young people who attended will be enthused about the many options open to them for a digital future."
The event concluded with a session from Lloyds' degree apprentice Joshua Bray and Dr Raheel Nawaz, one of his Digital & Technology Solutions lecturers at Manchester Met. They explained the different paths students could follow into technology, and specifically the fantastic opportunity of entering the industry as a degree apprentice.