More than 300 new degree apprentices join University's pioneering programmes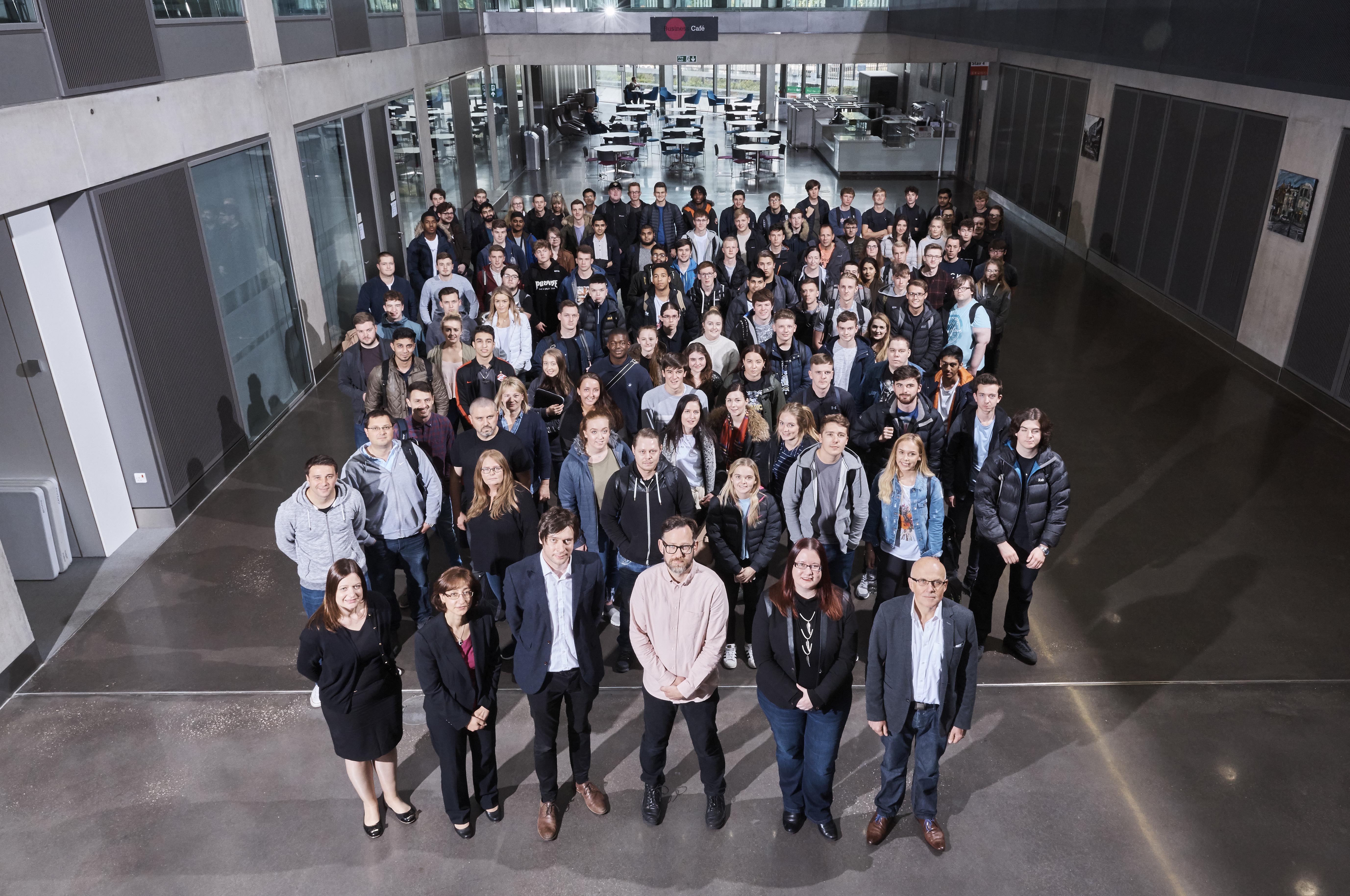 While preparations for the next academic year were reaching their final stages, one set of students had already arrived at the University. Three hundred new degree apprentice students, from over 50 different employers enrolled on the University's sector-leading programmes, getting their first glimpse of what lies ahead, and started getting to grips with their new subjects.
By choosing to study a degree apprenticeship, apprentices have the chance to earn a full-time wage and achieve a debt-free degree with the support of their employer. During the induction week, apprentices explored the unique challenges and opportunities of studying in this way, while also getting to know their classmates and the academic team.
Many of the apprentices had also only recently started new job roles with organisations including Barclays, Lloyds, Thales, United Utilities, CDL and Shop Direct. Therefore, the induction programme included important support, to help apprentices develop vital workplace skills such as communication and team working.
Induction experiences
Talking about his first experience on the degree apprenticeship, Sina Taavon, an apprentice with Ciptex, said: "I'd never had a lecture before, but they were great, everything was easy to follow and we immediately had the chance to apply the learning in lab sessions."
Jaclyn Bamber, from Barclays, said: "Learning something new, such as programming was a bit daunting at first, but the introduction was really in depth and very enjoyable. I've been at Barclays for 12 years and am really looking forward to developing new digital skills to help me in my role as a Business Analyst."
Craig Callaghan, an apprentice at Stockport Council, said: "I'd never had the chance to go to University, so at age 28 I'm grasping the opportunity now. I've really enjoyed the first week and the tutors have been really helpful."
Delivering business impact
The large growth in apprentice numbers this year demonstrates the commitment of employers to degree apprenticeships as an effective way of supporting their employees to develop advanced skills, often in areas of skills shortages.
Claire Findlay, Head of Resource Management, GTIS at Barclays said:
"Our apprentices come back into work after their days out attending university, really motivated, both to do well academically and play an increasingly important role within their teams. Our apprentices love being on the programme at Manchester Met and are really excelling."
Manchester Met has collaborated with employers such as Barclays to design all of its apprenticeship programmes to ensure they deliver the skills businesses need. The University is working with employers in many sectors to boost the number of programmes available, including Masters Apprenticeships, such as the recently approved Senior Leader standard.
Returning apprentices
This week also saw the return of more than 300 apprentice students who have achieved incredible results so far on the Digital & Technology Solutions, Chartered Manager, Chemical Science and Legal Services programmes.
Commenting on the success of the University's degree apprentices, Liz Gorb, Director of Apprenticeships said:
"We have been hugely impressed by the dedication and motivation of our apprentice students and they really have been a pleasure to work with. They are performing very well in their studies, and we are always delighted to hear from our partner employers about the vital role many play within their organisations."
If you'd like to find out more about degree apprenticeships visit our dedicated website.