Lucy Cheng praised as a 'shining example' for higher education apprentices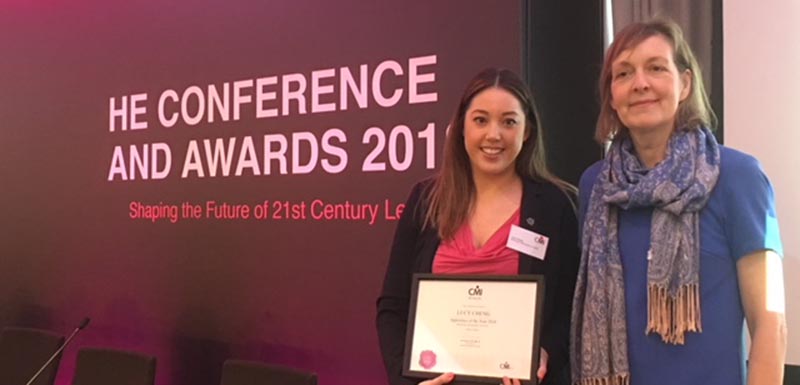 A Chartered Management Degree Apprentice has been named 'Apprentice of the Year' for her excellence in the workplace and the lecture theatre.
Degree Apprentice Lucy Cheng was presented with the accolade at the inaugural Chartered Management Institute (CMI) Higher Education Awards.
Lucy studies her Degree Apprenticeship at Manchester Metropolitan University, where she is currently a second year student on the Chartered Manager programme.
Lucy was recognised for the incredible impact she is having at her workplace United Utilities, progressing to a managerial role and leading a team of seven.
The judging panel were impressed with her achievements at United Utilities as she is redefining what an apprentice can achieve.
Lucy said: "Today I am a much more confident, passionate and motivated than when I joined the programme, so I am delighted to have received this award as recognition of my progression.
"I have had such great support from United Utilities and am really thankful for the opportunity that they have given me and I am really proud to represent Manchester Metropolitan University. Attending university has provided me with the opportunity to network outside of my workplace, broadening my horizons and learning valuable management theory I can apply every day."
Michael Haworth, Water Network Systems Manager at United Utilities, said: "It's remarkable how much Lucy has achieved in such a short space of time. Since she started the degree apprenticeship programme I have seen a real step-change and every day she's growing in confidence and bringing new thoughts and ideas to the table.
He added: "Lucy is a shining example of how apprenticeships can be used to progress talented and motivated people into higher-level roles."
Lucy's award is a fitting tribute for a Degree Apprentice who is achieving both academically and professionally, according to her tutor.
Paula Turner, Head of Management Apprenticeships at Manchester Metropolitan, said: "I really want to extend our congratulations to Lucy, who is a thoroughly deserving winner. As well as being a very capable student, she is also a terrific ambassador for our university, our apprenticeship programmes and her employer."
The CMI HE Awards are designed to celebrate the contribution being made by employers, business schools and universities to embedding managerial skills into their curriculums and delivering students ready for the world of work.
Ian Myson, CMI's director of HE partnerships, said: "As higher education's focus grows on boosting student employability, our awards celebrate the employers and universities that are making the most impact on the next generation of managers and leaders. I congratulate Lucy and Manchester Metropolitan on making great progress working with United Utilities and professional bodies to give students work ready skills."
Read more about Lucy's experiences or contact Manchester Metropolitan to find out how you could engage with Degree Apprenticeships at your organisation – 0161 247 3919 or apprenticeships@mmu.ac.uk.
Visit our dedicated degree apprenticeship website.