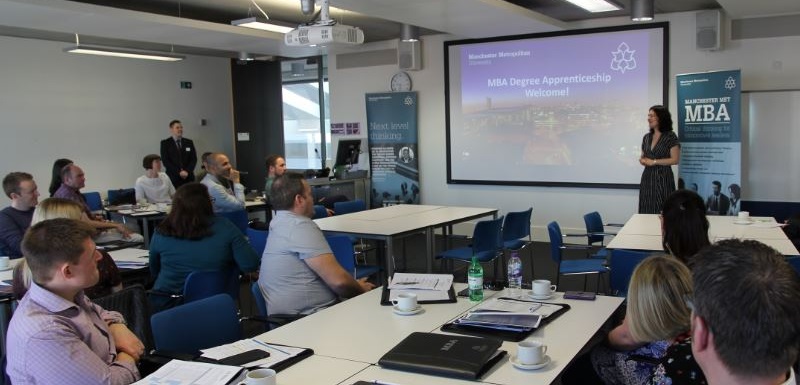 The UK's first AMBA-Accredited MBA Degree Apprenticeship has began at Manchester Metropolitan.
The new programme welcomed its first cohort of 27 senior managers and strategic thinkers, from 18 different employers, to the Business School on April 19.
The programme, developed by the University, aligns with the new Senior Leader Master's Degree Apprenticeship standard approved for delivery earlier this year. This means that for the first-time employers have been able to utilise apprenticeship funding to provide higher-level training for experienced managers and leaders. The programme is accredited by the Association of MBAs, recognition that it represents the highest standard of achievement in postgraduate business education.
During their first visit, Deputy Vice-Chancellor Professor Jean-Noel Ezingeard met students as they arrived and explained the significance of a programme that combines two areas of strategic strength for the University, Executive Education and Degree Apprenticeships.
The programme participants immediately got to work, as they were introduced to the topics they will be exploring in more depth over the next two years, as well as beginning to reflect on their own practice as managers and senior leaders.
There was also time to get to know their fellow students, with whom they will be sharing their journey, and meeting the academic team and business coaches who will play such a vital role in helping them progress through the programme and in their professional careers.
Ground-breaking programme
Programmes such as the MBA Degree Apprenticeship offer a vital tool for organisations to develop their employees as the UK strives to close the productivity gap.
Reflecting on the new cohort of learners, Dr Dane Anderton, Director of the MBA Degree Apprenticeship said: "We are incredibly excited to have started delivery of this ground-breaking new programme, and we have a very talented group of senior professionals looking to take their careers to new heights. The team is looking forward to the next two years and helping them to maximise their potential.'
The addition of postgraduate apprenticeships is one of the final pieces in an apprenticeship pathway, which opens up the possibility for people to reach the highest academic and professional levels through an apprenticeship-led career path.
Andrew Goodwin, National Bunker Manager at Certas Energy, said of his experience so far: "The first few days have been great and I could clearly see the amount of effort which has been put into making everything run so smoothly. It's been a really positive start and I'm really looking forward to the rest of the programme."
The programme has a dynamic combination of private and public sector, and large and small organisations that has already led to some interesting debate. SMEs have been particularly enthusiastic to pursue the MBA Degree Apprenticeship, as Government support has opened up the opportunity to engage with this unique brand of higher education.
Commenting on the programme, Faculty Pro-Vice-Chancellor for Business and Law at Manchester Metropolitan University, Professor Julia Clarke said:
"We are already seeing the substantial business impact being made by degree apprentices, and are confident that our new MBA Degree Apprenticeship programme will be a gold standard for senior leaders. The programme will embed strategic business capabilities within our partner employers and help them to develop and retain talented leaders."
Manchester Metropolitan University is one of the UK's leading specialists in degree apprenticeship education, with more than 650 degree apprentices enrolled on programmes from over 140 different employers.
Find out more about the MBA Degree Apprenticeship and how you can apply for our next intakes this October and January 2019.
You can also email apprenticeships@mmu.ac.uk or call 0161 247 3919.