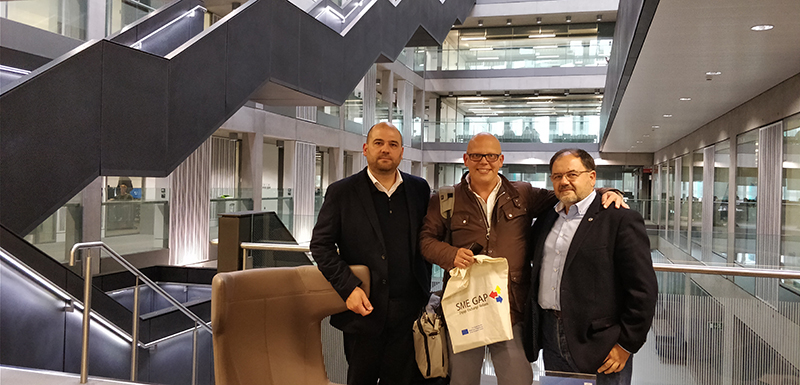 Manchester Metropolitan's pioneering approach to Degree Apprenticeships is setting a benchmark in Europe, as institutions look to learn from the University's success.
Delegates from the University of Cordoba visited Manchester Metropolitan to learn more about Degree Apprenticeships, with a view to developing the first of its kind in Spain.
Enrique Quesada Moraga, the Vice-Rector of Innovation, Transfer and Campus of Excellence at the University of Cordoba, met with Professor Malcolm Press, Vice-Chancellor of Manchester Metropolitan University, to share best practice and explore the many advantages of Degree Apprenticeships.
Engaging businesses
The visit is part of a series of activities held in Manchester, Cordoba and Vienna and funded by the European Union's Erasmus+ Programme, designed to engage small medium enterprises (SMEs) with apprenticeship provision.
Liz Gorb, Director of Apprenticeships at Manchester Metropolitan, said: "By sharing our work with our global partners and the advantages of our programmes with employers, we are ensuring that students and employers can continue to access the many benefits that Degree Apprenticeships can bring.
"We look forward to continuing to work with the University of Cordoba as they look to develop and introduce innovative new programmes to help students and businesses in Spain."
Workplace learning
The University of Cordoba currently manages more than 700 internships per year for final year undergraduate and postgraduate students. More than 93% of students state that the internships have improved their training.
Over the last four years, the University has also doubled the amount of money available for internships, recognising the value of work based learning.
The University Enterprise Foundation, FUNDECOR, which is based within the University of Cordoba, manages these relationships and understands the need to develop programmes that enable interaction between the university, its students and businesses.
With the best practice shared by Manchester Metropolitan, it is anticipated that such existing activities can be adapted to accommodate a first Degree Apprenticeship programme in Spain.
Pioneering approach
Manchester Metropolitan was one of the first institutions in the UK to embrace degree apprenticeship programmes, working with over 130 key regional and national industry partners.
Since launching the first programme in 2015, more than 650 apprentices have joined degree apprenticeships at the University, enabling them to progress both academically and professionally.
To find out more about degree apprenticeships at Manchester Metropolitan and the benefits this can bring to students and employers, visit www.mmu.ac.uk/apprenticeships.