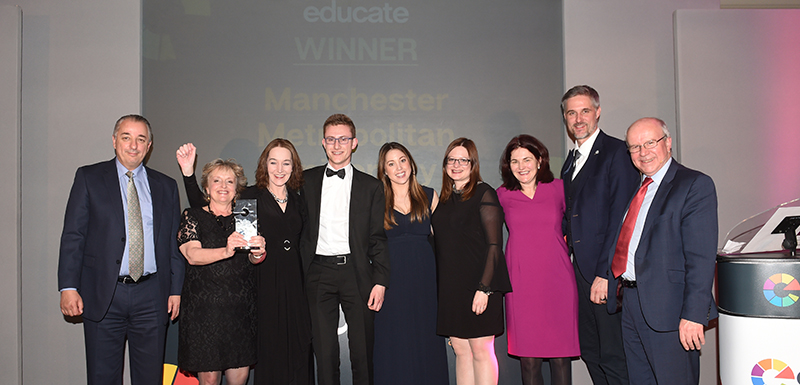 Apprentices studying on all of Manchester Metropolitan's apprenticeship programmes have been recognised with a number of awards throughout the 2017/18 academic year.
From the Royal Society of Chemistry to the Chartered Management Institute's HE Awards, the fantastic work of the University's apprentice students has reflected their hard work and dedication. Also as well as being well-deserved personal triumphs, this recognition illustrates the outstanding contribution degree apprentices are making for employers across many different sectors.
Two apprentices on the University's Digital & Technology Solutions programme were recent winners, bringing this year's total to nine.
The award winners and nominees are:
Apprentice of the Year, Royal Society of Chemistry - Holly Carter, AstraZeneca
Higher or Degree Apprentice of the Year, National Apprenticeship Awards, North West - Ryan Coram, AstraZeneca
Apprentice of the Year, CMI Higher Education Awards - Lucy Cheng, United Utilities
We Are The City Rising Star Awards, Defence –Winner Nadia Johnson, Thales
Apps for Good, Winner– Sina Taavon, Ciptex
Digital & Technology Solutions IT Apprentice of the Year, UK IT Industry Awards- Nomination for Jamie Edge, Barclays UK
Apprentice of the Year, Made in Manchester Awards - Nominations for Darren Smith & Jack Kelly, SAS Daniels LLP, Danny Costello, Ward Hadaway
Professor Julia Clarke, Pro Vice-Chancellor of Business and Law at Manchester Metropolitan, said: "As pioneers of a new approach to work-based learning and university education, our degree apprentices have exceeded all expectations and the success of many of them in national awards is a testament to their drive and commitment."
Talking about Lucy Cheng's win at the CMI Awards earlier this year, Michael Haworth at United Utilities said: "It's remarkable how much Lucy has achieved in such a short space of time. Since she started the degree apprenticeship programme I have seen a real step-change and every day she's growing in confidence and bringing new thoughts and ideas to the table.
Additionally, the University was delighted to be recognised for its work on apprenticeships, recently winning the UK Apprenticeship Award at this year's Educate North Awards and receiving a nomination for Best Employer Engagement Strategy at the Times Higher Education Management and Leadership Awards.
Find out more about degree apprenticeships and how they could benefit your organisation, on our dedicated website.