The University's pioneering apprenticeship programmes are training more than 1,000 people from over 200 employers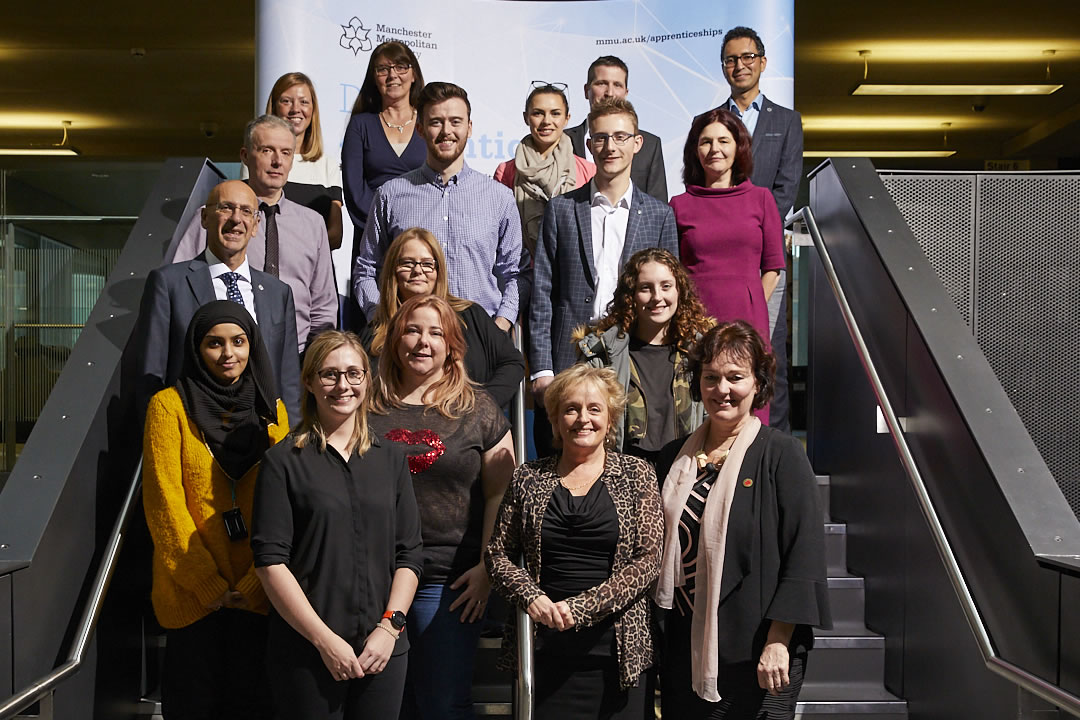 Manchester Metropolitan University has welcomed its 1,000th apprentice student, three years after launching one of the UK's first degree apprenticeship programmes.
Heather Lord became the 1,000th degree apprentice to join the University as part of a cohort of 20 colleagues from Lloyds Banking Group.
The group began Manchester Metropolitan's Digital and Technology Solutions Degree Apprenticeship in September and were invited to a celebratory lunch with the University's Vice-Chancellor and Institute for Apprenticeships Board Member, Professor Malcolm Press.
Speaking about her decision to choose a degree apprenticeship, Heather said: "I am really excited about the opportunity I've been given at Lloyds to achieve a degree, while also making strides in a new career at one of the country's leading banks.
"I've been really impressed with the programme so far and it is great to be part of a large community of degree apprentices here at Manchester Metropolitan."
Pioneering apprentices
Since Manchester Metropolitan began delivering degree apprenticeships in September 2015 with 60 pioneering apprentices from nine employers, numbers have increased rapidly as organisations have recognised the value of a blended education that combines learning and working.
The apprenticeship programmes have revolutionised higher-level work-based training and are providing a ladder of opportunity for professionals at all levels to benefit from the skills and knowledge developed through a university education.
Describing Manchester Metropolitan's commitment to degree apprenticeships, Professor Malcolm Press said: "Our University has always played a leading role in ensuring that students are ready to take on the challenges of the modern workplace.
"Degree apprenticeships are a natural progression of this approach and, in partnership with employers, we have created practice-focused programmes that are meeting the needs of industry and individuals.
"I am delighted that we have welcomed over 500 new degree apprentices this year, and have now reached the major milestone of having 1,000 apprentices currently studying at the University."
Meeting the needs of industry
Degree apprenticeships are a structured programme of work-based learning that incorporates studying for a fully accredited university degree or master's degree, along with support to embed learning in the workplace.
The programmes currently available at Manchester Metropolitan include digital and technology, management, healthcare and laboratory science.
Lloyds Banking Group has been a partner of the University since 2015 and has recently made more opportunities available for existing staff as well as new recruits, such as Heather, to join the Digital and Technology Solutions programme.
Kathryn Marshall, Business Partner at Lloyds Banking Group, said: "We are transforming the digital experience of our customers and colleagues. Through the degree apprenticeship scheme we are expanding the skills base of our workforce and are pleased with the impact of our apprentices over the last three years."
Find out more about Manchester Metropolitan's apprenticeship programmes at www.mmu.ac.uk/apprenticeships.