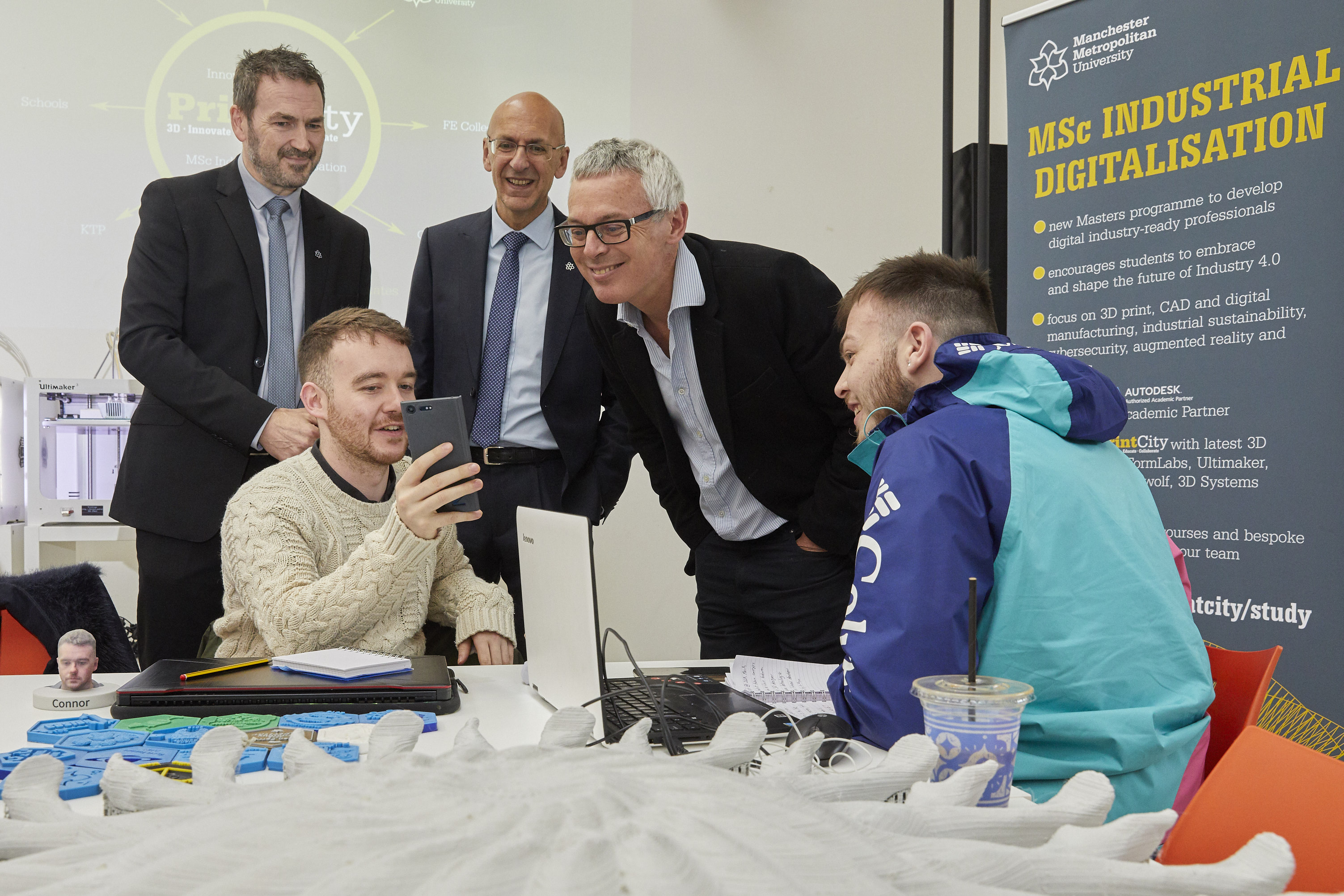 Manchester Metropolitan welcomed the Permanent Secretary of the Department for Education to learn about the University's innovation in education delivery.
Jonathan Slater, who is the senior civil servant for the Department for Education (DfE), was welcomed to the University today (March 8), taking a tour of Print City, meeting degree apprentices and their employers, and learning about Manchester Metropolitan's creative industry leadership.
The Permanent Secretary met with Digital Degree Apprentices at PrintCity, getting to understand the type of employers working with apprentices in this sector.
He was later welcomed by the University's apprenticeships team in the Business School where he had the chance to chat to apprentices and employers, both from national corporations and SMEs.
Apprentices
Additionally, the Permanent Secretary heard about how Manchester Metropolitan is helping schools to teach the skills that prepare pupils for the world of work.
The visit took place during National Apprenticeships Week 2019, which was proudly celebrated at the University. There are more than 1,000 apprentices at Manchester Metropolitan, working with 200 employers.
Jonathan Slater, Permanent Secretary of the Department for Education, said: "I was delighted to visit Manchester Metropolitan today and learn about the excellent work taking place there, especially the delivery of degree apprenticeships.
"Degree apprenticeships mean students can bring their valuable skills to the workforce sooner than a traditional degree and universities like Manchester Metropolitan are having a real impact in the UK and globally."
The tour, led by Vice-Chancellor Professor Malcolm Press, then headed to the Faculty of Arts and Humanities to learn about the University's excellence in fashion, textiles, architecture and the upcoming School of Digital Arts.
Innovative
Professor Press said: "It was a pleasure to welcome the Permanent Secretary to learn how we are making a difference to our students and the world around us.
"We nurture students with real-world skills to help them thrive, providing society and business with a pipeline of inventive graduates who are ready to tackle the challenges of tomorrow. It is through our industry-leading education and research – such as degree apprenticeships, industrial digitalisation initiatives and our creative industries excellence – that we are able to provide relevance and impact, locally and globally.
"We ensure that our research, knowledge exchange and teaching is closely aligned with the needs of society, helping to shape healthcare, education, business and science. We were thrilled to showcase this excellence to the Permanent Secretary today."
In November 2018, Manchester Metropolitan welcomed its 1,000th degree apprentice, three years after launching one of the UK's first degree apprenticeship programmes.
Since the University began delivering degree apprenticeships in 2015 with 60 pioneering apprentices from nine employers, numbers have increased rapidly as organisations have recognised the value of a blended education that combines degree education and work-based learning.