Innospace, the University's business growth hub, hosted a roundtable event last week chaired by the Lord Mayor of London.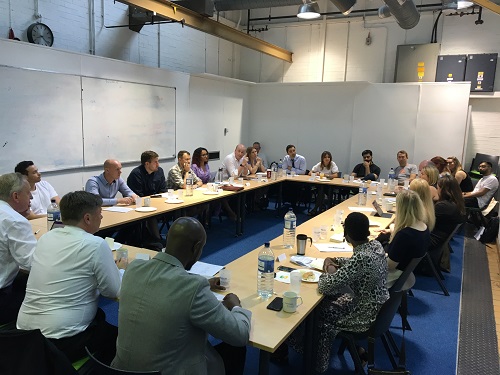 Called 'Shaping Tomorrow's Cities Today', the event was an opportunity for businesses to show how they are making an impact on the city, and how the professional services sector can support them.
Issues explored included sustainable growth, the impact of technology in supporting innovation, and how businesses can deliver Andy Burnham's vision of Manchester as a carbon neutral city of innovation.
Professor Andy Gibson, Pro Vice Chancellor for Science and Engineering, said: "I was delighted to welcome Peter Keneth Estlin, Lord Mayor of London to Innospace, Manchester Metropolitan University's Business Growth Hub this week.
"Manchester Metropolitan University plays a key role in encouraging growth and investment and supports around 500 businesses each year to innovate through accessing university expertise.
"We offer a supportive environment to businesses from across the region, and it was pleasure to hear the insights into innovation and sustainable growth that the businesses could share."
Attendees at the event heard about the key role the University is playing in driving targets set out in the Government's Industrial Strategy through programmes to support innovation through technologies. These included Print City, the GM Cyber Foundry, and the Manchester Fuel Cell Innovation Centre.
Professor Gibson added: "Manchester Metropolitan University is centrally placed to support businesses through our Business Growth Hub, which acts as a gateway to businesses that wish to access our expertise."
"Through our Institute of Coding and the £35m investment in a new school of Digital Arts, we are also playing a leading role in equipping the workforce of tomorrow with appropriate digital skills and expertise."
Innospace is Manchester Metropolitan University's business incubator for start-ups and new enterprises. Now in its eleventh year, it has supported over 500 businesses in more than 20 sectors.
If you are a business that would like to access Manchester Metropolitan's research expertise, please email conversation@mmu.ac.uk