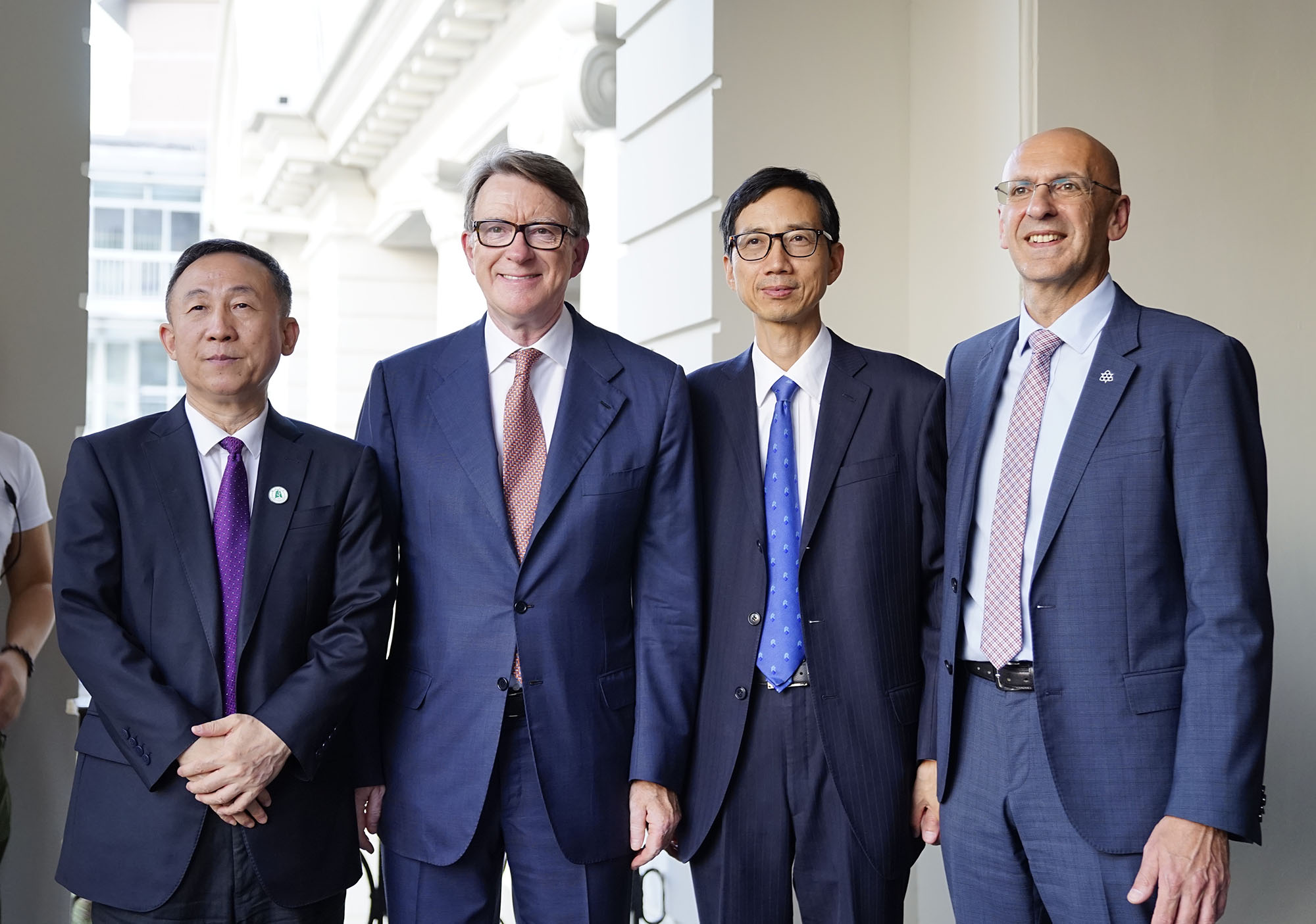 Manchester Metropolitan University has opened a new office in Wuhan to further develop its ties with China.
The new office was declared open for business at a ceremony on Monday, September 23, involving the University's Chancellor, Lord Mandelson, Vice-Chancellor Professor Malcolm Press, local dignitaries, plus representatives from Manchester City Council and the UK Foreign and Commonwealth Office.
Manchester Metropolitan is one of the top 200 modern universities in the world, and is renowned for its research and teaching in areas such as science and engineering, business, creative writing, architecture and fashion.
It is one of the largest universities in the UK with more than 38,000 students from 120 different countries, and has a strong educational heritage stretching back to 1824.
The office is part of a long-term plan to build the University's reputation and profile in China and promote study opportunities in Manchester.
Partnerships
Manchester Metropolitan is a partner institution of the British Council Generation UK-China programme and already has a number of ongoing research collaborations with local universities such as Hubei University, Wuhan Institute of Technology and Wuhan Textile University.
Lord Mandelson said: "The opening of Manchester Metropolitan University's office here in Wuhan is a significant milestone for us as an institution. There are already strong links between our University and institutions here in Wuhan, and we share broad and deep cultural ties through the sister city connection between our two cities.
"Manchester Metropolitan's China Office in Wuhan will reaffirm and acknowledge the importance of a strong and effective relationship with China, particularly in the education, research and trade sectors. This will help reinforce relations between our two countries, and Manchester Metropolitan is proud to be contributing to that through its presence in China."
Vice-Chancellor Malcolm Press said: "A new era awaits for Manchester Metropolitan University here in China. We have a strong and growing relationship with China and it is a key country for collaborations across our institution. Our objective is to further strengthen our academic relationships in China and we look forward to the further opportunities that will blossom from having an office here in Wuhan."
[GALLERY]
Councillor Sue Murphy, Deputy Leader of Manchester City Council said: "Manchester and Wuhan have been sister cities since 1986 and education has always been a central pillar of the relationship. The 30th anniversary events in 2016 led to a scaling up of activity and were followed by the publication of a joint economic study in March 2017 which identified four clear areas of economic collaboration, with higher education recognised as a cross-cutting theme.
"I am delighted that Manchester Metropolitan University have now made such a long term commitment to Wuhan via the opening of their new office and that their partnership with Hubei University continues to strengthen. I'm sure that the establishment of an office, coupled with the Chancellor and Vice Chancellor's visit to Wuhan, will help to further develop productive bilateral links between Manchester and Wuhan."
Manchester Metropolitan University has strengths across all its disciplines:
The Faculty of Science and Engineering is leading in the development of skills in response to Industry 4.0. It also hosts a £4 million Hydrogen Fuel Cell Centre, which is researching new sources of green and emission-free energy.
The Faculty of Business and Law houses the Institute of Place Management which has recently been awarded an £8.6million UK government contract to lead the High Streets Task Force and to deliver support to local authorities and communities who want to transform their high streets.
The Faculty of Arts and Humanities is home to the world-renowned Manchester School of Architecture, which is currently recognised by QS as one of the top ten architecture schools in the world. The outstanding poetry in our Faculty of Arts and Humanities is led by the UK's former Poet Laureate, Professor Dame Carol Ann Duffy, Creative Director of the Manchester Writing School.
The Sociology Department and Faculty of Education deliver outstanding social science research, which is helping us to understand and shape our modern world, and the Faculty of Health, Psychology, and Social Care, is working to enhance the health and wellbeing of people living within an ageing society.
The University is also building for the future with a new £35 million School of Digital Arts (SODA), creating a whole new space for collaboration between cutting-edge technology and the creative arts and providing the next generation of talent for Manchester's sector-leading digital and creative industries.
In addition, the University will also be opening an Institute of Sport in the city famous for its football teams across the globe.
NOTES TO EDITORS
Manchester Metropolitan University operates its China Office as MMU Overseas Study Consulting (Wuhan) Limited Company