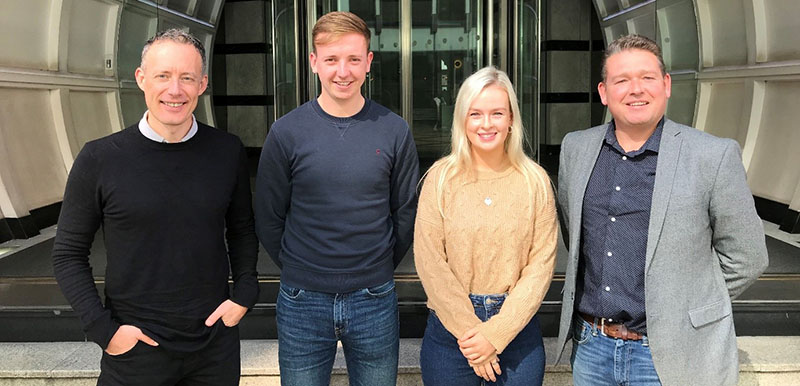 Manchester Metropolitan University and Manchester digital agency Kagool have joined forces to launch an innovative new graduate scheme.
The scheme aims to bridge the digital skills gap by equipping graduates with the relevant skills to succeed in digital marketing.
The launch of the scheme saw Kagool invite students studying on Manchester Metropolitan's undergraduate marketing programmes to present their solutions to a digital marketing problem, with the opportunity to gain training with the Manchester-based agency.
The first two graduates have recently completed their initial training that has secured them full-time roles at the agency's city centre offices.
Jeff McCarthy, Senior Lecturer at Manchester Metropolitan, said: "We're absolutely delighted to see the hard work and dedication of our students rewarded with permanent appointments at Kagool. This is a fantastic example of how the digital skills gap can be addressed through collaboration. We very much look forward to continuing our work with the Kagool team."
The graduate scheme sees Manchester Metropolitan develop the career-focused and industry-relevant learning of its undergraduate programmes in marketing, business and marketing, sports marketing, digital media and the recently launched Digital Marketer Degree Apprenticeship.
It is hoped that the new partnership with Kagool will encourage more agencies to follow suit and invest in the next generation of digital marketers.
Craig Johnson, Director at Kagool, said: "We are delighted to have gained two ambitious and talented graduates to Kagool's growing Manchester team. The scheme has been a huge success and is certainly something we are keen to repeat next year.
"The recruitment of young talent in to the industry and addressing the 'digital skills gap' have been hot topics in the sector for a number of years. Kagool are proud to be taking the lead and we look forward to seeing other digital agencies following suit."
Find out more about Manchester Metropolitan's undergraduate marketing courses.