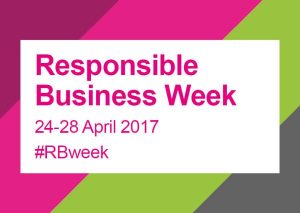 It is Responsible Business Week and this gives us a great opportunity to display some of the brilliant work being done in the faculty and the university to promote sustainability in business, education, employment and the environment.
Responsible Business Week is organised around 5 Key themes. These are Employees, Environment, Employment, Enterprise and Education.
Manchester Metropolitan University has launched a new scheme to help the region's youngsters into and through higher education. The First Generation scheme targets bright local students whose parents did not go to university and provides support and guidance to support them into university and, should they progress to Man Met, supports them through their studies. The aim is to increase the proportion of first generation students who progress to graduate level employment or further study.
Peter Riley, Head of Widening Participation and Student Financial Support at Manchester Metropolitan, said: "First Generation is a whole student lifecycle approach to widening participation. We will identify the students in year 12 and support them into and through the University.
"They will then have the opportunity to work with our alumni to gain valuable experience and contacts to support them into successful employment. Through this scheme we want to transform the lives of our First Generation students."
Jack Christian is the PRME Lead for Manchester Met. As a university, we are committed to producing socially and environmentally responsible graduates, which is reflected in our recent accreditation by the AACSB. Within the business school, there has been a module on responsible management built into every course.
The University is also involved in Greater Manchester Higher, which is a collaboration of universities and further education colleges from across Greater Manchester, who are working together to provide high quality outreach activities for local schools and colleges as part of the HEFCE funded National Collaborative Outreach Programme. Led by Manchester Metropolitan University. GM Higher aims to improve the provision of information, advice and guidance about progression routes to higher education (HE) and improved information about the variety of HE options for learners and their key influencers.
The University supports Enterprise through our Centre for Enterprise, who provide fully funded, practical business courses for start-ups and small businesses in greater Manchester. Supporting the economic growth of the region. The current courses include the Cheshire and Warrington Business Growth Programme, and the Greater Manchester High Growth network, focussed on helping small business to expand, and SMART Cheshire, a programme built around innovation in process and technology.
To keep up with our activities and events around Responsible Business Week follow us on twitter at @mmu_business or use the hashtag #RBWeek.