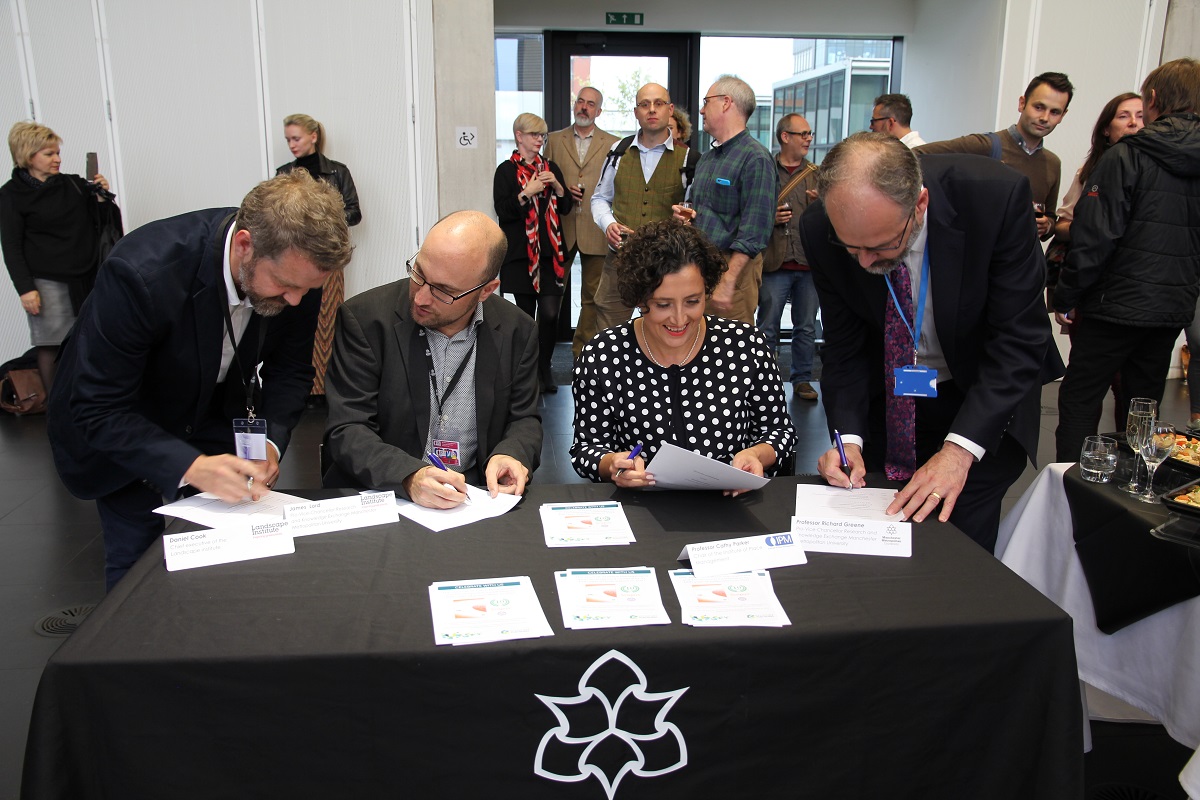 The Landscape Institute (LI) and Manchester Metropolitan University's Institute of Place Management will come together to help their members to create great environments.
Through combining the organisations' training resources and insight, the partnership will give both place managers and landscape professionals unrivalled opportunities to develop and learn.
The practitioners responsible for managing our town centres, public spaces and local environments will become better equipped to attract businesses and jobs, preserve public realms for all to enjoy, and prepare for future economic and environmental challenges.
Daniel Cook, Chief Executive of the LI, said that the agreement 'marks the beginning of an exciting new era for both organisations'.
Futureproof
"We have a great deal in common," he said. "So a collaborative approach is very much a win-win. By working together, we are paving the way for more professional bodies to cooperate with us on major issues and so better serve the practitioners and policy makers who make and manage places.
"Climate resilience, public health and wellbeing, resource security, environmental sustainability and more are all critical factors that our urban and rural environments need to address. This memorandum of understanding between our two institutions will enable us to pool resources and more efficiently equip our members to enrich society."
Professor Cathy Parker, Chair of the IPM and Professor of Marketing and Retail Enterprise at Manchester Metropolitan, said: "Our agreement with the LI represents a significant development not just for our organisations, but for the whole placemaking sector. We need to collaborate and to combine the best thinking from both the urban and natural environments if we are going to have great and resilient places. We cannot continue to segregate and silo professional interests to the detriment of our towns, cities and rural areas."
Based at Manchester Metropolitan University, IPM is a renowned research institution and provider of education and qualifications. While LI members will benefit from access to IPM's ground-breaking findings and innovative insights, the LI will support IPM's funding applications and contribute landscape expertise to future projects. It will also help to strengthen IPM's membership offering.
Adapting
"At present, there is no chartered credential for place managers," Daniel said.
"Working together, the LI and IPM will develop an accreditation model for these practitioners that will sit alongside our own Pathway to Chartership. This new pathway will acknowledge and mirror the extremely high standards set by our existing members, while catering for the varied skillset and knowledge base place managers must have.
"The face of the industry is changing, and rapidly. It increasingly falls to local businesses and stakeholders to manage local environments, and it is imperative that the right professional knowledge and expertise is on hand to ensure that these places are healthy, sustainable and economically viable."
Professor Parker concluded: "The professions we represent will shape and safeguard the future. I look forward to strengthening the alliance between our two institutes to better serve our members jointly."