MANCHESTER – 17 October 2017: Gama, a global provider of business information and services specialising in product innovation, today announces the exciting line-up of international speakers that will take to the stage for the second edition of the Gama Innovation Conference & Awards.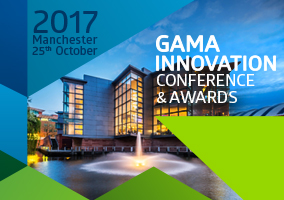 Taking place in Manchester on Wednesday 25th October 2017, the Gama Innovation Conference & Awards will bring together the great and the good from the world of fast moving consumer goods for a unique and inspiring morning of presentations and discussions on the theme of innovation.
Adapting to changing consumer behaviours, readying a brand for retailers and the secrets of launching a successful product range will be among a diverse range of themes explored, as expert speakers reveal the myriad ways that creative innovation can drive growth in the FMCG space.
The line-up of speakers includes:
The Lord Mayor, City of Manchester
Ian Wright CBE, Director General, Food and Drink Federation
Tammy Butterworth, Global R&D Manager, PepsiCo
Nuno Lopes Gama, Head of Innovation & Future Tech, Sonae
Lisa Sohanpal, Founder & CEO, Nom Nom's World Food
Tom Warden, Editorial Director, Gama
2017 will also see the launch of a one-of-a-kind Innovation Zone, where disruptive companies from around the world will showcase an array of game-changing launches to an international audience of FMCG manufacturers, retail buyers and industry experts.
Cesar Pereira, Gama Founder and CEO, commented: "I am delighted to be able to welcome a truly diverse and international range of speakers to the second edition of the Gama Innovation Conference, at the heart of the Northern Powerhouse. This will be a unique opportunity to learn first-hand the secrets to successful innovation in the FMCG space from recognized industry thought leaders and experts in their field. 2016's inaugural edition of the Gama Innovation Conference proved to be both thought-provoking and inspiring, and I have no doubt that everyone who attends this year's event will come away with fresh ideas and insights to take forward in their own business".
The Gama Innovation Conference will be held at the Bridgewater Hall in Manchester on Wednesday 25th October 2017. For more information, please contact Marisa De Lucia at marisa.delucia@gamaconsumer.com