New SME hub in the heart of the city will put students in touch with a range of high-profile businesses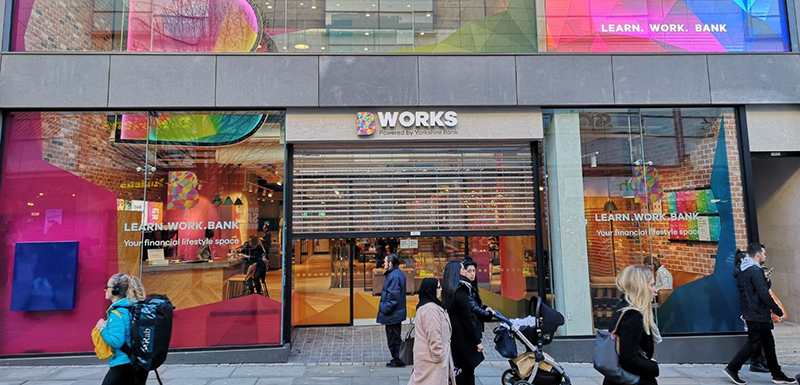 Entrepreneurial students at Manchester Metropolitan University are set to experience a new way of learning with access to expert business advice and guidance, thanks to a new partnership with Yorkshire Bank and B, part of CYBG plc.
Students who are studying entrepreneurship units at the University's Business School will use the banking group's new B Works space in the centre of Manchester, for a range of events designed to put them in touch with business owners and advisors from across the region.
B Works, powered by Yorkshire Bank, is a three-storey co-working and banking space based on the busy Market Street in the heart of the city. The store is set to offer a place for students, local consumers and small and medium-sized enterprises (SMEs) to learn, work and bank while taking advantage of a wide range of free in-house facilities.
Jonathan Lawson, Strategic Partnerships Director at Manchester Metropolitan, said: "The launch of the new B Works space will provide a vital space for our business students to learn while giving them access to expert advice from a wide range of organisations, SMEs and leaders.
"Our students will use B Works as a space to meet with SME owners and entrepreneurs who will be able to use the high street store as a one-stop shop to co-work, bank and network while growing their business and learning from local, like-minded business experts."
Through a programme of events organised by Manchester Metropolitan, B Works will offer the chance for students to meet with representatives from B and organisations such as fashion retailer Boohoo.com and leading multinational law firm DWF.
The space will allow students to find out more about the areas of business growth, entrepreneurial learning, social and environmental enterprise and leadership.
Helen Page, B's Group Innovation and Marketing Director, said: "With B stores already in London and Birmingham, we're delighted B Works is now opening in the North West of the country, as we spread our footprint nationwide.
"Our commitment to SMEs is well documented and we're confident that by creating an informal space that encourages innovation, co-creation and supports growth for local consumers, entrepreneurs and businesses, we'll transform the way our customers interact with us."
B Works will also offer Manchester Metropolitan students the chance to work with The Manchester Growth Company whose SME gurus will be based in the new store offering free tutorials, while digital experts Freeformers will help Manchester's small businesses to leverage digital tools to grow their enterprises.
pro-manchester, the largest business development organisation in the North West, will also be hosting free events for entrepreneurs and local businesses as part of a regular events programme and local partner network designed to provide guidance and support for Manchester's thriving small business community.
Find out more about the new B Works space in Manchester on the B website.