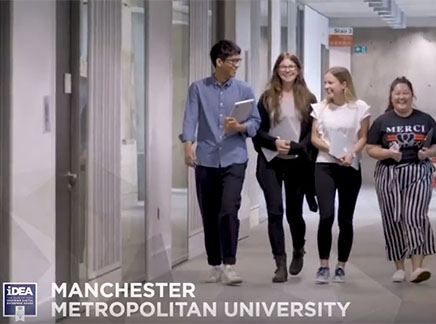 Do you want to do something that helps you stand out from the crowd to employers? That gives you some great skills, with something to show employers at the end of it? Oh, and that is completely free that you can complete anytime, anywhere, at your own pace?
Doing something extra alongside your degree, whether it's work experience in industry or involvement with society, can show to future employers your drive and commitment. There are other ways however, to showcase your drive to become more employable and your personal development throughout your time at university. One of these ways is through a free online programme such as iDEA.
iDEA is the Duke of York's Inspiring Digital Enterprise Award, an international programme that helps you develop digital, enterprise and employability skills for free!
Through a series of online challenges, you can win career-enhancing badges, unlock new opportunities and ultimately, gain industry recognised awards that help you stand out from the crowd.
You can personalise your iDEA award by completing 'badges' or modules in subjects and topics that interest you. The badges are split into 5 categories:
· Citizen Badges: Digital awareness, safety and ethics.
· Worker Badges: Tools and techniques, which are useful in the workplace.
· Maker badges: Digital creativity and building and making in the digital world
· Entrepreneur Badges: How to originate ideas and bring them to life.
· Gamer Badges: Gamification techniques and help people learn how to make games
As well as being fun, these badges will help you show off what you have learned and could, when the time comes, help you secure the job you want.
Shauna Burns, Careers Advisor, said:
"It's really important that students have a vehicle to help articulate their skills to future employers and iDEA is a great way to do this. Students can evidence their interest in various aspects of digital and enterprise, by completing specific badges.

You don't need to be into digital to take part either, iDEA is suitable for students across all disciplines. The fact that students set the pace, content and focus of their learning is really appealing and a key feature of iDEA."
You can work your way through the Bronze, Silver and the soon-to-be-launched Gold award.
Princess Priscilla Ofori a Manchester Met Level 4 BA (Hons) Accounting & Finance student, who has completed the iDEA Bronze award told us why she recommends the programme to all students:
"'I heard about iDEA via an academic member of staff, Jeff McCarthy, who introduced it to us. I like the vision behind iDEA. The opportunity to gain digital and enterprise skills will greatly assist me in everything I do, be it personally, academically and for work.

The benefits are dynamic, in the sense that any badge you complete can be an advantage to anything you do. For example, the team worker badge has not only helped me during my studies but also strengthened my relationships at work. Invaluable, easily accessible and innovative."
Better yet, as you complete the badges, your Record of Achievement can be downloaded or printed to show to employers, tutors or just to keep as a record of your own personal development.
Want to find out how else you can boost your skills and do something extra alongside your degree? Take look at the Careers website to explore the Futures Skills Award, internship and placement opportunities, volunteering and more.