Need some help identifying your transferable skills? Here are our top five skills and how to showcase them!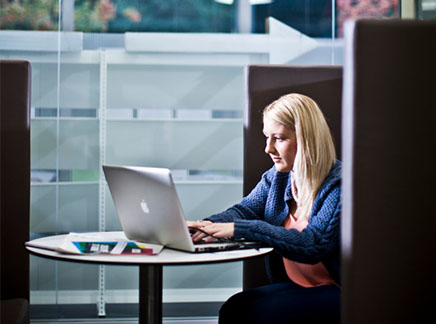 Whether you know it or not, you are developing a set of valuable skills during your degree – skills that an employer is going to be looking for. It's important to be able to reflect on your experiences and identify the skills that you've gained, so that you can highlight them to an employer in a CV, application and/or interview.
How do I identify my skills?
Think about what you've learned, what you did, and how you did it. Then break it down.
Example: Group Project
To complete a successful group project, you might:
Organise a meeting with your group, using your organisation skills
Discuss ideas collaboratively, using teamwork and supportive, effective communication skills
Take charge of the planning and timeline, showing your leadership, coordination and delegation skills
Ensure the deadlines are met, reflecting your ability to manage your time effectively, balancing your project with any other coursework or extracurricular activities.
These are just a few examples of the skills that you might have developed through a group project. Now, follow the same process to identify skills you've gained from other aspects of your course, such as presentations, written assignments, exams, and dissertations. We're discussing soft skills here, the type of skills you gain every day, but remember to include technical skills and knowledge that you've gained from your specific subject area too.
How do I communicate my skills?
The best way to highlight your skills and experience to an employer, whether on a CV or in an interview, is the STAR format. This involves explaining the:
Situation: Set the scene.
Task: Briefly explain what it is that you had to do.
Action: Explain the specific action you took (i.e., what you did, why you did it, how you did it, what skills you used).
Result: Explain the outcome (i.e., any positive feedback or result, skills and knowledge gained, etc.).
For more information on selling your skills and the the STAR format, see our CV and interview webpages.
Our Top 5 Transferable Skills:
Without further ado, here are our list of the top 5 soft skills you're developing through your degree at Manchester Met.
1. Communication
Completing a degree takes a lot of communication, whether it's writing papers, delivering presentations, or working effectively with staff and peers.
Think about the skills you've used within this as well – analysing complex information and communicating it to a range of audiences, verbally and in writing; data entry and/or Microsoft Office proficiency; public speaking and group work.
2. Teamwork
As mentioned in the example, think about a group project you completed and the skills that you used.
Have you been a member of any societies, clubs, or sports teams? These are a great way to show your teamwork skills and that you've engaged with University life.
3. Time Management
Effectively balancing your coursework, deadlines and studying can take some serious planning, especially when you're also involved in extracurricular activities or work experience, so remember that as you successfully complete projects and exams, you're showing an employer that you could work under pressure to complete your workload on time and to a high standard, too.
4. Problem-Solving
It's likely that you faced a task or project during your degree that you struggled with, but through hard work and thinking outside the box, came up with an effective solution. That could be adapting the project, asking for support, or doing additional research.
An employer wants to see how you are proactive and show initiative, so think about a time you overcame a challenge and highlight the skills and tactics you used.
5. Resilience
Throughout your degree, you are likely to have received constructive criticism on your work, or you might have faced some difficult situations – adapting to these types of scenarios and using them to improve yourself and your work is resilience.
An employer will want to see an employee that can take constructive criticism or setbacks on board to improve the work they're doing.
Now you have an idea of some of the skills you're developing make sure you're getting the most out of your time at University. Don't forget that you can also complete the Future Skills Award to show employers evidence of your skills and hard work! To find out more about the core employability skills employers look for in graduates see The Global Skills Gap in the 21st Century.
For support on identifying your skills, gaining experience, developing your CV or preparing for an interview, contact the Careers Service at 0161 247 3483 or careers@mmu.ac.uk.
- by Sarah Reith, Careers & Employability Assistant