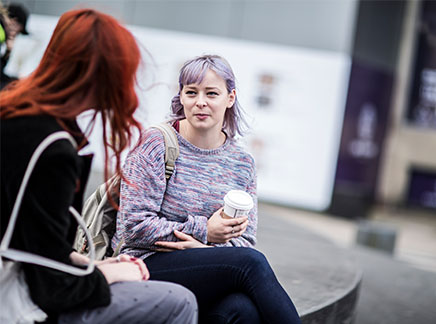 Research among university students shows a high prevalence of mental health difficulties, and university counselling services are reporting an increase in demand for their services. With this in mind, whether you have a mental health condition or are looking to support a fellow student or peer, it's important to know that there are a wide range of resources to support Manchester Met students in their work aspirations, studies, and wellbeing.
Mental health conditions and disabilities can make the world of work seem even more daunting, but the Careers & Employability Service can provide support through all stages of career development, from making a career plan and perfecting a CV, to developing interview skills and getting work experience.
Marina Matosic, Faculty Careers & Employability Manager and Specialist Careers Adviser, explains: "Living with an invisible disability can throw up a few issues when job hunting, such as 'Do I need to tell an employer?', 'Will they discriminate against me?', or 'Will I cope?' For support and advice, come and see me – 60 minute appointments are available."
Did you know…
You can book a careers appointment with Marina Matosic, a specialist careers adviser, to get advice on aligning career goals with a mental health condition. Appointments can be booked by phoning 0161 247 3483 or visiting the Employability Hub in the Business School.
You can access our guide on Careers Advice for Disabled Students and Graduates, which contains links for mental health issues, as well as other disability resources.
Keep an eye out for careers workshops relating to mental health and disability on My Career Hub.
On top of a great place to find vacancies, networking events with top graduate employers, and first-hand success stories, MyPlus Student Club has amazing resources on topics including disclosure, accounting for differences in your CV, asking for adjustments in the recruitment process, and more.
Mind also offers great advice on applying for jobs, disclosure, equality in recruitment and the workplace, and useful contacts.
Additional Support:
In addition to a supportive Careers & Employability Service, Manchester Met students can also access a wide range of other services.
Did you know…
Whether you're the speaker or the listener, take advantage of the fantastic resources and services available for support on career and wellbeing journeys.
- by Sarah Reith, Careers & Employability Assistant