'Don't let anyone tell you what you are, you have to paint your own future, only you can say what you are capable of. Seize every opportunity you can and always give 110%!'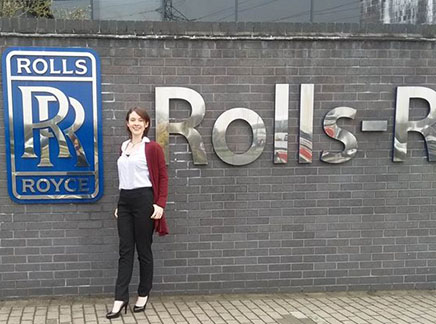 Taking advantage of opportunities available to you can be crucial in standing out from the crowd. The TARGETjobs Undergraduate of the Year Awards is an annual competition aimed at finding the best undergraduates in the UK. Each award is partnered by a prominent graduate recruiter who provides a fantastic prize for the winner, including a paid internship, trips abroad and other exclusive opportunities.
Here, Sarah Scholes-Lawrence, Manchester Met 2nd year BSc (Hons) Product Design & Technology student, tells us how her ambition and experiences led her to become a Target Jobs' Female Undergraduate of the Year 2019 finalist, recipients of which demonstrate 'a winning mix of personal skills, career motivation and an excellent academic record'.
Take a risk…
When asked about how she heard about the award and what motivated her to apply, Sarah's response is 100% relatable and shows how a little leap of confidence and risk-taking can be all it takes to succeed:
"I honestly applied to the competition on a whim, I received a link from the Careers Hub through the University and I looked it up, learnt some more about it and then I actually left it for a while thinking there was no point in applying.
I then proceeded to change my mind and I thought 'Why not?' so I applied, thinking little of it and not telling any family members or faculty staff. I thought it couldn't hurt to apply and if no one knew then if I didn't get through it would be ok. So as you can imagine I was very shocked to find out that I had got through to the shortlist from 750 applicants and then to the final was brilliant!"
On the application and assessment process…
The Target Jobs awards are highly competitive, but also highly valued. For the Female Undergraduate of the Year category, the process starts with online questions posed by the sponsor, Rolls Royce. Then, students are invited to complete online tests, which Sarah explains included testing of maths, verbal and abstract reasoning and workplace personality.
Top-performing students who best match the sponsor's requirements are shortlisted for the second stage – a two-day assessment centre, complete with interviews, panel presentations and group exercises. These focused on the students' achievements, motivations and Rolls Royce knowledge, as well as International Women's Day, and the promotion of women in STEM careers. The group exercise required students to 'programme a robot and build it a bridge over fictional water'. There was also a written assessment testing what the students would do in a given business situation. Following the assessments, the best ten students are invited to the awards ceremony in London where the winner is announced.
"Once I got through to the short list, I began letting staff know. I talked to Lisa Simmons (Senior Lecturer, School of Engineering), as I had to take time off from her class to attend an interview day at Rolls Royce, and she proceeded to inform many members of staff and support me more brilliantly than I can explain, encouraging me all the way. As a result I gained so many opportunities."
Increased employability
Sarah explains how her participation and success in these awards will contribute to her employability and future prospects:
"This opportunity has added greatly to my future prospects as I now have a title only 10 other women in the country have, setting me apart from the competition. The opportunity has helped me grow and develop my business abilities. Since the competition I have been interviewed several times by different people, been invited to the Engineering Excellence Awards dinner and received more recognition then I ever thought possible!"
What's next?
First up Sarah is starting an internship:
"Next I will be in Derby doing my summer paid internship in engineering manufacture in civil aerospace which I thoroughly look forward to!"
She'll also be starting on her research for her dissertation next year, which will be in the area of health care. Her future aspirations are to 'rise through the ranks to become a manager, specialised or general, as I have been in management since the age of 16 and am drawn to the future potential.'
Other achievements:
Sarah has also participated in the Engineering & Design Mentoring Scheme, receiving fantastic feedback from her mentor. She also found the connection beneficial, saying:
"I have engaged well with my mentor who has supported me brilliantly and I thank very much for his support." Sarah has also been a course ambassador for two years, the treasurer of the Breakdance Society this year, and part of the Ballroom and Latin Society.
Advice for other students:
"I would definitely recommend each and every student to engage with as many different opportunities as possible while they are at university even if they don't think they will get it. It never hurts to try, if you don't [succeed], it's a learning curve, if you do, you can take yourself even further.
As someone with quite severe dyslexia and dyspraxia I have always struggled and had teachers growing up telling me I won't be able to amount to much bar just being average or below. Don't let anyone tell you what you are, you have to paint your own future, only you can say what you are capable of. Seize every opportunity you can and always give 110%!"
- Written by Sarah Reith, Careers & Employability Assistant