We chatted to Claudia to find out how she went straight from studying to graduate employment – and how you can, too.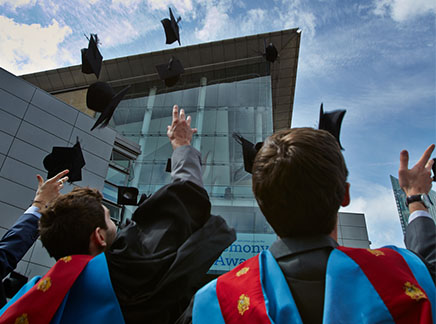 22-year-old Manchester Met graduate, Claudia Farrington, wasted no time in beginning her career after finishing her degree – in fact, she started her graduate job the day after her final exam.
Kagool, a specialised Manchester digital agency that Claudia now works for, offered Claudia the role of graduate Marketing Assistant while she was completing the final year of her BA (Hons) Marketing with Digital Media degree.
Experience outside of lectures is valuable
Claudia suggests that one the best ways to land a graduate job is – you guessed it – getting work experience:
'I would 100% recommend getting work experience while studying. I think it gives you vital skills needed for a graduate role. Working during university helped with my time management, teamwork, and overall prepared me for leaving university.
'I didn't do an internship but I worked for a recruitment consultancy during my degree and it gave me vital skills such as the ability to work in an office environment, dealing with clients, and managing deadlines.'
The Careers Service is here to help
Claudia made the most of the Careers Service here at Manchester Met when she was searching and applying for jobs.
'I used Career Hub to search for available graduate roles and practice interview assessments such as numerical / verbal reasoning. Career Hub is a great asset to students and I can't recommend it enough. There are a few employers who solely advertise on it (such as Kagool) so it's important for final year students to utilise the resource.'
(Check out the range of careers-related support offered by the Careers Service here.)
Your degree is an asset
Claudia's degree enabled her to develop various transferable "soft" skills (such as teamwork, time management, and critical thinking) as well as specialist digital marketing skills and knowledge – all of which are relevant to her graduate job.
By demonstrating these skills during her job application, Claudia proved the relevance of her degree to the employer:
'The application process took place when I was finishing up final assignments, which was actually a huge help and gave me some useful tips to use in my assignments.
'I was invited back for a second interview, which was in the form of a presentation. The presentation was based around my Search Engine Optimisation university module (which was great for me!).'
Look for a good match
When searching for graduate jobs, Claudia looked for an employer offering exciting opportunities.
'What attracted me to Kagool is knowing that there are opportunities to learn and progress. Kagool offers a range of services that I have touched on in my degree. I work with digital specialists so it's exciting to be able to learn their field.
'My role is to build on our existing client list by attracting new customers for Kagool. My daily jobs involve: content marketing, email marketing, SEO, social media management, PR, award entries and industry research/reporting. I am currently working on a sector-specific campaign, which involves testing and research on leading brands.
I am looking forward to what the future holds. I know that in my few weeks at Kagool I have already learnt so much.'
Take a look at our guide to help you decide if an employer is the right fit for you.
Be yourself
Many of us worry about how to make a good impression during job interviews, but Claudia's advice is simple.
'Do your research, prepare and be yourself!
'The first interview [for the Marketing Assistant job] was an informal chat about what I had learnt about Kagool and my career ambitions.
'Kagool is a friendly and fun company. So yes, it's important to show that you know your stuff – but let your personality and hobbies to shine through too. We will be working together at the end of the day.'
Keep calm and carry on
Managing the pressure of final year studies alongside job-hunting is no mean feat.
Claudia shares her wisdom on how to cope:
'There is nothing more daunting than the process of applying for graduate roles in your final year, even worse being turned down for a role. It's important to remember that everyone goes through the process and I would not stress about it. I would utilise all the resources you possibly can, such as Career Hub, and be prepared. Preparation is key to being less nervous.'
If you need help looking for a graduate role, placement, work experience or boosting your employability skills, take a look at our range of career guides here.
- Written by Gemma Fairclough, Careers & Employability Assistant