News |
Tuesday, 2nd July 2019
The Degree Show's over…What's next? Top tips for creative graduates
Our top tips for beginning your creative career.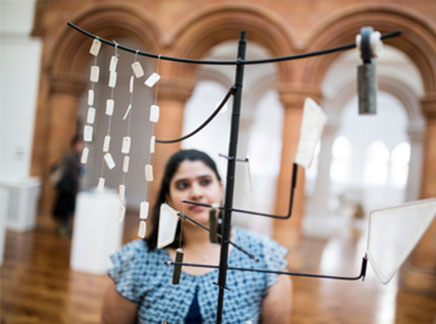 With the end of another successful Manchester School of Art Degree Show comes the beginning of your creative career. It might seem a bit daunting at first, but with these top tips, you can start setting yourself up for success.
Keep connected with the creative community in person
You've been surrounded by peers during your degree and keeping in contact with other artists, whether through collectives or shared studio spaces, can be really beneficial. Attend previews, events, and fairs to view and share work. You can network with other creatives and find out about upcoming opportunities.
Keep connected online
Create an online presence to showcase your portfolio. You can use networking platforms like LinkedIn or Instagram to connect with other creatives.
I know what you're thinking…LinkedIn for creatives? Really? But it can be a great way to connect to others and show peers and employers your work. There's a wealth of resources online on how to get the most out of your LinkedIn profile. Continue to raise your profile by sharing content and commenting on others' content, and connect with other alumni on the School of Art groups: Art Department, Design Department, and Media Department. This will give you insider insight into upcoming opportunities, vacancies, events, and more.
Keep being creative and pursuing your passion
Make use of the skills you've gained from Manchester Met and keep creating projects you love. Collaborate with other artists to set up your own exhibition, consider using a shared studio space, or participate in art fairs where you can show and sell your art.
A helpful careers article for creative graduates quoted Naomi Troni, global chief growth officer at MullenLowe Group, "As you don't have a final presentation to work towards, this is the time to choose your own path. You won't have a regimented wave of projects so take charge of your destiny. Choose a goal and work really hard to achieve it."
Keep in touch with the Careers Team
There are loads of resources for creatives on the Manchester Met Careers website, including information on creative CVs, fine artist CVs, and subject-specific Manchester School of Art career guides for advice on finding work in the industry.
You can also get more careers tips and tricks including how to network, build your online brand and even assessment centre and interview simulators, on our digital learning resource MMyou Careers Centre.
If you would like further advice on your next steps, feel free to get in touch on 0161 247 3483 or via artsandhumanitiescareers@mmu.ac.uk.
- Written by Sarah Reith, Careers & Employability Assistant