News |
Friday, 22nd February 2019
Graduates return for Cheshire Class of 2019 Festival Day
Nearly 90 attendees attended the Cheshire Class of 2019 Festival Day On Monday 18th February at the Cheshire campus.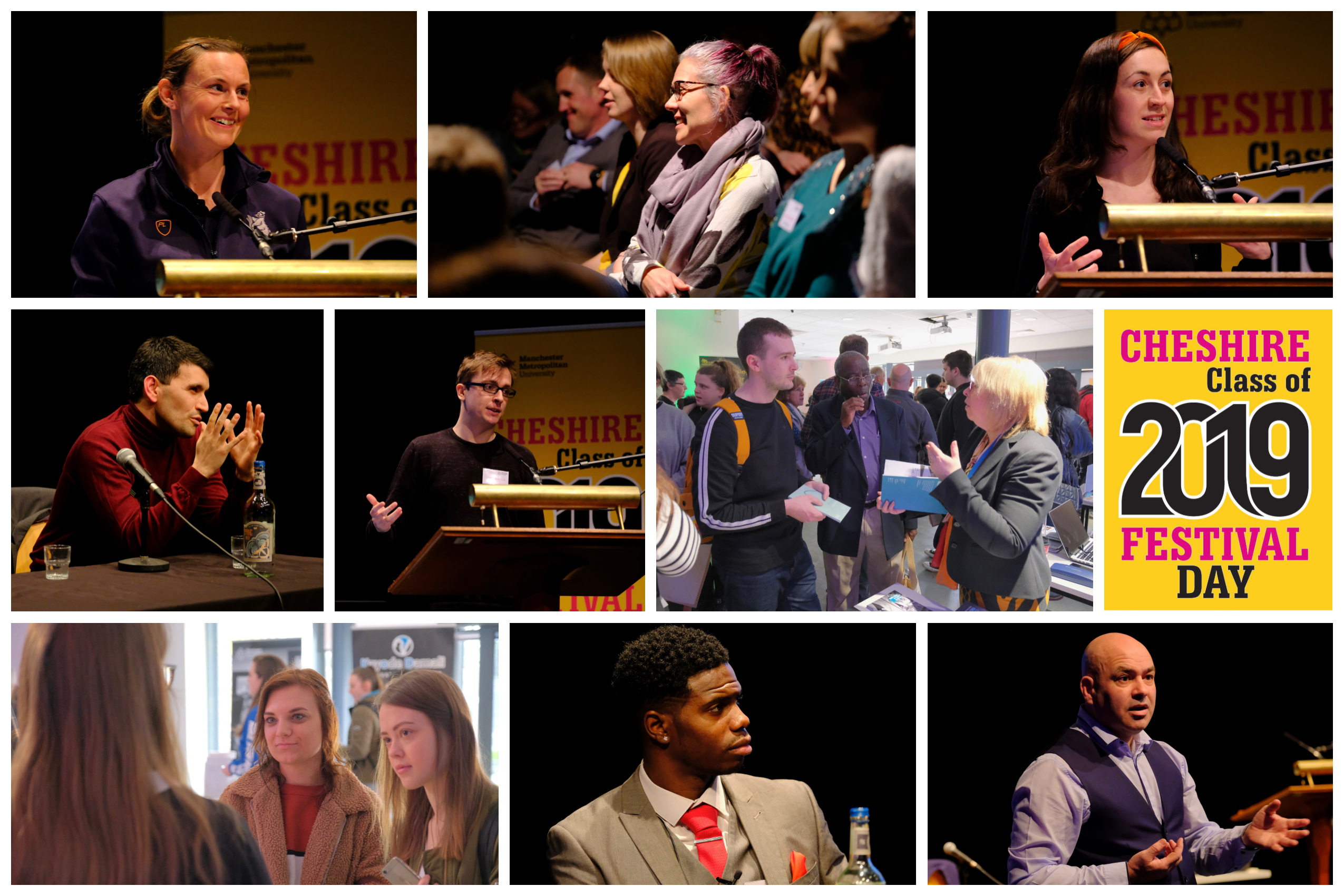 The Cheshire Class of 2019 Festival Day, which brought together a range of successful Cheshire campus graduates to share their advice with the current student cohort, provided students with an opportunity to learn from leading figures in the sports, education, business and creative arts industries.
Students also had the chance to network with a wide range of postgraduate and careers services to explore post-university options.
The Keynote speaker, educational Consultant, Coach and Public Speaker Rob Pickersgill, studied Business and Sport Coaching at the Cheshire Campus in the 1990s before completing a PGCE. Rob, who now works with a wide range of businesses, groups and individuals to help them develop, progress and achieve, kicked off the event with an inspirational talk on his path to success.
Pro-Vice Chancellor for the Cheshire campus Christine Horrocks then delivered a talk titled: 'Be good to yourself: stop worrying and get organised!'. During her talk, the Pro-Vice Chancellor discussed setting achievable targets, productive mind-sets and the timekeeping 'Pomodoro Technique', gifting the audience their own egg-timers to help them schedule their working.
A panel of six Alumni speakers then spoke to the audience detailing how each of them strived to achieve in their respective fields.
Jessica Gibson, theatre maker, performance artist, writer and social entrepreneur spoke first, sharing the story of how the support of her lecturers helped her find her feet as a performer, as well as her relationship with mental health and the influence it has had on her work.
Laney Craig, Psychologist & Senior Research Assistant in Mental Health and Coercion at Manchester Metropolitan spoke next, detailing how her approach to working as a mature student helped enable her to many achievements including establishing the Student Academic Innovation Journal for students and the Bee Vocal Choir.
Matt Lightbound, Audio Designer at videogames developer Deep Silver Dambuster Studios, shared his audio work on a range of high-profile videogames including Planet Coaster and Jurassic World Evolution before discussing how his perseverance and developing relationships with employers helped him establish his career.
Laura MacLeod, Head of Women's and Girls' Pathway at Warwickshire County Cricket Club, discussed how she handled the demands of studying while also leading the line for England during her cricketing career.
Paul Butler, whose football coaching career has included being the first team coach at Derby County as well as being the assistant manager at Leeds United, impressed upon the students the importance of perusing goals, maintaining high standers while also enjoying life as a student.
Finally, public speaker and BBC's The Apprentice participant Kayode Damali shared memories of his time as the Students' Union Vice president, his various TV appearances and advice on how to put plans into action.
Cheshire campus Pro-Vice Chancellor Christine Horrocks said:
"The Cheshire Class of 2019 Festival Day was a roaring success with nearly 90 attendees enjoying the talks, workshops, panels and networking opportunities on offer on Monday."
"I'd like to extend my thanks to our wonderful guest speakers for their fascinating insight into the world of work. The Cheshire graduates have each excelled in their respective fields and had a wealth of knowledge to share."
"My thanks also to the many colleagues who have worked tirelessly to make this event a success. I've already had fantastic feedback from students who greatly enjoyed the event and the new opportunities and perspectives on offer."