News |
Tuesday, 10th April 2018
Celebrating International Day for Street Children
Find out how our researchers are helping improve the lives of street-connected young people through research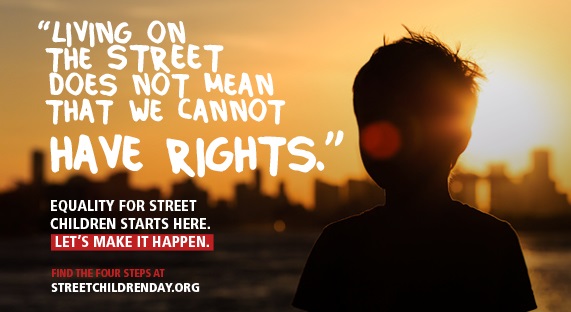 Researchers at Manchester Metropolitan University are helping improve the lives of street-connected young people through advocacy and research.
To celebrate International Day for Street Children (April 12), the University is hosting a seminar and showcasing the projects some of our academics are working on around the world that contribute to the growing body of knowledge concerning street-connected young people.
Academics are helping organisations develop their programmes of support, sharing their experiences of good practice, and advocating for the development of effective social policy.
Dr Su Lyn Corcoran, Research Associate at the University's Education and Social Research Institute, said: "We describe these young people as being street-connected, as the phrase 'street child' labels and limits them to a particular situation – often portraying young people in need of either rescue or removal.
"In talking about street connections, we recognise that individual young people are capable of forming, maintaining and renewing relationships and associations with people, families and communities on and off the streets. These children could experience a wide spectrum of situations, ranging from maintaining close connections with their family homes to their total immersion into street-based cultures. As researchers, we aim to understand these relationships to inform policy and practice that better support this group of young people."
Research
(Re-)engaging street-connected young people with education in Kenya
Building on an ESRC-funded PhD focused on young people's experiences of transitioning away from the street in two Kenyan towns, Dr Su Corcoran is currently collaborating with Glad's House in Mombasa, Kenya.
The British Academy and Leverhulme-funded project focuses on the experiences of older street-connected youth, who are often considered too challenging to work with.
The project aims to understand the additional challenges of being back in the classroom faced by young people who have been on the street for extended periods of time.
Dr Corcoran said: "In understanding how these young people overcome the challenges they face, I hope to inform the design of teaching pedagogies that make classrooms more inclusive to street-connected young people."
Exploring the impact of international advocacy events on the young people who participate
Dr Corcoran and Dr Jeremy Oldfield, Senior Lecturer in Psychology at Manchester Metropolitan University, will be exploring the impact of participating in next month's Street Child World Cup in Moscow has on the young people who take part, the communities they belong to, and the organisations who support their participation.
The academics are collaborating with Street Child United, and their partner organisations, for the project.
Dr Oldfield said: "As advocacy is increasingly played out on international platforms, this research is important to understand how the 'ambassador' role as a voice for other street-connected young people affects the players' own particular journeys away from the street."
LEAP from the Street – Learning Educating and Protecting
Building on a previous collaboration with Chance for Childhood in Rwanda, Dr Julie Marshall, Reader in Communication Disability and Development, is working with the LEAP (Learning Educating and Protecting) project in Western Kenya.
The LEAP project is supporting street-connected children with learning disabilities, particularly those with communication disabilities.
Dr Marshall is leading a piece of research that is part of the wider LEAP project, together with Dr Carol Taylor, Research Associate, and David Rochus, Local Research Co-coordinator. They are investigating the experiences, attitudes, beliefs and wishes of street- connected children, with communication disabilities, and their main caregivers at home and in school.
Data collection has recently started and group of local LEAP project staff have worked collaboratively with the academics to design and carry out the data collection activities.
The children of the Terminal in Guatemala City
Dr Oldfield, Dr Andrew Stevenson and Emily Ortiz from the Department of Psychology have been
collaborating with Resplendece and Puertas de Esperanza - two educational voluntary outreach projects who provide classes for street-connected young people who do not attend school in Guatemala City.
The aim of the research has been to explore resilience in street-connected young people, by investigating protective factors that promote positive well-being.
They investigated young peoples' perspectives on education, place, aspiration, belonging and work using a variety of methods including participatory photography, drawing, questionnaires, documentary film and go-along interviews in order to enter the imaginative worlds of young people who live, work and learn on the street.
Part of the research involved making documentary film, 'Los Niños de La Terminal' which follows children who live, work and study at The Terminal - a marketplace, bus station and home to hundreds of families - in Guatemala City. Often described as 'a city within a city', the Terminal presents many risks for children who exist beyond the reach of mainstream schooling.
Los Niños de La Terminal (trailer) from andrew stevenson on Vimeo.
Collaborating beyond the research
In addition to her research work with street-connected young people, Dr Corcoran has spent over four years volunteering as either trustee or fundraiser for Child Rescue Kenya, an organisation working with street-connected young people in Western Kenya.
In addition, she volunteers as the programme officer for the Enabling Education Network, a platform for information sharing about inclusive education, where she co-edits the Enabling Education Review.
In December 2017, a special edition was published to provide a roundup of different ways in which organisations enable access to education for street-connected young people around the world, to help organisations share their experiences of working effectively with street-connected young people with others. You can read the edition here.
Find out more about the various projects our academics are working on around the world that involve street-connected young people at a lunchtime seminar on International Day for Street Children on April 12. The session will be held between 12pm to 1.30pm on at Brooks 1.64.