'Research on Becoming an English Teacher' by Tony Brown, Chris Hanley & Mike Dore.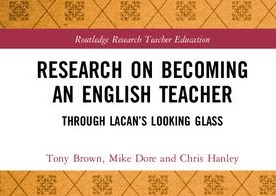 'Research on Becoming an English Teacher' considers the process of becoming a teacher from a variety of perspectives, where the ambition is to consider how people can change themselves within that process. By pursuing an approach influenced by the psychoanalytic theory of Jacques Lacan the authors consider practitioner research as an approach to professional and personal development and how it might be understood as a strategy within both teaching and teacher education.
Taking English teaching as the main example, this book explores the processes and discourses that shape the experience of English teaching in schools. Chapters consider the origin and development of English education, practice and theory in English education, the process of becoming a teacher in school-based environments and creating an analytical space for learning narratives in teacher education.
This book will be of interest to academics, researchers and post-graduate students in the fields of teacher education, curriculum studies, educational theory and educational psychology.