Co-production is at the heart of the 2019 Collaboration, Creativity and Complexities Conference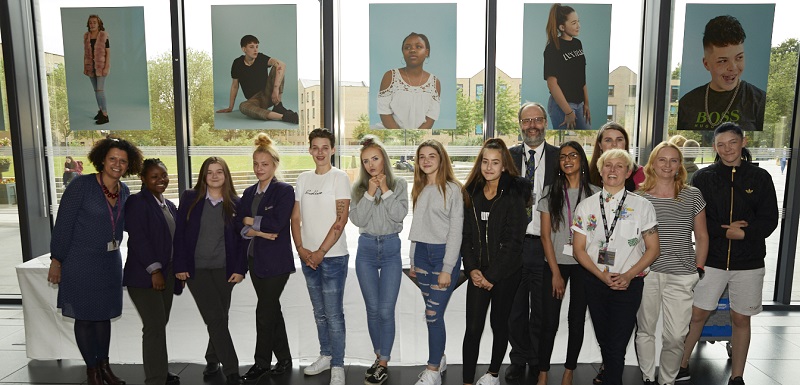 Stories of how researchers have successfully engaged young people in transformational projects were highlighted at a conference celebrating co-production.
The two-day Collaboration, Creativity and Complexities Conference 2019 held at Manchester Metropolitan University was one of the first international multidisciplinary conferences to be held in the UK with a focus on the co-production of projects with children and teenagers.
It brought together academics, youth workers, community groups, parents and children to address methods and ideas in the broad area of co-production with a focus on making change happen.
Raising the profile of co-production
Professor Richard Greene, Pro-Vice-Chancellor Research and Knowledge Exchange, said: "We are strong in many aspects of research ranging from English to sport, and art to political economy, but there is no doubt that that sociology and research involving young people and communities is one of our strongest areas and it is central to the work of three of our 13 University Centres for Research and Knowledge Exchange – in the form of the Education and Social Research Institute; the Health, Psychology and Communities Research Centre, and the Manchester Centre for Youth Studies.
"The directors of those centres, Professors Kate Pahl, Rebecca Lawthom and Hannah Smithson have been instrumental in organising this conference.
"They make a tremendous contribution to the University and I would like to thank them for their work and congratulate them on their very many achievements.
"Undoubtedly, one of those achievements has been to raise the profile of co-production and the value given to projects that bring disciplines and sectors together to develop innovative ways of producing and sharing knowledge.
"Their work also emphasises the importance of listening to and working with children and young people.
"Manchester Metropolitan values both approaches and that is why I am pleased to see so many community groups and young people represented in the programme."
Attendees discussed and shared ideas, inspiration and experiences around co-production with children and young people.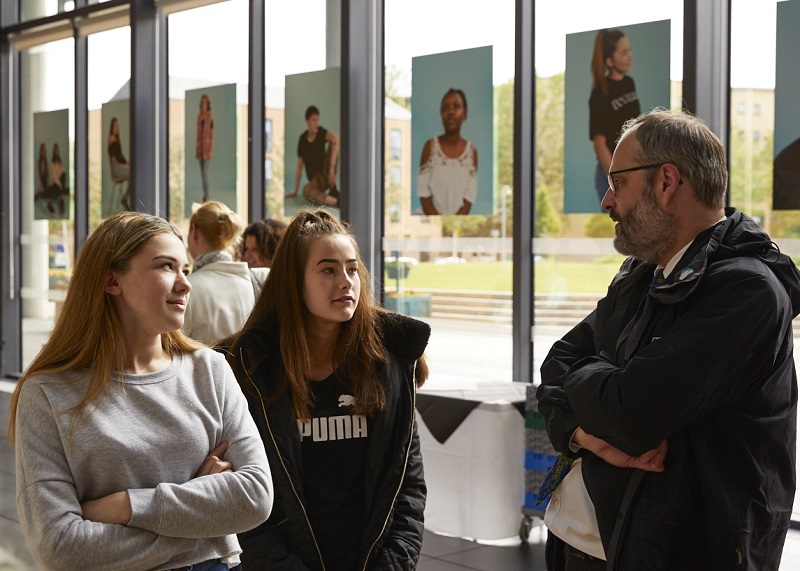 Engaging research presented
Some of the Manchester Metropolitan research presented included:
· an exhibition of some of the portraits of girls who had undertaken the Getting Out For Good programme, led by Dr Deborah Jump, Senior Lecturer in Criminology, for at-risk young women and girls across Greater Manchester to understand the challenges they face in their local communities and to help them build positive social networks. Funded by Comic Relief, it was run by the University's Manchester Centre for Youth Studies
· Senior Lecturer in Drama Dr Rebecca Patterson's work on creating with children 59 second long dance films about health and wellbeing in local communities
· a project in which pupils aged 8 and 9 were encouraged to explore their feelings of strangeness and how to cope with it during a school day in a set of films produced for the Arts and Humanities Research Council-funded project 'Feeling Odd in the World of Education'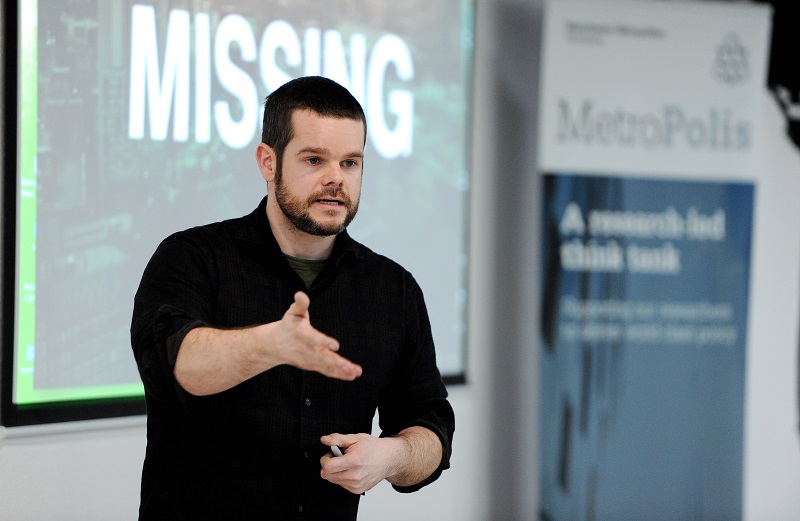 · Research Fellow Dr James Duggan's study of The Co-productive Imagination in which a case study is the Loneliness Connects Us project, a partnership between academics at Manchester Metropolitan and staff and young people at 42nd Street youth charity, which used creative and co-produced methods to investigate youth loneliness from the perspective of young people
· the under-researched experiences of young people in hospitals, examined by Dr Rajesh Patel, Senior Lecturer in Youth and Community Work, in a study called 'The erasure of vision – politics of blurring' that looked at how the voice of young patients with life-limiting conditions was taken into account in the delivery of their clinical care and social care support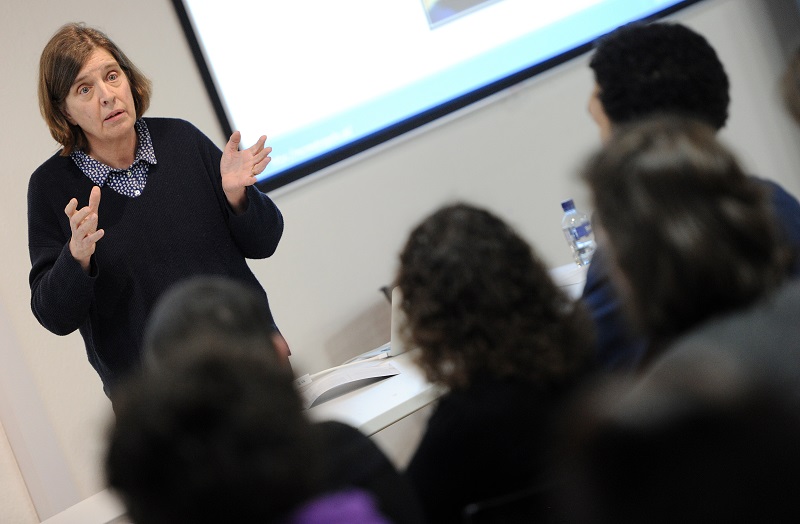 · the future possibilities for youth participation in Greater Manchester through the creation of a living Charter of Youth Rights is addressed in a work by Dr Janet Batsleer, Reader, that reflects on co-production in Europe
· Remixing Thick Time was an exhibition of artwork created through collaborative workshops with young people who are members of Whitworth Art Gallery's Whitworth Young Contemporaries programme for 11- to 24-year-olds. The inspiration for the works was the sensory atmospheres and timescapes of William Kentridge's "Thick Time" exhibition
· Academics reflected on their experience of running two full-day workshops with high school students from Manchester as part of the National Saturday Club programme at the University's Manchester School of Art. The workshops involved the designing and building of 'rooms' - structures large enough to stand and sit in and walk or crawl through
· Dr Alexandre Pais, Reader in the Faculty of Education, presented and discussed the ongoing collaborative work involving educational researchers, arts technicians, youth workers and young people, in the designing and future implementation of a module for a masters course in Childhood and Youth Studies
Conference attendees could also enjoy and learn from a number of workshops led by Manchester Metropolitan academics.
Dr Pete Dale, Dr Jose Dias and Dr Adam Fairhall, all Senior Lecturers in Music, ran a workshop on musical improvisation for collaboration and co-creativity while Dr Jenny Cromwell, Lecturer in Ancient History, spoke about how teachers can bringing Egyptology to life to school pupils in Key Stage 2.
Overall, the conference been a perfect illustration of why collaboration and co-production with children and young people is not only possible, but necessary
Unique space to share ideas
Professor Hannah Smithson, Professor of Criminology and Youth Justice and Head of the University's Manchester Centre for Youth Studies, is one of the co-organisers of the conference.
She said: "This is one of the first international multidisciplinary conferences to be held in the UK with a focus on co-production and creative methods which welcomes academics and community partners into a shared space.
"When designing this conference, we aimed to create a unique space to share ideas, inspiration and experiences around co-production that is uniquely inclusive of all partners necessary to making co-production with children and young people possible.
"Using our community outreach facilities, we created a welcoming space for practitioners, community groups, academics and, most importantly, young people to come together in an environment to focus on making change happen.
"We've been inundated with interest in the event across the two days, and overwhelmed with the quality and scope of work that has been shared during that time.
"Overall, it's been a perfect illustration of why collaboration and co-production with children and young people is not only possible, but necessary."