The façade of Clifton Park Museum was illuminated recently by a short film created by Manchester Met Researchers, as part of the event 'Extra.Ordinary.Places'.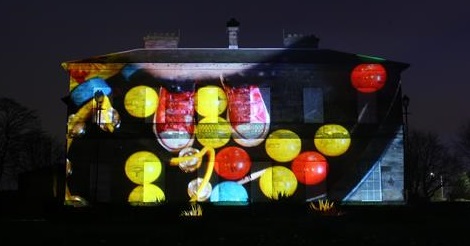 The event, aimed at early years practitioners, explored the role of place in the lives of young children, considering early childhood education's role.
Abigail Hackett and Steven Pool shared the findings of a major British Academy research project 'The Emergence of Literacy in Very Young Children', now entering its third year. There was input from different community partners involved in the research, and group discussion.
The event culminated in the projection of a short film made by Steve Pool as part of the study. The film depicted the fleeting moments and sensations of being with very young children at a community playgroup.
Dr Hackett said: "This event offers a manifesto for supporting young children and families in communities by starting with place and the materiality of everyday life.
"The task of educators is to create the conditions where movement and talk, for children and families, feels comfortable, easy and right. This might mean paying less attention to development and milestones, in favour of fostering participation in dynamic, multisensory, collective events."