Professional education developed with NHS partners to meet workforce and patient needs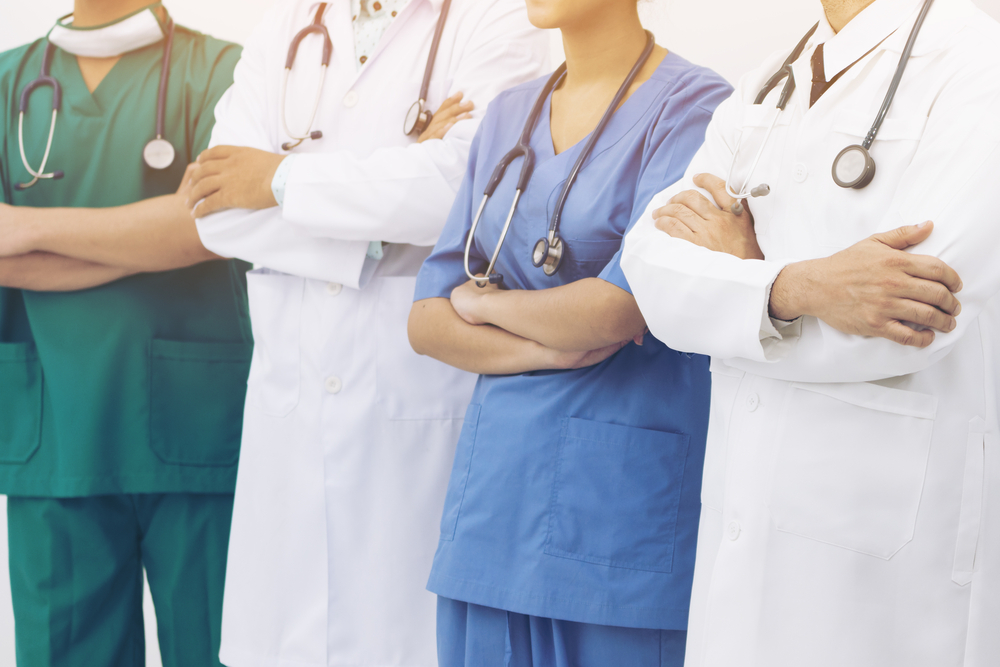 An innovative new postgraduate medicine portfolio designed to tackle the problem of NHS doctor recruitment and retention has been launched today (Wednesday, May 8) by Manchester Metropolitan University.
Postgraduate Medicine at Manchester Met has been launched in response to the current issues facing NHS trusts to attract and retain highly qualified doctors. Official figures show that the NHS in England is currently short of 10,000 doctors, with the number projected to grow.
By working with key health and NHS partners, including Pennine Care NHS Foundation Trust and Manchester University NHS Foundation Trust, the postgraduate medicine portfolio will provide an unrivalled package of professional education for medical professionals.
Suzanne Gawne, Director of Medical Education at East Lancashire Hospitals NHS Trust which partners Manchester Met on the MMed medicine portfolio, said: "Following foundation training, there is an increasing proportion of doctors (reported recently as over 60%) taking time out of training.
"For trusts who struggle to recruit to non-training posts, particularly those in more remote geographical locations, offering a funded four-year masters programme alongside the opportunity to work in a variety of specialties of their choice, encourages enthusiastic doctors to stay on in the same trust."
Professional education
All of the postgraduate medicine portfolio has been developed in consultation with NHS trusts to understand their specific workforce needs – and those of patients – in acute medicine, urgent and emergency care, sport and exercise medicine, mental health (psychiatry), and primary care.
It will provide a healthcare training network that allows doctors to continue their highly skilled careers in the region, rather than moving away or opting for other career paths.
The city-region is at the forefront of developing regionally focused solutions as part of the £6bn healthcare devolution revolution, with the Greater Manchester Health and Social Care Partnership leading on the future of healthcare.
The partnership between health practice, healthcare strategy, and health and social care education sits at the heart of Postgraduate Medicine at Manchester Met.
We are able to offer professional development that addresses specific health priorities of the region
Professor Alison Chambers, Pro-Vice-Chancellor, Faculty of Health, Psychology and Social Care at Manchester Metropolitan, said: "We're very excited to launch the postgraduate medicine portfolio, which I hope will contribute to the recruitment and retention of doctors in the North West.
"By providing a comprehensive portfolio of postgraduate education and working closely with NHS and health sector partners, we are able to offer professional development that addresses specific health priorities of the region.
"Manchester Metropolitan can draw upon a rich and long history of health and social care professional education. One of the key elements of our offering is placing the employer's needs – and those of the thousands of patients who are cared for – at the very heart of our professional programmes."
Dr Nihal Fernando, Consultant Psychiatrist, Director of Medical Education and Deputy Medical Director at Pennine Care NHS Foundation Trust, is a member of the advisory board that has developed the new medical school.
He said: "I'm passionate about providing current and future doctors with robust and high quality opportunities that allow them to grow and develop in their career.
"This postgraduate medicine portfolio aims to provide a supportive education pathway for middle grade doctors. It will be particularly beneficial to those who have been out of training for a while, or who have moved to the UK from abroad.
"I'm really pleased to have supported such a positive development that will help to retain and recruit the very best doctors in the NHS and make sure patients receive the very best care – which is why we all come to work."
Partnerships
With Manchester Metropolitan, it has been shaped and will be led with representatives from: Pennine Care NHS Foundation Trust; Manchester University NHS Foundation Trust; Greater Manchester Health and Social Care Partnership; Pennine Acute Hospitals NHS Trust; Academy of Medical Educators; Health Education England (North West); North West Boroughs Healthcare NHS Foundation Trust; Nuffield Health; Manchester Local Care Organisation; Greater Manchester Mental Health NHS Foundation Trust; and Tameside and Glossop Integrated Care Foundation Trust.
Masters degree portfolio:
Medicine (MMed)
Emergency Medicine (MMed)
Psychiatry (MMed)
Sport and Exercise Medicine (MMed)
Sport and Exercise Medicine (MSc)
Emergency Medicine (MSc)
Integrated Community Healthcare and Leadership (MSc)
Biomedical Science (MSc)
Haematology and Transfusion Science (MSc)
Cellular Pathology (MSc)
Clinical Biochemistry (MSc)
Medical Microbiology (MSc)
Human Physiology (MSc)
PhD research degrees by dissertation and published work routes:
Musculoskeletal Science
Sports Medicine
Long-term Conditions (such as frailty, arthritis, dystonia, diabetes and strokes)
Healthy Development and Ageing
As an established provider in healthcare education, Manchester Metropolitan is able to utilise its existing partnerships to deliver the postgraduate medicine programmes.
These include:
Pennine Care NHS Foundation Trust
The University is working in partnership with Pennine Care NHS Foundation Trust to deliver healthcare and education. The partnership is working to integrate health and social care to improve the health and wellbeing of communities across Greater Manchester. As an outcome of the partnership, Manchester Metropolitan has developed a Professional Doctorate Scholarship Scheme for Pennine Care staff, free training for clinical practitioners on how to support young people who hear voices, and a mental health nursing undergraduate degree.
Nuffield Health
Nuffield Health and Manchester Metropolitan are working together to produce evidence-based research for improved customer and patient outcomes. As a result, the partnership will identify preventative pathways to inform public policy and practice. Collaborative work is currently underway in two areas: research and innovation, and education and workforce development.
Manchester University NHS Foundation Trust
Through applied research, education and innovation, the partnership aims to transform care by delivering a highly skilled multi-professional workforce that is fit for purpose across health services, and to create new and innovative ways to improve the wellbeing of the population of Manchester.