Research into natural food preservatives and positive gut health win top awards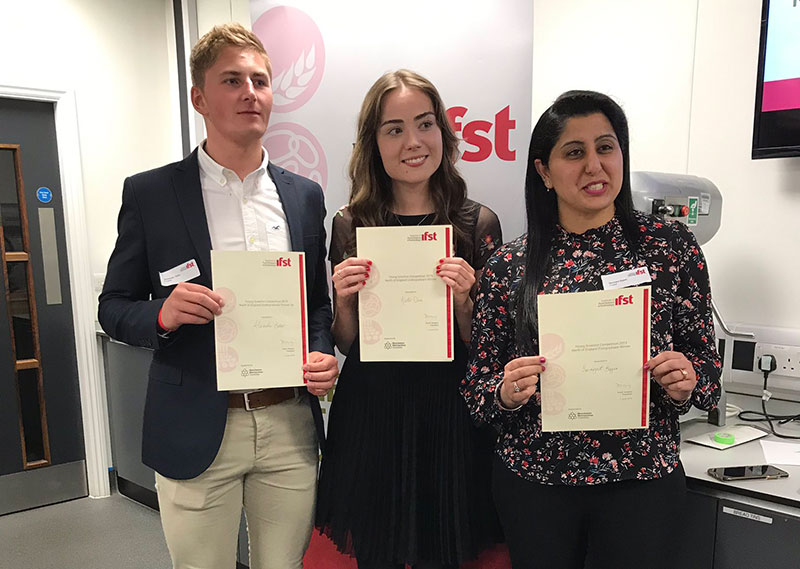 Food and Nutrition students at Manchester Metropolitan University have won both strands of the Regional Young Food Scientist award.
Saravjeet Bajwa came first place in the postgraduate competition for her research looking into alternatives to synthetic preservatives, while Kate Dines came top spot in the undergraduate competition for her work on gut health and prebiotic fibres.
Undergraduate student Alex Baker also came second place in the competition.
The annual Young Scientist competition is ran by the Institute of Food Science and Technology (IFST). It offers undergraduate students, postgraduate students, and recent graduates in the UK, the opportunity to present current or recently completed food-related projects in front of peers and to a panel of food professionals.
Postgraduate winner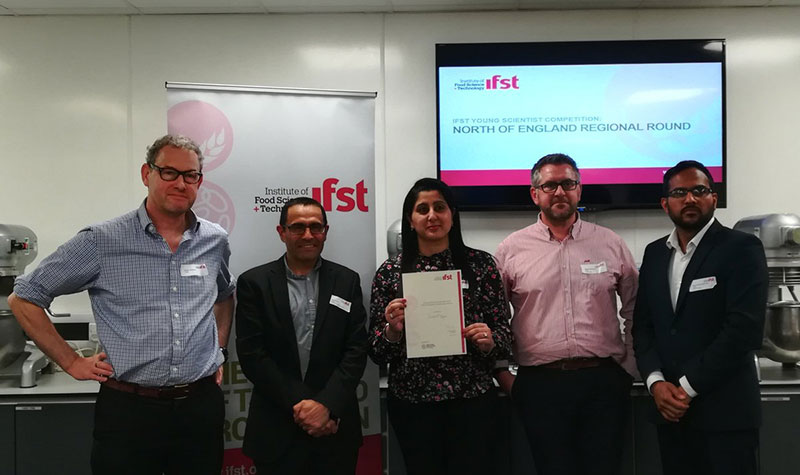 PhD student Bajwa said: "I felt fantastic when I was awarded the title of Young Scientist at the IFST Competition. Consumers increasingly want 'clean label' food products, whilst food safety remains a fundamental concern for consumers and food producers alike. My research is focused on finding natural plant-based materials, such as spices and herbs, as an alternative for synthetic preservatives.
"I always feel lucky to have chosen Manchester Metropolitan University. It provides excellent student service, academic staff and lab facilities and an incredible supervisory team who give constant support and guidance throughout my research."
Bawja now plans to further her research to establish key quality markers for producers wishing to use botanical extracts as alternatives to synthetic chemical preservatives in food safety and preservation.
Undergraduate winner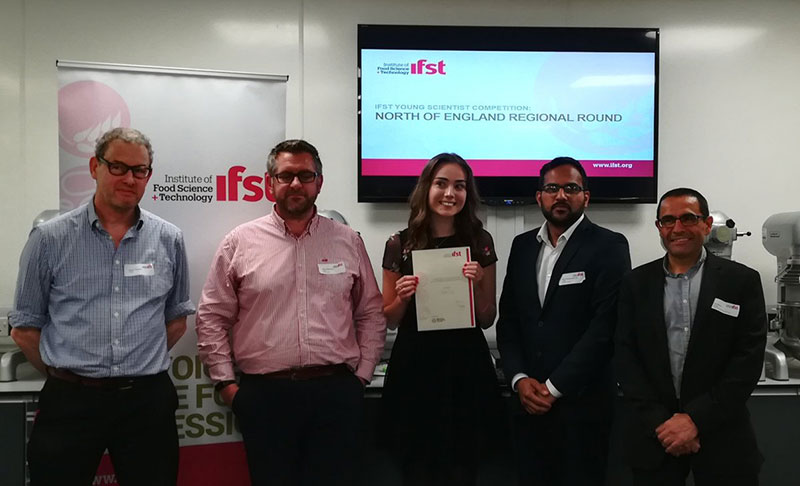 Dines added: "I'm absolutely delighted to have won the regional round of the IFST Young Scientist of The Year – I can't believe it!
"The evening was very interesting, with different students presenting their research from all over the north, including Leeds and Sheffield. The research presented was all so innovate and fascinating, truly highlighting the exciting future of the food industry – the competition was very tough.
"My degree course has many experts in the field of nutrition and food science who have inspired me to carry out my research. I am very fortunate to attend Manchester Met as the University has excellent research facilities, which enabled me to carry out my investigations and gather a wide variety of findings which have really helped within my research."
Rising stars
The competition was hosted by Manchester Metropolitan University and this year's students were judged by Shajo Jose, food technical manager at Punch Taverns, Alistair Thomson from Alistair Thomson Consulting , Ivan Bartolo from the Sea Fish Industry Authority and William Ballantyne, development manager at Tate & Lyle.
The winning students were judged against five other undergraduate students and three other postgraduate students respectively. Each winner was awarded £250 plus a one-year full membership to IFST.
Dr Tristan Dew, Senior Lecturer in Food Science and supervisor for Bajwa and Dines, said: "This IFST competition is a great opportunity for students to showcase the scientific rigour and commercial potential of their work. Our undergraduate and postgraduate programmes fit students for a wide number of exciting roles in the UK's largest manufacturing and retail segments. I am extremely proud of these two students, and their achievement marks them as rising stars in the food industry."
Bajwa and Dines will now travel to London to compete against all other regions to be crowned 'Young Food Scientist 2019' at the national final on June 18.