Faculty of Health, Psychology and Social Care » News & Media » News
News |
Friday, 25th October 2019
Manchester nursing professor named among Britain's most influential black people in new Powerlist
Professor Laura Serrant OBE acknowledged in prestigious 2020 Powerlist of most influential black men and women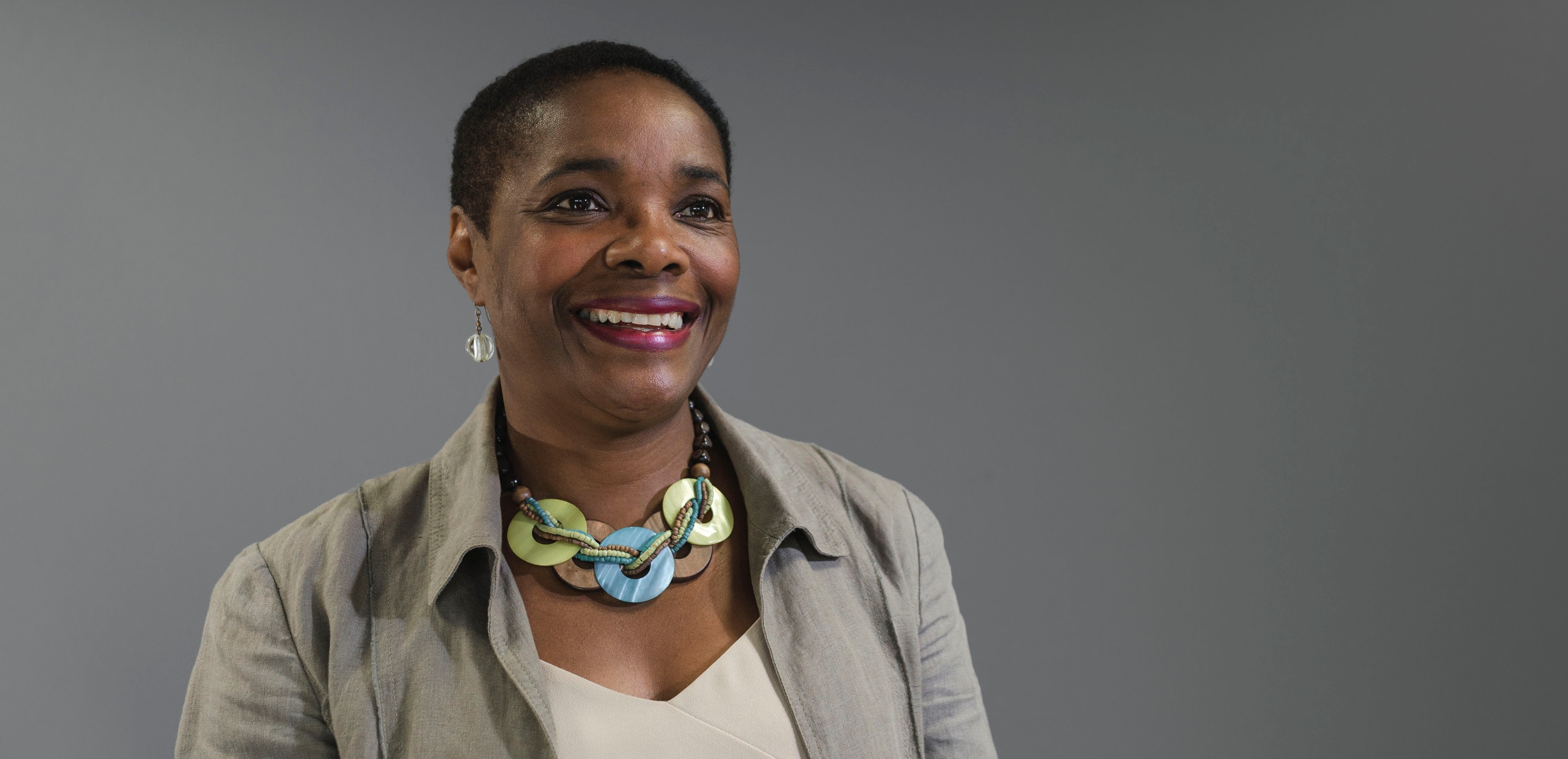 Manchester Metropolitan's head of nursing has been named as one of the UK's most influential black people in the UK 2020 Powerlist.
Professor Laura Serrant OBE has been named in the annual list, which recognises 100 influential people of African and Caribbean heritage across arts, health, technology, business and science.
Laura's career spans nearly 35 years. She is from a working class, immigrant background and was the first of her family to go to university, initially studying for a bachelor of arts degree and qualifying as a nurse in the early 1980s.
She specialised in sexual and reproductive health, working in outreach supporting sex workers, people with drug and alcohol dependence, the homeless community and tackling negative social attitudes to HIV and AIDS.
She began a career in academia by chance, covering a speaking event for a friend at a Nottingham college and then going on to become director of fare, health and childcare services there.
She has gone on to hold positions nationally and internationally, leading work at NHS England as head of evidence and strategy and working on the Prime Minister's commission for the review of nursing and midwifery by the Department of Health.
She is currently a visiting professor for research, education and professional development at universities across the world, including in Brazil, China, Canada and Australia.
Laura now leads Manchester Metropolitan University's School of Nursing, leading and shaping a programme designed to equip trainees with the skills needed to succeed in modern-day nursing. She is the only black head of nursing in a higher education institution in the UK.
Laura's career has been defined by her 'determined' and 'impassioned' voice for equality, chairing the Chief Nursing Office for England's BME strategic advisory group and advising on black and minority ethnic issues for the government. She is also an ambassador for the Equality Challenge Unit for Higher Education.
Her work in national and international health policy development, with particular specialist input on racial and ethnic inequalities and cultural safety, led to her being awarded an OBE in the Queen's Birthday Honours list 2018 for services to health policy.
Laura also campaigned and acted as an ambassador for the Jamaican-born nurse Mary Seacole to be honoured for her services in caring for wounded British soldiers during the Crimean War, leading to a statue in Mary's honour, placed in the gardens of St Thomas' Hospital in London.
Her specialist areas of research include health disparities, diversity leadership, sexual health and transcultural issues in health and wellbeing.



Every year, the Powerlist publication, in partnership with J.P. Morgan and sponsored by PwC and Linklaters LLP, recognises and celebrates 100 of Britain's most influential black people.
An independent panel of judges determine the list, chaired by Dame Linda Dobbs DBE, Britain's first black High Court judge.
Also featured on the list are the Duchess of Sussex Megan Markle, actor Idris Elba and athlete Mo Farah.
Laura said: "I'm both surprised and deeply honoured. The Powerlist is so important in recognising the contribution black people make across the many professions I'm privileged to be recognised alongside, and how far we've come as a society in championing the diversity of our nation.
"That the awards take place during Black History Month is particularly poignant. In the 21st century, we live in what I would call a kaleidoscope nation. Events and recognitions like these give us an opportunity to reflect on the benefits our diversity has on our communities, and the contributions made not just historically, but every day."