Faculty of Health, Psychology and Social Care » News & Media » News
News |
Friday, 17th January 2020
It's time to re-think the 'office cake culture', research suggests
Survey gives insight into the behaviours and attitudes towards 'office cake' in the UK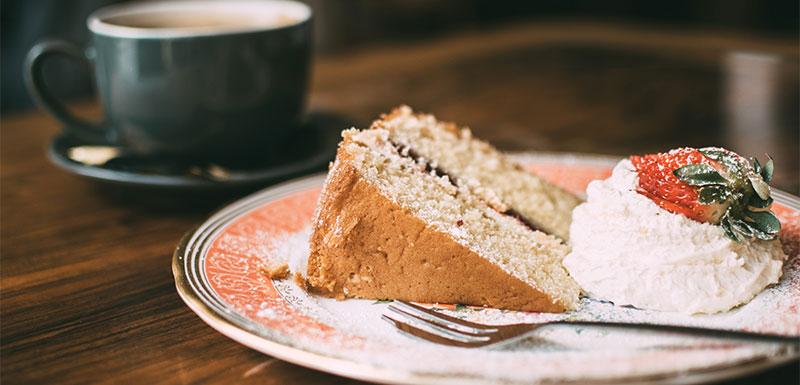 Workplaces find it hard to help employees cut down on sugary snacks, according to new research published today (January 17) that provides insights into the behaviours and attitudes towards 'office cake' among UK office workers.
As the New Year health kick begins and with Sugar Awareness Week fast approaching, new research finds that cake and sweet snacks in the office changes employees' normal eating habits and makes workplace environments less healthy, despite warnings of a UK obesity crisis.
The survey of nearly 1,000 UK office workers, published in the International Journal of Workplace Health Management, found that 95% of workers believe the ideal frequency for office cake is once per week or less, with 41% thinking once per month would be ideal. However, 87% of respondents of the survey reported it being eaten at least once or twice per week and 8% reported eating it daily.
More than a third of respondents said that they never refused cake and said that there was often no real reason for it to be brought in. More than two thirds said they found it hard to resist sugary snacks when on offer. Some respondents said that it had contributed to weight gain, stating that it made it harder to manage a weight loss diet and made it harder to eat healthily at work.
The researchers from Manchester Metropolitan University and the University of Chester hope that highlighting these figures will help to start a conversation in the workplace around sugary snacks and encourage more to make a change.
Better productivity
Dr Orla Flannery, Senior Lecturer at Manchester Metropolitan University, said: "This research highlights why it is important to focus on the workplace for promoting health and wellbeing. This is not about banning cake, but it is about trying to look at how we can make our work environment healthier.
"We hope that workplaces can take on board our research – if people know what other colleagues are thinking, we hope that this may encourage workplaces to make a change.
"Re-thinking the office cake culture is not only likely to improve overall health and wellbeing of colleagues but is likely to lead to better productivity in the workplace.
"We now need to extend the research to look at a wide range of work environments and understand cake culture in these settings, such as our hospitals and schools."
Tackling obesity
Other data from the survey shows that most office workers considered cake a good way to bring colleagues together and cheer people up, however it also suggests the possibility that office cake is prevalent because people feel uncomfortable to suggest otherwise. The researchers suggest bringing in savoury snacks such as fruit, nuts or vegetables and dips as good alternatives to cake.
The study also found significant differences in behaviour and attitude towards office cake according to gender and age making the decision to cut down more challenging. More women than men acknowledged negative consequences of office cake but found it harder to resist. Fewer older respondents thought cake was a good way to show appreciation or were persuaded to change their minds if they had initially refused it compared to their younger colleagues.
Health coach Lou Walker, who conducted the research for her MSc in Obesity and Weight Management at the University of Chester, said: "Office cake often comes from a place of generosity and kindness, which makes it hard for anyone to suggest cutting down.
"Employees spend around half of their waking hours at work. If sugary food was less available in workplaces, less would be eaten and overall health could improve.
"There are some fantastic workplace health initiatives around, but this research indicates that ignoring office cake is ignoring the elephant in the room. Workplaces can play a major role in tackling obesity and other metabolic diseases which are closely linked to sugar consumption – what a great opportunity."