Faculty of Health, Psychology and Social Care » News & Media » News
News |
Monday, 10th February 2020
Recap - Inaugural Professorial Lecture: Prof Laura Serrant OBE
A recap of Prof Laura Serrant OBE's inspiring inaugural lecture: 'Equal chance? On silences, speaking and the importance of being heard'.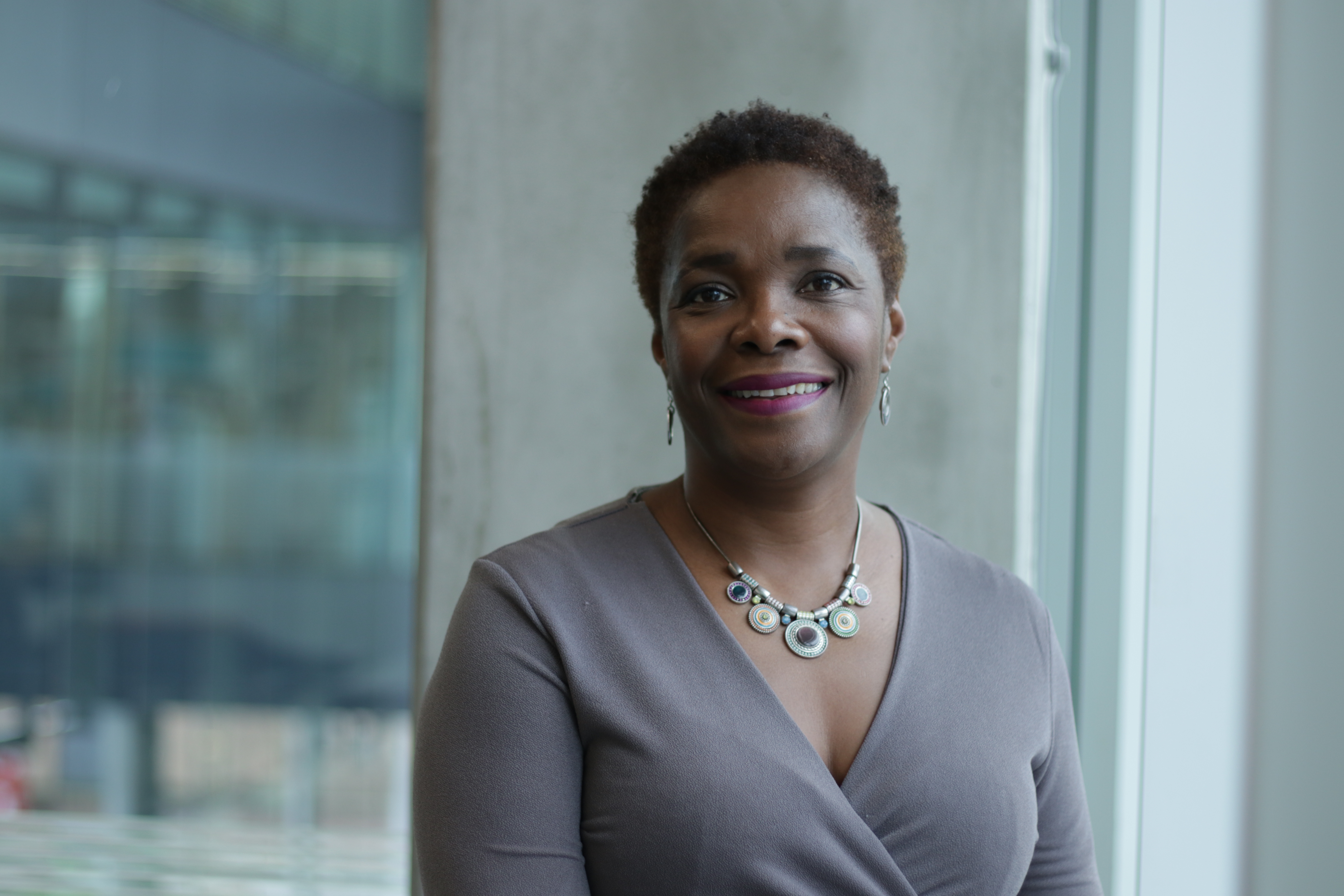 On 6 Feb 2020, Manchester Met's Head of Nursing, Professor Laura Serrant OBE, treated over 100 people watching from inside Brooks building and via livestream across the world, to an inspiring and immensely thought-provoking lecture.
The University's Vice-Chancellor, Professor Malcolm Press, introduced Laura, commenting she has "made a tremendous impact" and "reinvigorated" Nursing at Manchester Met since her arrival in December 2018. That reinvigoration was evident in a full lecture theatre, brimming with friends and colleagues from her past, present and future.
Laura shared her thoughts before she took to the lectern: "It's always a little nerve-wracking before speaking at an event. Speaking so personally is always challenging but I want to share my story in a way that respects the importance of the issues while remaining true to myself. Our stories are the most precious but important part of ourselves."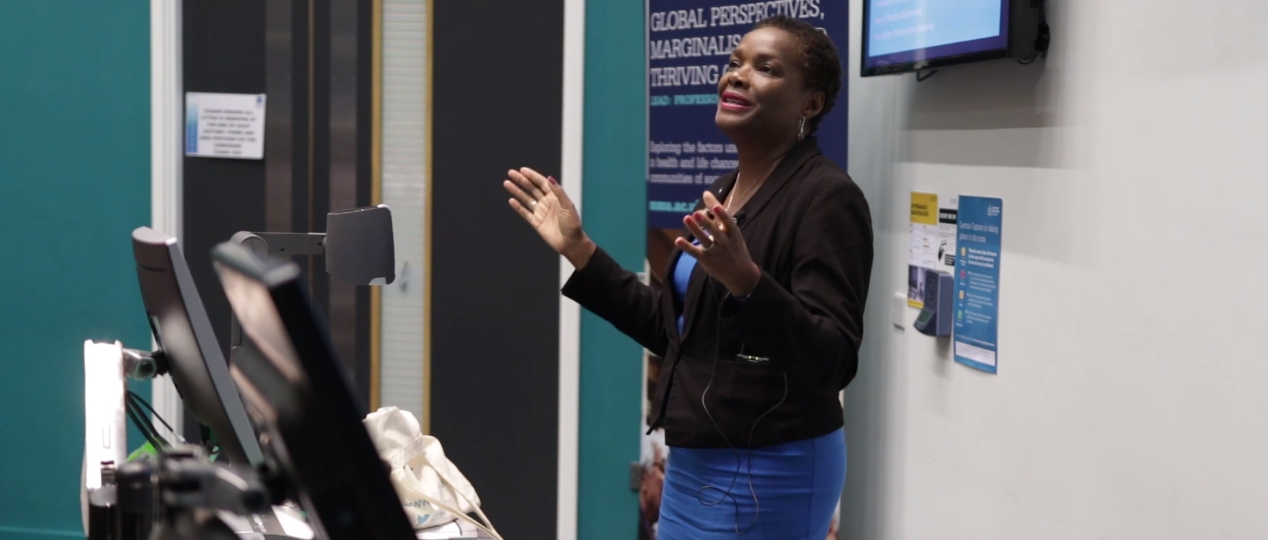 At the beginning of the lecture, Laura asked the audience to close their eyes, "listen to the silence", and write down what they could hear.
Everyone's experience of the silence would be different.
Laura revisited this exercise throughout the lecture to symbolise issues of health and education inequalities though the 'hidden voices' housed within race and inter-sectional identities, drawing on her personal and professional life as a Black academic nurse. She explored the importance of breaking 'silences' and asked whether we need to reflect more on our own identities and that of our communities.
Laura described that much of the work focusing on inequalities tends to focus on socio-economic circumstances as a fundamental cause.
She argues that, actually, a wide range of issues impact on health and life chances; visual identities, how we are 'weathered' by prejudice and discrimination, and how everyday experiences of racism can affect the health and wellbeing of those racialised.
Taking us from story to story, from 1982 to the present day, Laura continuously challenged the audience to assess the current ability of UK healthcare providers to serve the nation's diverse populations.
Laura's concluding remarks were met with a rapturous applause and a standing ovation, an indication that this inaugural lecture will live long in the memory.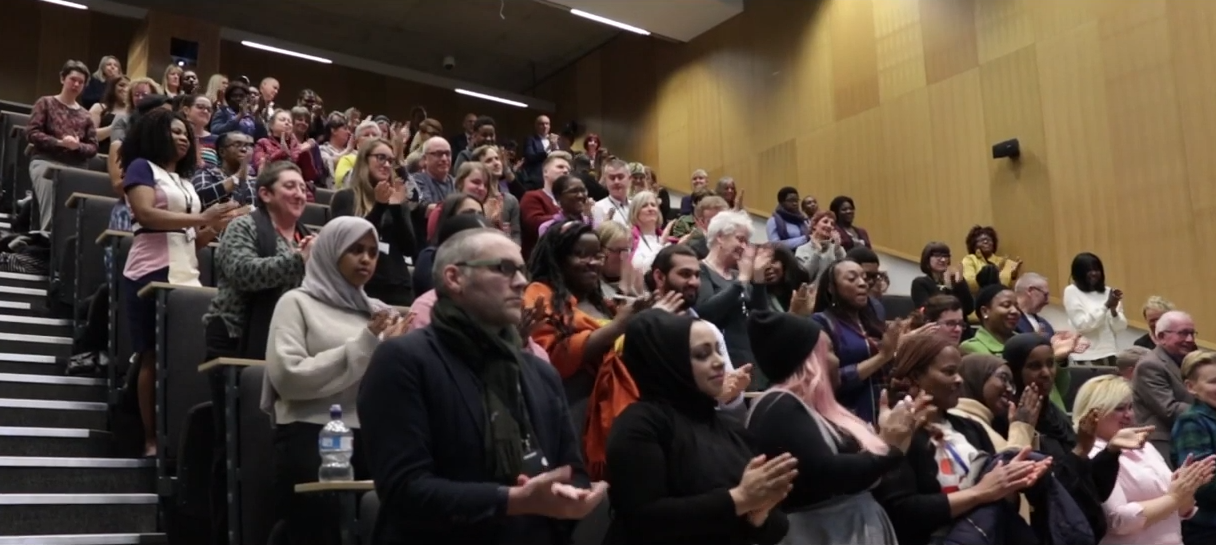 The next day, we spoke to Laura to see if she enjoyed the experience: "Afterwards, I was humbled by the response of those who were there, and even more surprised by the messages on Twitter, email and LinkedIn from those who were not. I cannot thank everyone enough who has held me up, made me laugh and pushed me when I needed it – I am who I am because of each of them and every experience I have had."
A humble response from a self-proclaimed 'Black female nurse academic' who has inspired so many.
Did you miss this event, or would like to rewatch it? You can view Professor Laura Serrant OBE's Inaugural Lecture here.