Faculty of Health, Psychology and Social Care » News & Media » News
News |
Friday, 9th June 2017
Consistent quality in Nursing Education
Manchester Metropolitan University's Department of Nursing has been recognised at the 2017 Student Nursing Times Awards.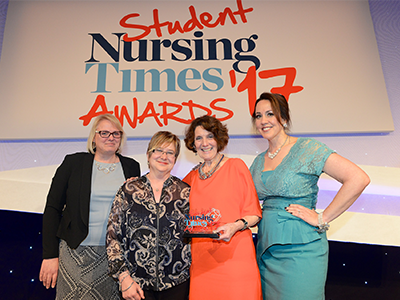 Manchester Met Nursing recognised at the 2017 Student Nursing Times Awards
Shortlisted for the Best Pre-registration Adult Nursing programme consistently since 2012 at the Student Nursing Times Awards, including two wins in 2013 and 2015, the Nursing department at Manchester Metropolitan University was delighted to win a further two awards at this year's event in April.
The awards, held at the Hilton, Park Lane, celebrate and promote success and achievements in nursing education across the Higher Education Sector. This year Manchester Met Nursing was represented in two categories, Learner of the Year: Post-Registration and Partnership of the Year.
Head of Nursing, Paul Tubbs was thrilled to have the quality of our Nursing programmes represented once more at the awards, "We are delighted to have been named in two awards this year and incredibly proud to have our students and partnerships with practice being recognised. It shows how dedicated our team and partners are and how hard they work to support our students".
Senior lecturer Ruth Thomas nominated our first winner, Liz Spencer for her award due to her commitment to learning and development as a Specialist Community Public Health Nurse. Ruth said, "I am delighted that Liz has won this award, she demonstrated a diligent approach to her studies and to developing her professional practice".
Liz, a Safeguarding Families Nurse working with Pennine Care NHS Foundation Trust, was stunned to receive the award. "I am delighted to win. Completing my training meant that I could take on a new role protecting vulnerable children and families in Trafford. It is a role that I really enjoy"
For the second win of the evening, Manchester Met Nursing's partnership work with Stockport NHS Foundation Trust and Stockport Council was recognised with the Partnership of the Year award. The department boasts strong associations and partnerships with local NHS Trusts and stakeholders providing vital student placements and clinical experience across our range of programmes. The collaborative partnership worked together to promote the importance of public health via dedicated public health placements, appreciating the crucial role that healthcare students can play in promoting healthy lifestyles.
To learn more about this year's awards and see a full list of winners visit the Nursing Times website.