Faculty of Health, Psychology and Social Care » News & Media » News
News |
Monday, 28th January 2019
Parapsychology and art academics deliver 'para-design' workshop in Holland
The workshops explored the link between the paranormal and interior design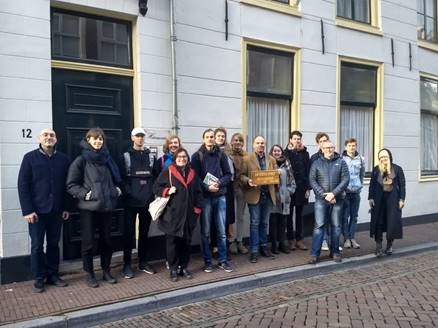 Earlier this month, academics from Manchester Metropolitan University and the Manchester School of Art combined parapsychology and interior design in an innovative ERASMUS workshop.
Dr Ken Drinkwater, Senior Lecturer in Psychology, and Fabrizio Cocchiarella, Senior Lecturer in Interior Design, delivered a series of sessions to Product Design students from ArtEZ (Institute for the Arts) in Holland, exploring the synergy between the paranormal and design.
'Para-design' is a University inspired concept, which involves thinking beyond or outside of 'normal' design scenarios in order to determine the extent to which paranormal belief and experiences influence human interactions with the designed environment.
Through discussion, participants investigated how the psychology of the paranormal informed and influenced design. This included a consideration of how design can produce paranormal-like experiences and perceptions. Participants modelled and tested ideas by creating experiential scenarios. The prototypes included creating environments and devices designed to capture and channel paranormal phenomena.
The group explored 20th-century Dutch academic Parapsychology, Spiritualism and Mediumistic Art Collections with local psychologists Dr Wim Kramer and Lotje Vermeulen at Stichting Het Johan Borgman Fonds.
Students and staff visited various 'paranormal' locations in Holland, including Panopticon Prison in Arnhem - a recently retired building with a rich history of strange and unusual experiences. This provided the group with a suitable environment for an ecological, 'real-world' consideration of relationships between design and paranormal experiences. The group also visited the Harmonia Spiritualist Headquarters, which involved a building exploration similar to the events organised in the UK at Ordsall Hall, where the students visited locations in the building and recorded paranormal sensations, feelings and perceptions.
At the end of the workshop, students produced an exhibition displaying their work on para-design.
Dr Drinkwater said: "Overall, the workshop through consideration of the paranormal and design inspired investigation and learning, which culminated in the production of creative responses encapsulating the anomalous. All the students formed meaningful, concept-driven designs and provided brilliant feedback."