Faculty of Health, Psychology and Social Care » News & Media » News
News |
Thursday, 12th December 2019
Mental Health Choir co-founded by Manchester Met researcher performs at Royal Variety
Research Assistant, Laney Craig supports the choir founded to support those struggling with mental health issues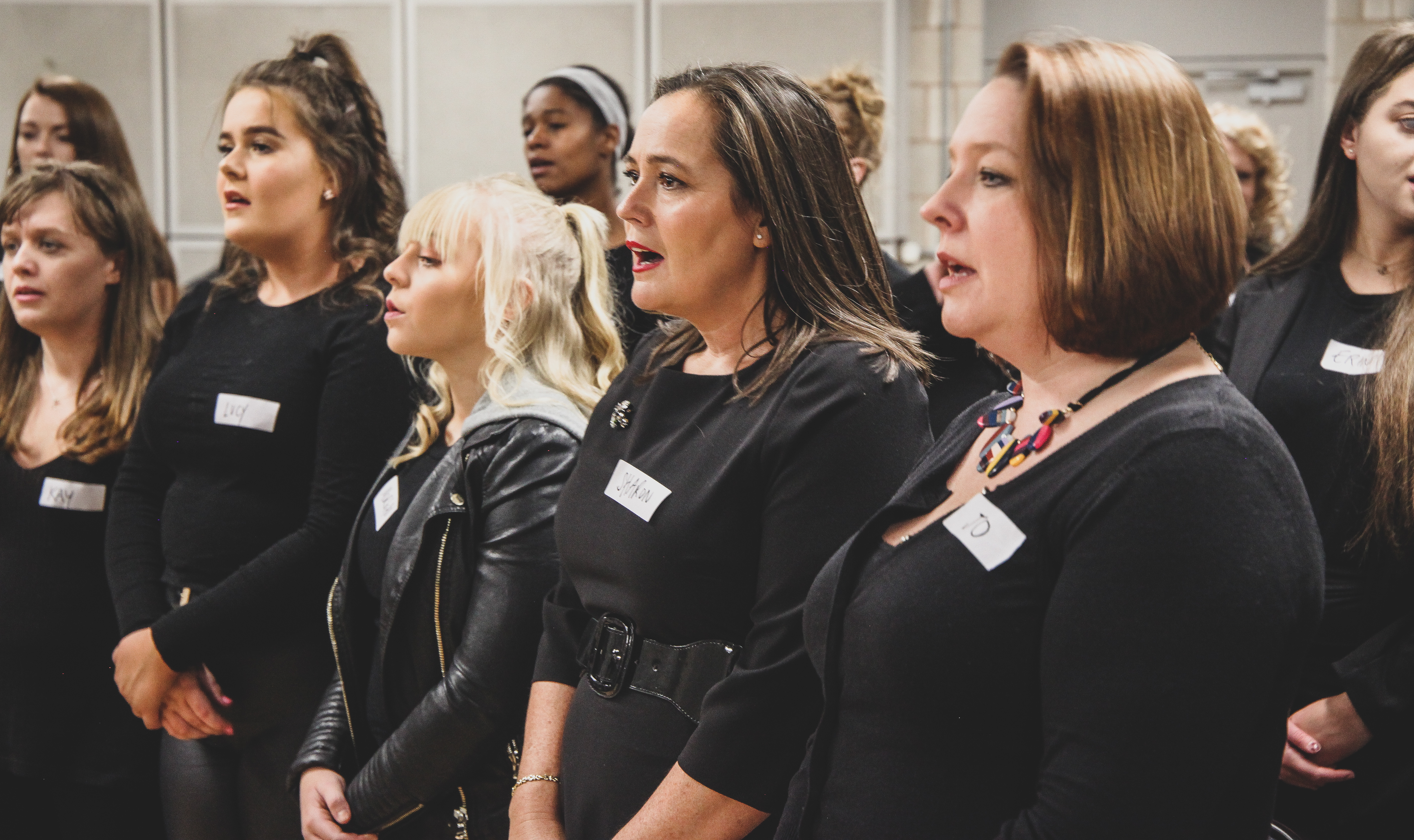 A choir co-founded by a Manchester Met Research Assistant has performed for millions to raise awareness of mental health, at this year's Royal Variety Performance alongside pop superstar Emeli Sandé.
The BeeVocal Manchester Mental Health Choir meet weekly at the Bridgewater Hall to challenge stigma around mental health and provide a supportive environment where those with mental health issues can get together and sing.
They were asked to collaborate with Emeli Sandé in a special performance of her new single 'You are not alone', a song from her new album about Emeli's own challenges with her mental health.
The choir was co-founded by Laney Craig, a Research Assistant in Mental Health in the Faculty of Health, Psychology and Social Care. Laney helps run the choir in her spare time, providing mental health signposting information and safeguarding support.
Now with over 150 registered members, they've also appeared on BBC Breakfast, Granada Reports, and BBC Radio Manchester this month.
As part of Laney's work with the choir, she measured the impact of choir participation on depression, anxiety and wellbeing. There was a significant decrease in depression and anxiety scores and a huge improvement in wellbeing, of up 89%. She said: "Mental health is now one of the most common problems in our society, some of our members had struggled to leave their homes for years prior to joining choir because of their challenges with anxiety and depression - now, they're performing on stage in front of thousands.
"We wanted to create a fun and safe place for people struggling with mental health to get together, sing, make friends, and have fun without judgement. Research tells us that when we sing, endorphins are released in the brain. They are the our happy chemicals that also help boost our immune systems. When we sing in a group another chemical is release called oxytocin – our love hormone that combats loneliness, helps build meaningful friendships and a sense of community. I hope to explore this in more detail in the future as part of my work with Manchester Met."
The choir also recently featured on a MetCast special for World Mental Health Day, where Laney explained in more detail the positive effects of the choir's forming on its members.
Laney continued: "It is a risk for any professional singer to use a community choir and we were so grateful for the opportunity. Her team were blown away by the professionalism of the choir and we were thrilled to perform a song that articulates and share the same message that people going through mental health challenges are not alone, there's a host of us that have been through something similar and there is help."
The choir are always on the lookout for new members, meeting weekly on a Wednesday at 6:30pm in term time. If you'd like to join or find out more, e-mail the BeeVocal Team.
You can watch the performance on ITV catch-up.