Faculty of Health, Psychology and Social Care » News & Media » News
News |
Friday, 4th May 2018
Diagnostic cards help flag serious health issues to physiotherapists
Already in use within the NHS, the cards are now available in 30 different languages for use internationally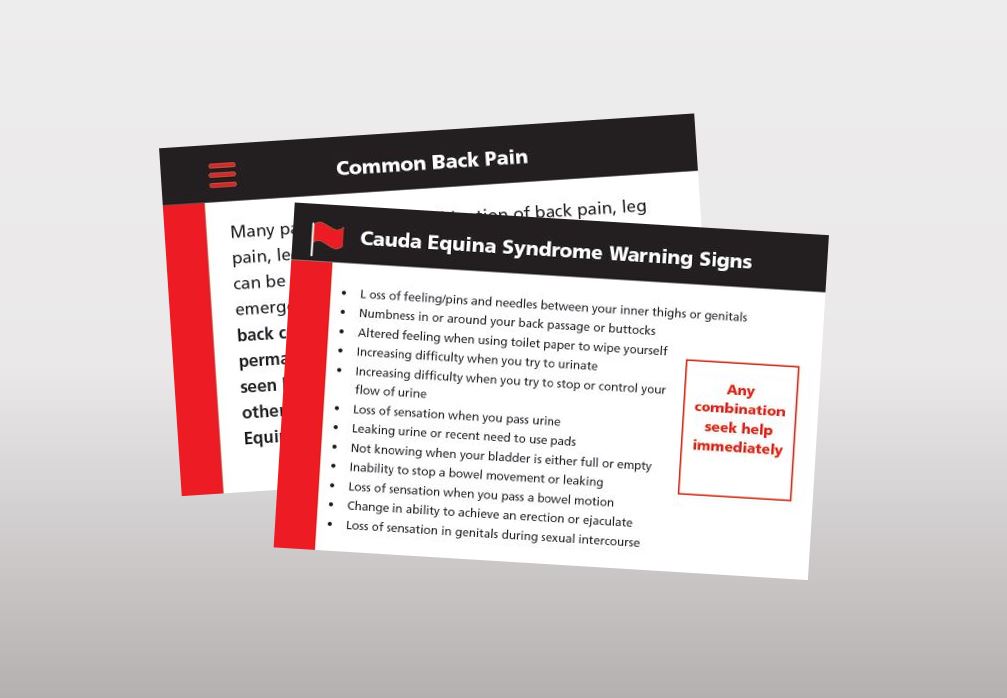 Physiotherapists around the world will benefit from new quick-reference diagnostic cards that help identify 'red flags' in a patient's history, alerting clinicians to the possibility of more serious health issues in people with back pain.

The credit card-sized diagnostic cards - designed by university academics and clinical professionals - aim to help physiotherapists in practice diagnose spinal condition Cauda Equina Syndrome.

The cards flag early symptoms of the syndrome that are often overlooked by the sufferer and as a result, are not reported during clinical consultations if not directly questioned by the clinician.

Already in use within the NHS, the cards are now available in 30 different languages for use internationally.
'Red flag' resources
James Selfe, Professor of Physiotherapy at Manchester Metropolitan University, worked with Sue Greenhalgh, Consultant Physiotherapist in the NHS in Bolton, to devise the 'red flag' resources.

Professor Selfe said: "Physiotherapists can play a pivotal role in identifying serious pathology of the spine early and referring patients along a serious pathway in a timely manner.

"The cards are useful for both physiotherapists and patients, which is why it was important to use language the patient understands.

"Translating the cards into various languages is really important as it also overcomes potential language barriers in today's multi-cultural society.

"The cards have a number of functions; they facilitate conversation of potentially sensitive and embarrassing topics such as bladder, bowel and sexual function, they enable safety netting or warning patients at risk, and they act as an aide memoire for patients at risk who wish to clearly communicate their new concerning symptoms.

"I know having such an easy-to-use resource would have been invaluable in my early career."
Cauda Equina Syndrome
Cauda Equina Syndrome (CES) is a serious emergency surgical condition caused by pressure on a group of nerves within the spine that provide a nerve supply to both legs, bladder, bowel and genitals. It is most commonly caused by a large disc protrusion in the lower back. Although rare, those at risk need to be aware of possible symptoms.

As an orthopaedic spinal emergency, the syndrome requires emergency hospital admission and an emergency spinal surgical opinion immediately after clinical diagnosis is confirmed by an MRI scan.

If diagnosis is delayed, CES can have devastating and life-changing outcomes for patients including permanent paralysis and incontinence.

Sue Greenhalgh said: "The syndrome is generally considered rare however, exposure to CES depends on location of work within the medical field.
Working with patients
"While a GP may only see one case of CES in their entire career, spinal surgeons in a tertiary centre are likely to see these cases on a daily basis and an Advanced Physiotherapy practitioner will see a number somewhere in-between depending on the area of work."

The team that developed the diagnostic cards conducted a qualitative study in 2015 exploring patients' experience of CES to the point of diagnosis. It revealed that clear communication was essential in facilitating CES sufferers reaching a surgical opinion in a timely manner.

Sue Greenhalgh added: "Working with patients it became clear that severe pain militated against early recognition of early vague and subtle symptoms. In the context of this severe pain, questions relating to bladder, bowel, and sexual function had no face value. To patients, pain is the most significant symptom in the early stages of CES.

"The cards are therefore especially useful as they act as prompts for communication between patients and physiotherapists about the other symptoms and can make a huge difference to the management of emergency spinal conditions like CES."