Voyage of discovery
NOT many rabbis can say they are fanatical Manchester City supporters, love comic book superheroes and popular culture, and once scouted a pub toilet as a location for a feature film. But then Simcha Weinstein is not your typical religious leader.
The 43-year-old is the campus rabbi at one of New York City's top arts colleges and is in demand as a media commentator on both popular culture and spirituality.
Weinstein's journey to the Brooklyn suburbs began more than 20 years ago when the teenager left his Prestwich family home for Fallowfield to study film history at Manchester Metropolitan University.
Culture vulture
He said: "I grew up secular Jewish. I was not so religiously observant as a kid.
"I was always a bit of a culture vulture and a cinephile. I made short films with friends and dreamed about one day maybe working in the industry.
"Manchester Met was offering a degree in film history and it was right up my alley: film history, film theory and a discipline in photography."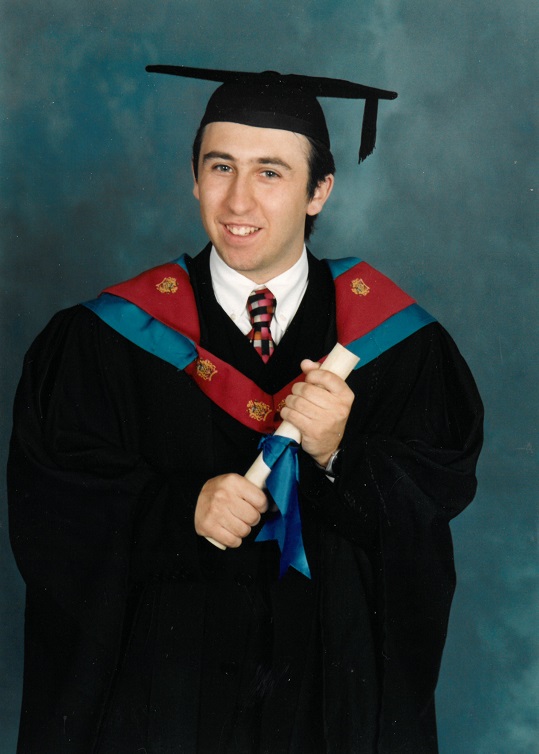 Weinstein enjoyed three inspiring and formative years on campus, being able to indulge in and discuss the movies of celebrated directors like Mike Leigh and Martin Scorsese with like-minded individuals.
He said: "It was a phenomenal experience. I really look back very fondly.
"The course gave me the tools to look at cinema and culture through a critical lens and it took seriously a lot of passions that I had growing up, treating them with gravitas. That was very refreshing.
"I got to meet other students and professors that also had an interest in cinema and had a respect for the language of cinema and the fact that it is called popular culture for a reason."
But university also offered Weinstein the opportunity to learn more about his faith.
Learning more about Judaism
"When you move away from home you look for a little bit of the familiar and at the time there was quite an active Jewish student community," he said.
"I went along to the traditional Friday night dinner, the Sabbath dinner, and met Jewish students from all over the country.
"For the first time I was doing it by myself and for myself. It set me on the steps to learning more about Judaism."
During part of his degree, and in the years immediately afterwards, Weinstein was a location scout for film and television in what would nowadays be called the gig economy.
Working in the heyday of the newfound appreciation of the northern aesthetic, he found shooting locations for Manchester soap opera Coronation Street and British movies The Full Monty and Little Voice.
And in an Old Trafford pub he once stumbled across the perfectly unglamorous toilet setting for a scene in an upcoming production.
In the third year of his course, one of his photography projects focused on documenting Manchester's Hasidic Jews and the experience further piqued his curiosity about his faith, drawing him deeper into its roots and liturgy.
"That had a big influence on me," he said. "I started to meet a lot of new great friends and learning some of their scriptures and philosophy."
I'm from all over the place. How would I describe it? My body's in Brooklyn, my head is in Manchester, my soul's in the Holy Land
Journey to a Yeshiva
Weinstein travelled to Jerusalem to enrol in the equivalent of a beginner's programme in a Yeshiva – a Jewish religious educational institution – but ended up staying three years. It led to him qualifying as a rabbi, changing his name in the process from its original Simon to the Hebrew version, Simcha.
He had to suppress his interest in popular culture as his religious study took precedent, but was able to reignite his passion later.
Weinstein met his wife Ariella in Israel and the couple relocated to her native United States where they settled in New York's eastern borough.
He eventually became the resident rabbi at the Pratt Institute, one of the most prestigious art schools in the country.
The married father-of-four said: "I'm unique in the sense that I try to utilise my artistic passion for cinema and creativity.
"I've chosen in my ministry to synthesise the two. Not in a forced way, but a very organic way.
"In a weird way, I've come to minister almost to myself, so I can really relate to the students because many of them are artsy, Jewish kids like me.
"In that respect, going to university was as important to me as going to rabbinical school.
"Since then I've written about culture through the lens of spirituality and being a rabbi."
Superheroes and Jewish identity
Weinstein authored an acclaimed book about superheroes and Jewish identity called Up, Up and Oy Vey!
It explored how Jewish comic book creators, such as Stan Lee, translated their background and experiences, more implicitly than overtly, into the themes and plots of their creations. It led to two other books and numerous media appearances.
Weinstein said: "For a few reasons, discussing popular culture as a rabbi is somewhat taboo, if that is the right word, or at least it is rare, because a lot of rabbis just don't have the knowledge.
"They grew up in very religious homes and a lot of them did not grow up watching television – they only learned the Talmud (the source from which the code of Jewish law is derived) and Jewish studies.
"For me, being a campus rabbi meant wanting to engage with students in a message or medium they can understand and appreciate."
Weinstein feels at home in cosmopolitan and metropolitan New York City, especially the flourishing artistic and creative neighbourhood around Pratt Institute's slice of Brooklyn.
He established a combined synagogue, cultural centre and art gallery over the road from the institute building where there are services and communal Friday night dinners among other activities.
He said: "Ironically, the kind of things I was going to at Manchester Metropolitan University I'm now running myself here. I basically haven't grown up!"
Passion for Manchester
Weinstein maintains strong relationships with friends and family in the North West of England and visits often.
He is a "fanatic" when it comes to supporting Manchester City and would rather listen to discussions about football on the British radio station Talksport all day than hear the machinations of American politics on local broadcasters.
He said: "I can tell you the weather in Leeds but I can't tell you what is happening in the White House.
"I'm from all over the place. How would I describe it? My body's in Brooklyn, my head is in Manchester, my soul's in the Holy Land."
Weinstein's next project is an intriguing graphic novel called Hipsid – a blend of the words hipster and Hasidic – that is a memoir of his own life.
He has written the text, almost like a screenplay, and the comic panels are being hand-drawn by an illustrator.
He said: "The book is peppered with references from the '90s.
"I tried to get the artist to make it pretty real, so I'm always looking on Google Earth at Manchester because I want the novel to look exactly the way I remember it."
Weinstein describes himself as an "outsider insider" – meaning it just as much as in the sense of being a Brit in the US as a film history graduate turned clergyman.
But it has allowed him to build a career combining his love of faith and film and land the title of New York's Hippest Rabbi