Hearing and listening
For Nikki Mattocks the experience of hearing voices began at age 14. It felt like her world was crumbling.
"I would be walking to school and I would hear people behind me calling me names, but then when I'd turn around to ask, no one would have been talking to me," she explained, now aged 21.
"The voices left me really scared and confused. It was only after speaking with mental health professionals that I realised that I was experiencing hearing voices, and that they were not all that uncommon.
"I'd never heard anyone my age speak about experiencing anything similar."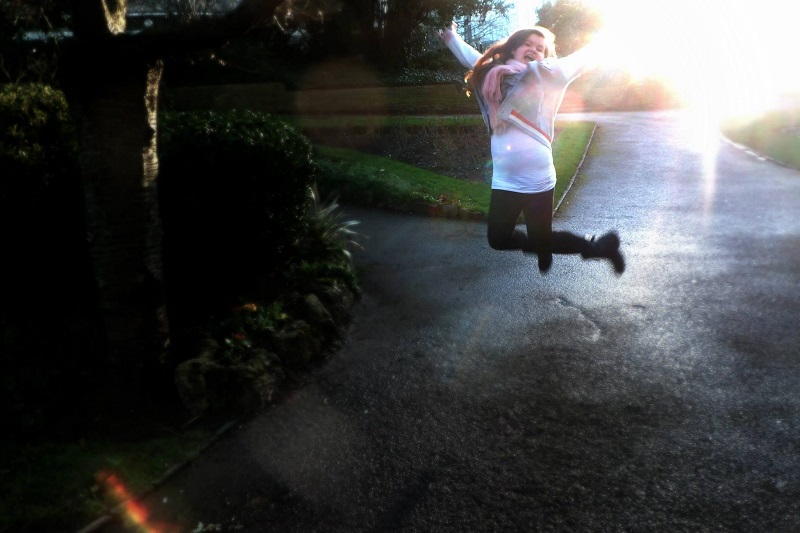 Hearing voices that others do not, like Mattocks did, is surprisingly common – especially when growing up.
It is estimated that one in 12 young people persistently hear voices during a period of childhood, making it about as common as having asthma or dyslexia in youth.
And the voices are not always bad, according to a collaborative research project involving Manchester Metropolitan University.
Many children are accepting and curious of their voices, some even enjoy having them. For many young people, it seems to be a normal part of growing up.
I'd never heard anyone my age speak about experiencing anything similar
Despite this, relatively little is known about how children make sense of these experiences, how they might look for information and help, and how they and their families are affected.
For Mattocks and her family, the voices were a major cause of confusion and distress.
She said: "I felt my family get frustrated with me. I remember a few times that they would ask why I wasn't listening to them or why I was ignoring them, but it was just that there was a lot going on in my head. I could hear up to 20 different voices a day.
"My family really relied on the advice they received from professionals."
Clinical psychologists at Manchester Metropolitan and the University of Manchester have been working with Voice Collective, a support service for young people who hear, see or sense things that others do not, on a project to help better understand the nature and impact of hearing voices.
Since 2017, the Young Voices Study has been helping uncover young people's stories.
Led by Dr Sarah Parry, Senior Clinical Lecturer and Clinical Psychologist at Manchester Metropolitan, the team developed two online surveys – one for young people who hear voices and one for their parents or guardians.
Dr Parry said: "We wanted to hear what young people and their families would recommend, what they have found helpful, and perhaps what assumptions need to be explored further.
"The stories we've heard through the Young Voices Study have already offered so many useful insights into the complexity of young people's experiences.
"We have learnt a lot from young people about the variation in their experiences, what helps them cope with difficult voices, and the important role of comforting voices – their parents or carers, siblings, friends and teachers – to their wellbeing."
She added: "Over 300 young people, parents and carers have now completed the online surveys and some have volunteered to meet us in person for research interviews too. We have been amazed and thankful for the responses we have had from people in Europe, the US, Australia and South Africa so far."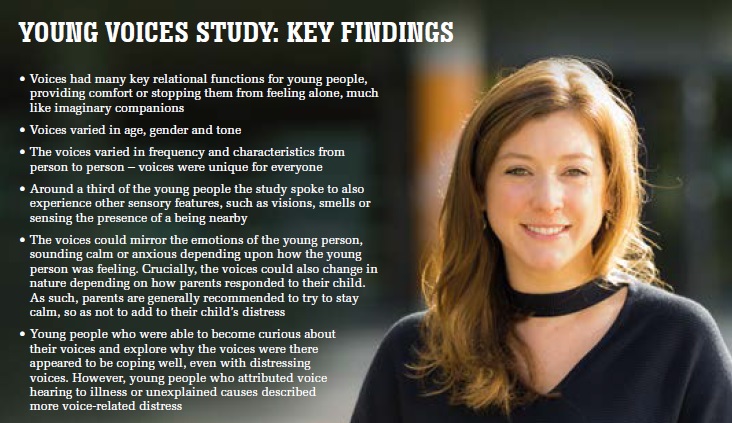 One key study finding revealed that the average onset age for voices was ten years old. This is a particularly worrying figure because there are no statutory specialist early intervention services available for young people who hear voices until the age of 14 in many parts of the UK.
Many of the parents who researchers heard from felt 'unsupported' or 'let down' by local services. Young people also described a huge range of voice experiences.
Researchers found that less than half of the young people participating in the study had only negative or frightening voices, with the majority having only positive or mixed experiences.
Eve Mundy, Service Manager at Voice Collective and a coinvestigator on the Young Voices Study, said: "While some children and young people find their voices, visions or other sensory experiences helpful, comforting, enjoyable or otherwise positive, others can find them distressing and difficult to manage.
"Difficulty coping with voices and visions, combined with the stigma of speaking out about these experiences, can lead some young people to become very isolated and afraid."
Struggles around speaking about their voices are not uncommon, according to Dr Parry.
"Some children we've been contacted by haven't told anyone apart from us," she explained.
"Many young children who hear voices initially don't realise that voice hearing is unusual or that there is a stigma. When they reach their teens they become aware other people don't have the same experiences as them, and they can become anxious of speaking up for fear of what others will think of them."
The intervention with the most impact would be to collectively reduce the stigma in society surrounding voice hearing, through education, raising awareness and normalisation of a relatively common developmental experience.
To me personally, a project like this growing up would have been such a reassurance
Dr Parry has been doing her part: raising awareness of hearing voices and the project far and wide, with regular media appearances on national TV and radio.
The project has also been recognised in academic circles after the Young Voices Study was shortlisted for the Research Project of the Year at the Times Higher Education Awards.
Dr Parry added: "We as a society need to stop automatically assuming voice hearing is a problem.
"Hearing voices is not in itself a problem for a lot of the people we've heard from because it's really a coping strategy for young people. Sometimes the voices seem to be triggered by a trauma, sometimes by loneliness and sometimes by the child's creativity.
"If we keep regarding auditory hallucinations as the problem, rather than a strategy or potential comfort, it is going to be difficult for young people engaging with services and potentially cause young people further delays and distress.
"By engaging more with auditory hallucinations as part of a bigger picture and childhood development, it will be much easier to get young people on board and find what's helpful for them in terms of support.
"Hopefully our research will contribute towards an inclusive approach to service design, providing a platform for young people and their families to share their experiences, informing service design and delivery."
Even now, hearing voices and seeing visions are often still associated with "severe and enduring mental illness".
Mundy added: "At the Voice Collective, we're working to change that misconception, to support children and families living with fear, isolation and stigma, and to work hand-in-hand with services to offer innovative forms of peer support. Being involved in the Young Voices Study is helping us to do that.
"It's really important to us that young people's experiences and stories are brought to public attention, and the Young Voices Study is playing a big part in that process."
Researchers are now crunching the data to develop academic papers and recommendations for interventions.
On the next steps for the project, Dr Parry added: "We have successfully applied for two White Rose Doctoral Training Partnership PhDs with Pennine Care NHS Trust and Voice Collective. This will help us develop a multisensory assessment and formulation tool, as well as a separate project to explore similarities and differences between voice hearing and imagery companions for younger children."
Reflecting on the Young Voices Study, Mattocks said: "To me personally, a project like this growing up would have been such a reassurance.
"It would have shown me that hearing voices is not a death sentence, and that there is a way forward.
"I'm not alone, even though I felt it at 14. So many young people experience hearing voices and it is nothing to be ashamed of."