Shaping the future
There's no question, Alice Webb is in the future business.
She was one of the key architects of the BBC's wholesale move to the North in 2011, a bold strategy to root the BBC in the communities of the whole country, to secure its future as a public service broadcaster.
She also heads up the BBC's Children's output, a sparkling laboratory where future trends in how the BBC informs, educates and entertains are begun.
Every decision she makes in the present, every strategic thought she has, is driven by that eye to the future and who she can work with to shape it.
For while the move of BBC Sport, BBC Children's and large parts of the news output has been seismic, it has also come at a period of phenomenal technical change in how content is created and consumed.
"By any measure the move to create BBC North has been a massive success for the organisation," she reflected.
"It's been about finding a way to be a public service broadcaster, but in a digital era. That's what we've managed to achieve.
"We feel much more open, much more flexible, very, very digitally enabled.
"The whole country's digital innovation is coming from here. We have lost none of our public service values and you look at the colour scheme for the building, these are the colours of the original test card.
"Everything you see here is part of our heritage, yet in a way that brings the BBC up to date. The way we lay out the building enables us to be much more flexible and agile.
"You'll see nothing that's fixed and that's as much a part of the culture as the practical way we use space."
In the course of the last seven years, the output has, she explained, more closely reflected the country as a whole, and being in the North is critical to that.
"A huge chunk of our business comes from the North of England," she said. "I made a step change, as head of BBC North, it was probably about 5 per cent of the BBC's overall production activity, now it's above 20 per cent.
"What I always believed is that there are independent production companies who are world class. We're working with them more, which I completely love. It could be better, it could be 30%.
"That's why it's brilliant to see Channel 4 coming to Leeds – that will just help the breadth, the depth and add to the variety of what is an incredibly creative part of the world.
"To my mind, whether it was Manchester or Leeds was great for the whole of the North of England."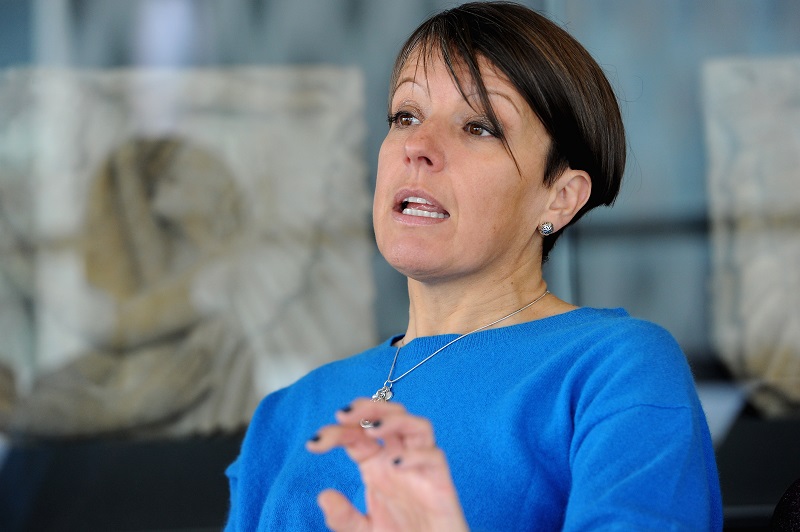 BBC at heart of North's economy
But, she added, it would be a mistake to think of the BBC's impact on the North purely by programming output. The impact on a much wider skills landscape has been transformative and is central to the future shape of the economy in Greater Manchester and the wider North.
"The largest cohort of people we have here are engineering teams. We have over 600 engineers here – we run over half of the BBC's online products and services from MediaCity," she said.
"We have a fair chunk of the BBC's research and development capability, which means the partnerships we have are not just with the traditional TV production industry, they are absolutely with digital and engineering organisations.
"It's no accident that you see that the digital economy has grown over 100% in Manchester over the last five years, and that you see major employers like Amazon moving here with over 600 jobs.
"We are a hungry beast for digital skills. We have a shortage of skills and there are vacancies here that we'd love to fill, and yet we know that when we moved into the market we distorted it because we sucked up everyone else's jobs.
"But the market has grown massively, and now you have other players moving in: Talk Talk are moving up here in greater numbers; Amazon, Moonpig, Autotrader, which is brilliant.
"But it does mean that we need to be much better at skills development. We need to think of ourselves as not just responsible for developing skills for our own organisations, but for the entire region and be comfortable with the fact that people are going to move around."
It begs an obvious question about the role of a university in the development of skills, and what can be done better, but that crucially a university can be the common link between multiple employers and aspiring entrants to the creative and digital industries.
Universities' role
"Universities have a really important role for us," said Webb. "And we have something to contribute the other way.
"Creating lasting pathways between and into businesses, which means that conversation about what is being taught becomes really important. It happens, but not yet to the extent that there is long term strategic lockset between us.
"I think we have those conversations, courses are updated, then it all moves on at 700 miles an hour.
"It needs to be a constant dialogue, a practical partnership, not just based on theoretical study, which everyone is very well aware of.
"It needs to feel like it's part of business as usual – not something that requires a bit of extra effort, for both the BBC and universities to be comfortable with each other so that conversation isn't seen as extra-curricula or requiring discretionary effort.
"What the BBC might want will be ever so slightly different to what the Co-op might want, or Amazon, or Talk Talk, so where's the collective conversation that we can feed into that rather than feeling like there are many bilaterals going on?
"I think of it as being a bit like the university being the translator, like a travel adaptor. A university has to be able to plug into that huge amount of commonality – and the significant differences – between employers."
I really admire Manchester Metropolitan. The University has a great spirit, it is very forward thinking
Webb has enjoyed working closely with the team behind Manchester Metropolitan University's most important project in the creative industries, the School of Digital Arts.
She said: "I really admire Manchester Metropolitan. The University has a great spirit, it is very forward thinking.
"A challenge many universities face, and we face it too, is that even when you can see the future, and can see what we need to change, we are so respectful of our heritage and our past.
"So much so, that it can sometimes hold us back in making the changes, in innovating and being at the forefront of what we need to do.
"Manchester Met is an incredibly open university. The focus on the creative and digital arts is excellent and all of that is epitomised by the creation of the School of Digital Arts (SODA).
"Not only being able to see the direction of industry and of digital creativity, but having the courage and willpower to reconfigure faculties and departments to kick off a building project.
"And then to go out and get an iconic leader like Danny Boyle – because when you do create something like SODA there's an alchemy to it, it's not just a business case.
"Manchester Met understands that alchemy and is really going for it and I have nothing but admiration for that.
"All that said, and I say this directly – never stop pushing yourself, which means you have to constantly find the energy and the courage within yourselves to keep pushing yourselves forward. I'm a massive believer that unless you are going forwards, you're going backwards.
"I think it can be tiring, and you are going to make mistakes, so build in the mechanisms that mean you don't go back into your shell, and keep pushing forwards.
"Manchester Met moved early with SODA, but others are doing the same now. You've definitely got first mover advantage, but you have to keep standing out.
"Manchester Met is very proud, rightly, of connections with industry, but realise this is a school of creativity.
"It isn't old world and a new world, we have the same conversation here, and the reality is neither is right. Focus on that creativity, it's not about the technology."
The future of content
So how is content going to be created in the future, especially by the young people who are entering the workforce?
The students who may have grown up with digital products in the home, have been familiar with how channels such as CBBC have really embraced new distribution technologies and platforms and, of course, the smartphone.
"The move from a broadcast relationship, where we tell you what you should be watching, has flipped," said Webb.
"Those days are over. Now it's more the case that the individual has ultimate choice and says 'I will tell you what I want to consume and how I will consume it'.
"Children are at the sharp end of those behaviours. For example, with CBBC our channel for 6-12 year olds, over 50 per cent of the viewing for that is done on demand.
"With BBC1, it's about 4 per cent. The vast majority still have linear TV as their default position. With young people that pendulum has swung massively."
It's this critical juncture between consumer and technology that Webb estimates has the greater impact than how content is created.
"I don't think the content revolution is as fundamental as we sometimes imagine it to be," she said.
"Because there are some fundamental truths that I don't believe we're going to change. There's storytelling.
"The BBC's mission to 'inform, educate, entertain' isn't going to change. But I do think it's more of a discovery and consumption revolution, the way in which people find content, how they come into contact with it, the times of the day they consume it, which is therefore informing the kinds of content we make.
Plug in: anytime, anywhere
"Take the podcast market, for example. It is really expanding rapidly.
"It's low cost, but it fulfills a hitherto unfilled need in our audience that we didn't know existed. It's only come about really because of the mobile phone.
"And you've got the opportunity to plug in anytime, any place anywhere, but the fundamentals are the same as they were 40 years ago.
"The same is true of the very crowded video market. The content Netflix and others are delivering is no different, but they are delivering it in a different way that is satisfying an audience consumption need in a different way."
The BBC's response to this explosion in the number of platforms is to work with everyone and try things on multiple platforms, she said, but that ultimately bravery in saying no to things is important to understanding what works and what doesn't.
"Having the confidence and picking the right platform for the right piece of content is quite a nerve racking thing to do, when you see the competition," she explained.
"But you make a decision not to do a podcast, a series, a blog, a social media account and actually picking the ones you actually think will work."
Webb is hugely energetic, passionate and optimistic. And for someone looking so deeply into the future, it's fascinating to learn about the thought processes inside the BBC that led to a smash hit like the political action drama Bodyguard, which broke all the conventions that said people binge watch and that national water cooler moments are dead.
By achieving audiences of 10.4 million, it proved something different is going on, didn't it?
"It's a really good example of having the confidence in your content, to own it, and not being a slave to the discovery and distribution," said Webb.
"There is a sense that you can claim it was all planned this way, but the truth is you can never be completely sure what will catch fire and what doesn't.
"Blue Planet was the same. Sunday night viewings went through the roof (14 million in 2017). A beautifully crafted piece of television will always win out.
"I'm very optimistic about the BBC's future in this very crowded digital world. Because we stand for something incredibly distinct.
"You've either got to be the biggest player in the field, or you've got to be the most distinct.
"And boy are we distinct with the quality and quantity of the content we create."