Opportunity knocks
Life can be full of opportunities. For some, those opportunities come along regularly and are part and parcel of the environment in which they are living. For others they can appear a distant dream.
The key is to find the avenues and support that open up the opportunities, to have the knowledge to recognise them and then the confidence to take them.
Manchester Metropolitan University's First Generation programme is about providing help and support, and introducing the students to those opportunities.
Although there are similar programmes at other universities to help young people from areas which historically have low participation in higher education, few institutions in the UK pull together the same level of pre-entry and on-course support with a focus on helping first-in-their-family students, as First Generation.
It is much more than just financial support and provides students with the self-belief that university is a place where they will thrive and feel welcome. The programme doesn't just provide an education for students who come here, it also raises aspirations across the community that everyone can go to university and achieve their ambitions.
And the students have been grasping the opportunities with both hands.
Shuab Gamote [pictured above] is a student who epitomises how life can give you new and exciting opportunities. His family fled wartorn Somalia to seek a new life in Manchester.
In his first eight months studying Accounting and Finance at Manchester Metropolitan he has worked with a group of fellow First Generation students to found their own society, become President of the Somali Society, shared platforms with senior civil servants and stood to lead the Students' Union.
His campaign to become Students' Union President was based on a manifesto about being 'stronger together' and ensuring everyone had equal opportunities. This included STEM engagement for students from a BAME background and better mental health support.
I feel like I have already achieved so much in my first year
Gamote said: "First Generation has helped me to immerse myself in the University community, giving me the confidence to get involved with the Students' Union and sports, to the point where I have the privilege of being the President of two societies.
"The programme has enabled me to network on a professional and personal level, and to gain invaluable skills that have already opened up the doors to opportunities I would never have thought of had I not been on the programme."
He added: "I feel like I have already achieved so much in my first year, running two societies, achieving good grades and making friends for life."
A total of 61 students from the first cohort of the programme arrived at the University in September. The ultimate aim of the programme is to provide life changing opportunities to 1,000 young people.
Those involved in the programme have benefitted from summer schools, development sessions, opportunities to participate in a leadership programme, and mentoring – all designed to help them make the most of their time at university and fulfil their undoubted potential.
And the next opportunity on the horizon is a summer workplace residential in London.
The London residential aims to address the recognised barriers First Generation students often face in relation to their graduate prospects, and is designed to raise aspirations.
It looks to equip students with the experience, networks and insights which will help them secure graduate-level employment, and give them the confidence to consider work and placement options outside their local area.
Gamote said: "I am so excited about the London residential. It gives us the chance to see a cross section of industries and to meet successful and influential people, including alumni of the University."
Firzah Ali, who with Gamote is a founder member of the First Generation Society, was equally positive about the experiences she has had at the University so far.
Both recently shared a platform with Chris Millward, Director of Fair Access and Participation at the Office for Students, the new regulator for universities. They had the opportunity to explain how the First Generation programme has impacted their lives.
Ali said: "The personal support and opportunities afforded to me have been invaluable. I have already built relationships with different people, at different levels, and have gained new experiences and skills that I would never even have considered had I not been on the programme.
"Taking part in the termly development sessions has made me realise what the University has to offer, for example, financial help, work opportunities and societies, not to mention all the different courses and activities that are available."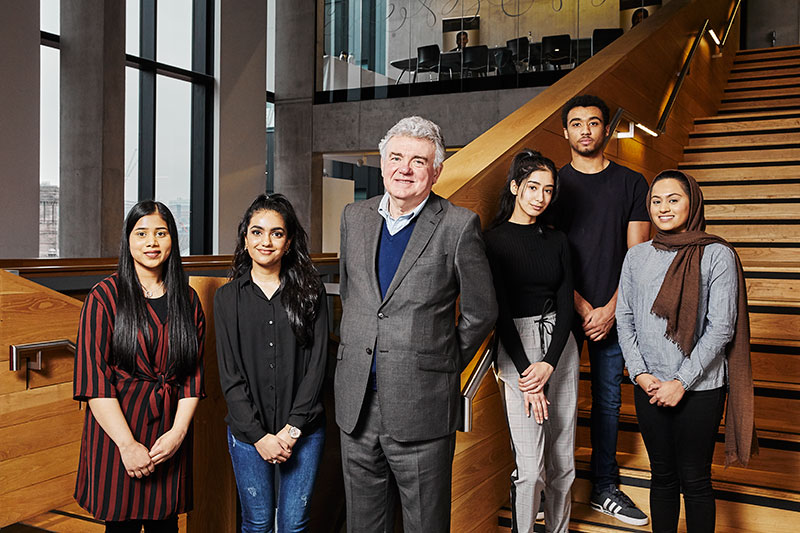 Ali, who is studying Psychology, has received an added benefit through her birthplace – Oldham. The Stoller Charitable Trust aims to provide opportunities through the innovative programme for talented Oldham students to benefit from a first class education.
Established by Sir Norman Stoller CBE KStJ DL, whose company Seton Healthcare became one of Oldham's biggest employers and a worldwide brand, the Trust aims to help young people realise their potential.
Among the first cohort of First Generation students who arrived at Manchester Metropolitan in September were five from Oldham – Ali, Bradley Nuttall, Samiya Begum, Ushalie Khan and Shameela Begum. And they have become the first contingent of "Stoller Scholars", with the Trust having committed to fund up to 60 places over the coming years.
Khan said: "It has been a big privilege for me to be awarded a Stoller Scholarship. This programme gave me an insight into life as a university student and it has helped me to overcome barriers that I may have had before enrolling on my course, and beyond."
And Samiya Begum said: "The First Generation programme has increased my confidence, has helped me to believe in myself and has encouraged me to take part in all opportunities as they arise. It has helped me connect with different people I wouldn't have imagined meeting or speaking to and my Scholarship eases financial worries."
The Stoller Scholars are also acting as ambassadors for the scheme in their hometown, returning to give advice to prospective students and sharing their experiences, and introducing the next generation to the benefits of a university education.
It all helps towards the University's initiatives to widen participation and ensure everyone has the same opportunities.
In 2017/18, more than 1,000 full-time undergraduate students at the University (15.8 per cent) came from the bottom fifth of postcodes in terms of university participation, against a benchmark by the Higher Education Statistics Agency of 13.2 per cent.
This makes Manchester Metropolitan the second highest in the country for enrolments of students from low participation postcodes.
Peter Riley, Head of Widening Participation at Manchester Metropolitan, said: "We work extremely hard to ensure we are doing all we can to increase the participation of those school pupils that are under-represented in higher education – and these results are testament to that.
"Our First Generation programme has a particularly high impact on pupils in Greater Manchester. It has transformed lives and is helping students to achieve their potential, regardless of their background."
First Generation focus
First Generation helps the brightest young people from Greater Manchester – all will have excelled in their GCSEs and have progressed to Year 12 or college. The scheme starts with preentry, including a residential summer school, support with applications and peer mentorship from students with similar life experience.
Those who choose Manchester Metropolitan will benefit from an academic mentor, a peer mentor and a professional mentor; the chance to help the next generation as a Student Ambassador; work experience; financial support in their first year in the shape of a First Generation scholarship, and a workplace residential experience at the end of Year One.
Since launching in July 2017 to the first group of Year 12 pupils from across Greater Manchester, the programme has been breaking down the barriers to social mobility that they face. In September 2018, 61 young people from this inaugural cohort enrolled on an undergraduate course at the University and received a transformational bursary, funded by donations to the campaign from our alumni, friends and supporters.
At the end of this academic year, these scholars will attend a London workplace residential also funded by First Generation campaign supporters. The residential offers students the opportunity to develop networks, to gain an insight into industries relevant to their degrees, and to gain crucial professional and employability skills.
The campaign aims to transform the lives of 1,000 young people who will be the first generation in their family to go to university. There are many ways for our alumni and friends to get involved with First Generation and help transform the lives of the young people involved.
We are calling on our inspirational network of alumni, friends and business contacts to donate to the campaign using our secure online donation platform: mmu.ac.uk/giving/donate.
Supporters can also get involved by providing their expertise and time, mentorships, and access to professional facilities and contacts.
To discuss how you could support First Generation, please contact Sophia McNeill, Development Manager, on 0161 247 3326, or s.mcneill@mmu.ac.uk, or you can visit the website.