Protecting the planet
Climate change, plastic pollution and food security are just a few of the big interweaving green quandaries that are never far from politics, the collective conscience or, indeed, television.
Conservation remains high on the agenda for humanity – but how to find a solution that successfully allies social and economic development with ecological safekeeping?
It is not a case of protecting wildlife or landscape at any cost, an approach that can foster resentment from locals if they feel disregarded and consider their livelihoods and ways of life have faced interference.
Equally, efforts to boost wealth and living standards in order to raise people out of poverty must be implemented in a sustainable way that complements the protection of the globe's threatened habitats, animals, birds, insects and marine life.
Marrying the two are researchers from Manchester Metropolitan University's Ecology and Environment Research Centre, who are involved in projects across the world to improve the quality of life for communities.
At the heart of the work is the intertwining of the communities' outlooks with that of their surroundings and its other inhabitants. In other words, shared goals and a better appreciation of a symbiotic relationship.
Key to a successful approach is engagement with residents; charity, interest and lobby groups, and the relevant governmental and conservation authorities who maintain the budgets, policies and monitoring responsibilities.
Armed with solid data and science, and the knowledge and ability to navigate political systems, the University's academics have been successful in making a difference on nearly every continent.
Manchester
Understanding the contribution domestic gardens make to the ecology of Manchester underpinned an action plan to increase green space and wildlife and encourage residents to appreciate and better use their own little outdoor slice of the city. Dr Gina Cavan, Senior Lecturer in Geography, conducted surveys and studied aerial imagery for the My Back Yard project, funded by the Natural Environment Research Council, to quantify private gardens and assess their value to the city's environment. She said: "The actual amount of green and blue space (such as ponds) within Manchester's gardens and back yards is less than expected. "There is a lot of untapped resource in back gardens and that has an impact on the city's environment because one fifth of Manchester is privately owned gardens. "Green space provides important benefits to the city, particularly in reducing climate risks like the urban heat island – the phenomenon where urban areas experience elevated temperatures relative to the surrounding rural hinterland – and flooding. "Since the quantity of green space is less than previously thought, we are not as resilient to those risks as initially thought." The action plan was created with Manchester City Council and other partner organisations to commit to actions that increase green space, protect and promote wildlife, and encourage residents to do their own bit. Dr Cavan said: "To support delivery of the action plan, Lancashire Wildlife Trust and Manchester City Council have secured funds for My Wild City, a new four-year project to engage and actively involve communities and businesses in greening Manchester, which we will be supporting."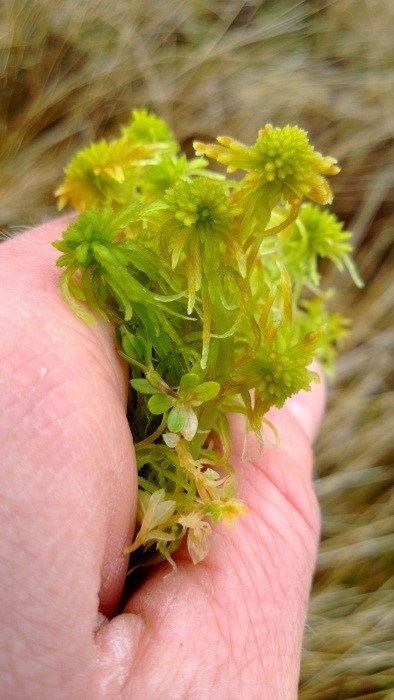 Lancashire
Manchester Metropolitan is providing the expertise for the rehabilitation of peat bogs as part of a £6.2million EU-funded Interreg cross-border scheme. Dr Chris Field, Senior Lecturer in Environmental Ecology, said: "The point is to restore peatland landscapes across five countries and we're contributing our academic knowledge and specialisms to support the project – and will advise on restoration techniques." The team are working with Lancashire Wildlife Trust (LWT) to rejuvenate Little Woolden Moss to the west of Salford and study how the state of neighbouring land on the fringes of the earmarked areas affects peatland recovery. Simon Caporn, Professor in Ecology and Environmental Science, said: "We will also work with LWT to create a Sphagnum moss farm on LWT land at Winmarleigh Moss in what will be the first large-scale pilot in the UK. "We're trying to farm it in the wild rather than grow it in a greenhouse. It has to be looked after but we will be working out how to make the management the least intensive possible." The moss can be replanted on damaged peatlands to stimulate repopulation and rejuvenation or left to absorb carbon dioxide from the air as part of a carbon offsetting scheme. From 2020 customers will be unable to buy peat from garden centres for domestic use and the ban extends to professional horticultural use from 2030. It is envisaged that Sphagnum moss could also be used as a compost material as a replacement for peat if it could be cultivated on a commercial scale.
Lincolnshire
Salt marshes are a bit like the Ugly Sister of British landscapes: unattractive, outshone by others and regrettably shunned. But Dr Hannah Mossman, Senior Lecturer in Ecology, is researching what measures landowners can take to best restore former salt marshes – given over to farmland – back to the original intertidal habitat. Dr Mossman said: "Salt marshes are valuable habitats but inherently rare. "They are nursery grounds for commercially important fish, provide carbon storage and protect us against flooding." Dr Mossman has been studying how the biodiversity and characteristics of land develop after it has been flooded by the sea as part of salt marsh reclamation efforts. "Plants colonise naturally after coming in on the tide themselves," she explained. "But my research has found that even after 100 years you don't have the same plant community as a natural salt marsh – it doesn't quite look the same. "We have been looking at ways to make it a better salt marsh." Left to themselves restored salt marsh will develop to be flat and boggy. Dr Mossman found that 'bumpy is best' and that by changing the topography of the earth with diggers to create a range of hummocks and pools with differing levels of salinity and moisture, landowners could encourage a wider variety of plants to survive. Such interventions were implemented with success at Freiston Shore Nature Reserve in Lincolnshire, one of the key experiment sites.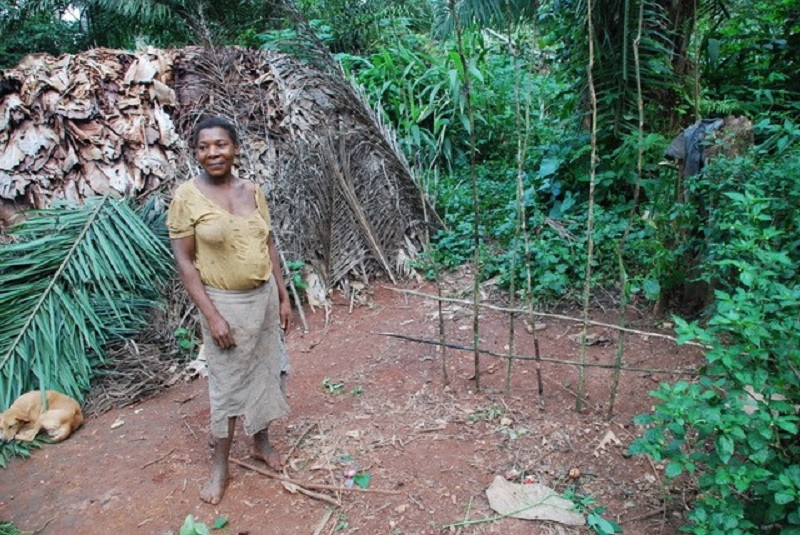 Cameroon
Improving the prosperity, literacy and wellbeing of up to 900,000 indigenous people in the Congo basin must go hand in hand with promoting biodiversity. John Fa, Professor of Biodiversity Conservation and Human Development, is heading a Darwin-funded project alongside partners in south-eastern Cameroon that works in remote villages inhabited by Baka Pygmies. Once an itinerant group who called millennial forests home, they have become settled alongside a major road. These communities have only the most basic facilities and must now learn how to feed themselves with arable farming. Professor Fa said: "We are focused on trying to come up with strategies to help the Baka Pygmies develop ways of managing natural resources sustainably, and generate food and income from subsistence and cash crops. "The Baka are traditionally nomadic and rely on hunter-gathering, but the groups we're particularly working with have been pushed to the roadside and forced to settle into a more sedentary lifestyle." A Spanish NGO has been providing education and medical support for almost two decades and with Manchester Metropolitan is now integrating these activities within biodiversity protection. Professor Fa said: "Together with the Baka communities themselves, we are coming up with ways of securing these peoples' way of life and safeguarding their food security at the same time as helping them become custodians of the biodiversity that surrounds them. "Ultimately, it's about integrating research on biodiversity with human development: the future of both people and wild animals is strongly intertwined."
Ethiopia
Protecting Africa's most endangered bird while profiting and empowering local villagers was the aim of a Darwin Initiative-funded conservation project. The survival of the critically endangered Liben Lark is threatened because of a loss of nesting grassland habitat to cereal crop agriculture in southern Ethiopia's Liben plain — one of only two locations worldwide where the species is found. Dr Huw Lloyd, Senior Lecturer in Wildlife Ecology, said: "The traditional Ethiopian pastoralism way of life is breaking up due to economic pressures and climate change and many people are turning to crop cultivation as a means to deal with these pressures." The University and its partners worked with villagers to secure the rights to parcels of private land to create four 'kallos' (communal pastures) with locals employed as land managers. Scrub and branches were used to build natural fencing to prevent livestock intrusion and the grass was allowed to grow undisturbed. Dr Lloyd said: "It proved a rich source of foraging food for larks and perhaps in the long term, it may encourage them to breed." Though the fate of the lark is still unclear, the untouched grassland also created fodder for cattle, thus helping pastoralists to plug the food gap during the area's recent severe drought. And the project had even more wide-ranging benefits: financial training was delivered to 101 heads of household and basic literacy training provided to more than 50 adults, the majority of whom were women.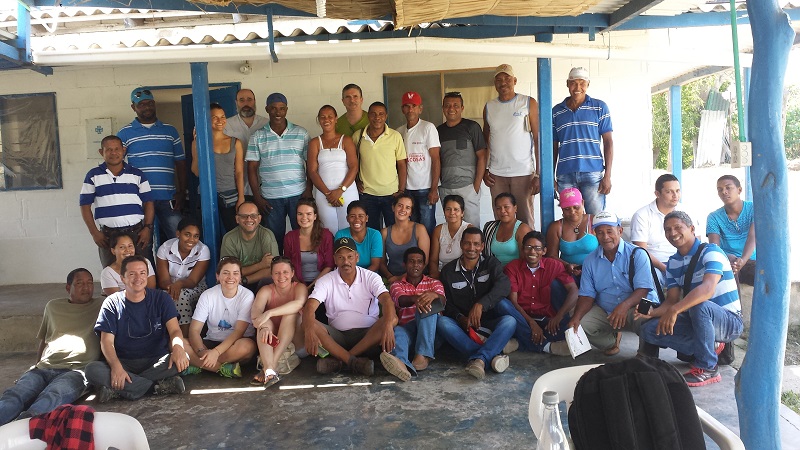 Colombia
Proud but impoverished historic fishing communities were empowered and energised through the Fishing For Life project. Research Associate Lina Barrios and partner organisations assisted villagers in two provinces on Colombia's Caribbean coast to understand the changes necessary to ensure a more prosperous communal future. She said: "Colombia is a developing country and the economy has grown well, but there are still inequalities and the coastal communities are vulnerable because they rely on the coastal ecosystems for their wellbeing, sustainability and subsistence. "We wanted to reduce inequality in general and try to see how the topic of climate change, ocean acidification and education could support from the bottom up a process to improve the quality of life. "It needed to be participatory research, which was not going to be easy, but we thought if we convinced the people to let us know what they wanted, instead of us going there and telling them what they needed from us, we can help them to develop that part of their lives." Workshops taught fishermen and their families climate biology and the finite nature of resources. Researchers facilitated joint decision-making, especially by the normally-marginalised females, for allocating money to priority projects suggested by locals. Barrios said: "The way they perceive what is a priority for the community was different between men and women. "We realised if we supported the women's ideas, we are supporting the family to develop as a whole because the family is the basic unit of society."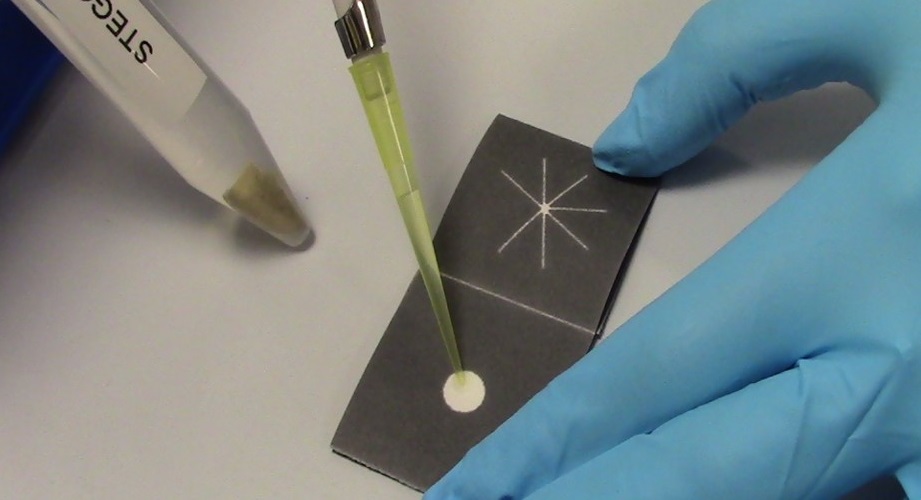 Ecuador
Academics developed a lab-on-a-chip to help law enforcement agencies catch criminals trading in illegal shark meat. Dr Kirsty Shaw, Senior Lecturer in Forensic Biology, created a foldable paper device impregnated with chemicals that change colour when a tiny amount of tissue from a particular species of the fish is placed on it. The idea is that border officials or police officers will conduct on-the-spot checks with the low-tech pack to identify offenders. Dr Shaw said: "There are lots of threatened and endangered shark species which are being caught and traded when they shouldn't be; they are being caught accidentally by fisherman as by-catch or specifically targeted for the fins for shark fin soup in Asia. "At a fish market, when a shark's had its head and fins cut off, there's no easy way to identify its species as it looks like any other white fish. "We're trying to develop a cheap and portable test that could be used in Ecuador to genetically identify what species the samples are." Funding from the Save our Seas Foundation will allow Dr Shaw and colleagues to travel to South America later this year to train front line employees.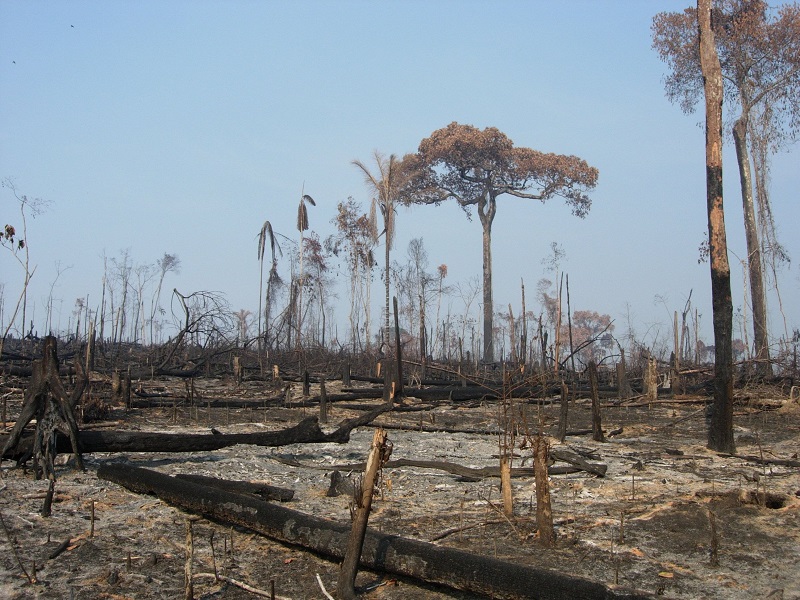 Brazil
The vast Amazon basin is at the forefront of the global biodiversity crisis. Dr Alexander Lees, Senior Lecturer in Ecology, is a member of the steering committee of the Sustainable Amazon Network that seeks to create more sustainable Amazonian landscapes by assessing the value of different land uses for biodiversity, their contribution to 'ecosystem services' like carbon capture, and their pure economic value. Dr Lees said: "Pressure from NGOs and governments has helped to slow down deforestation but a particular interest of ours is forest degradation, which is a reduction in the quality of the forest habitats because of selective logging and wildfires. "We have spent the last few years trying to understand the impact of these disturbances on biodiversity and ecosystem function." Dr Lees has coordinated the bird sampling of the project, which has recently extended to the collection of audio recordings using portable and field sound recorders to measure biodiversity between different types of forest exposed to interference. "We have invested a lot in capacitybuilding with local research partners and we're working on predominately private land, so it is crucial to maintain both a level of trust and take our findings back to the community," said Dr Lees. "We have tried to tailor our research to plugging evidence gaps relevant to environmental policy. "For example, in the state of Pará we influenced legislation which defined the age at which regenerating secondary forests on abandoned land should be legally protected from further deforestation."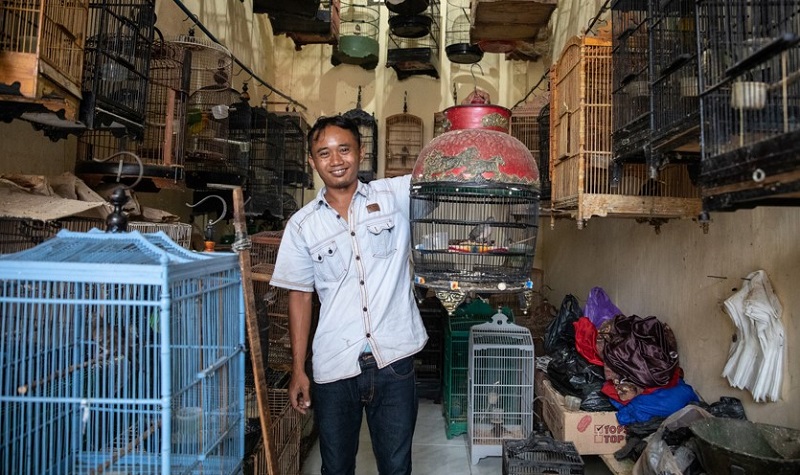 Indonesia
On the island of Java there could be more songbirds in captivity than flying wild because urban hobbyists cage them to compete in lucrative competitions. Stuart Marsden, Professor of Conservation Ecology, is overseeing research to understand the impact on indigenous species of the cultural phenomenon of bird-keeping and wild bird trapping – a pastime traditional to Indonesia's Javanese majority ethnic group – and its associated commerce. Household surveys and market visits are complemented by video and audio habitat observations and the scraping of data from trading networks on social media. Professor Marsden said: "Since the turn of the century there has been a reduction in the number of birds imported into Indonesia – due to avian influenza – and consequently native species from across the archipelago are being targeted to supply demand and some have already started disappearing from their native ranges. "The songbird trade has become a major threat to the survival of Southeast Asia songbirds. Millions of these beautiful birds are captured illegally every year and we need to act now before we reach the point of no return." The researchers hope their work will help change the attitudes of locals, support law enforcement, and create interventions that will reduce the impact of bird-keeping on wild populations. Simon Dowell, Science Director at Chester Zoo that partly funds the research, said: "Together we are tackling this problem from both an ecological and a sociological standpoint and the research will contribute to practical solutions to reducing the threats to wild birds by stemming the demand and providing opportunities for restocking and reintroduction."