The music of being human
For someone who has won nearly every poetry prize there is, became the first female Poet Laureate in the role's near 350-year history and is reportedly second only to Shakespeare in terms of popularity among people applying to study English at university, Carol Ann Duffy's top accolade is somewhat surprising.
"The best thing I ever had was someone had one of my poems tattooed on them," she said. "I was really moved by that. I don't think I will ever top that."
But Duffy is full of surprises. She had entered the room dragging a suitcase nearly the same size as her. A nightmare journey back from working in Malta, which included being booked onto the wrong flight, wasn't the best preparation for an interview.
There was a slight nervousness at meeting her. There had been tales of her having a general dislike of being interviewed and having written a poem in which she describes how the artist Magritte once 'opened his door to a journalist, politely bowed him in, then booted him up the arse right across the room'.
There was no need to have been worried. The next hour was filled with Duffy talking passionately about her love for poetry, her pride in what she and her colleagues have achieved at the University, and her desire to discover and nourish young writers and introduce children to the joy of books and writing.
Duffy, who was born in Lennoxtown, Glasgow, and raised in Stafford from the age of five, became Poet Laureate in 2009. Her ten-year 'term of office' ended in May 2019.
By general consensus, Duffy's period as Poet Laureate has been hugely positive. But in her selfdeprecating way Duffy downplays her impact. When asked what she is proud of she simply said: "Just having done it for ten years."
The Poet Laureate, for those who don't know, is expected to compose poems for significant national occasions. It is an honorary position appointed by the Queen on the advice of the Prime Minister. Duffy became the first woman in the position's then 341-year history when chosen for the post in 2009 (John Dryden was the first official Poet Laureate in 1668). Before Sir Andrew Motion's appointment in 1999 the Poet Laureate was normally appointed for life; however, Motion, accepted the position for ten years.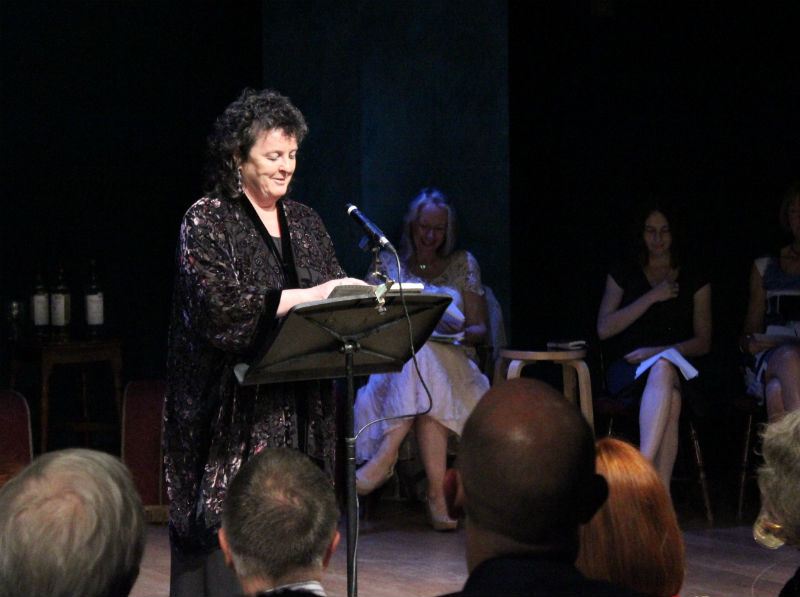 Duffy explained: "There isn't any official requirement to write a poem. Historically this is because when Wordsworth was appointed Laureate he said he would only do it if they agreed he would not have to write to order. That was granted to Wordsworth and since then there has been no requirement, and is no requirement, for the poet to write anything.
"But any sensitive poet will know when poetry's voice should be added to the national babble. It's a question of being alert to the pulse of the country and knowing when poetry could speak.
"Mostly I choose what I write. A lot of them would be the poems you would write anyway as a poet. Sometimes someone will ask me to write a poem – a recent example would be Danny Boyle, where he asked me to write a poem for the 1918 armistice commemorations and that is something I very much wanted to do. It is a big national event and poetry should be there because it is so linked with the Great War. I wrote a poem for him and he took a line from the poem which is 'the pages of the sea' to do his project with the sand paintings. Things like that come out of someone saying 'can you write a poem?'."
But, in addition to being Poet Laureate, Duffy has been the Creative Director of Manchester Writing School at Manchester Metropolitan University since 2006. And at the heart of both roles has been two of her greatest loves – language and the discovery of the new.
"The best thing I ever had was someone had one of my poems tattooed on them. I was really moved by that. I don't think I will ever top that."
"For me poetry is the music of being human," she explained. "I think it's the place where language becomes its most intense, becomes its most inventive in order to speak of our humanity, whether that's anguish or despair or memory or falling in love or going somewhere – place, or history. Poetry seems to me to be the best form in the way prayer is for a spiritual dialogue."
Not surprisingly for someone whose life is so immersed in language, the importance of words and how they are used – or misused – is constantly in her thoughts.
"I think we live in very strange times in terms of language," she said. "We have many people thinking that the BBC is fake news; we have the babble and the hissing of social media; we have tweeting and twittering and within that there has to be a space for language at its best – and I think that is what poetry can bring.
"I don't think you have to write it, but I do think you can get a great deal in your life from reading it. So trying to carve out a space here in The Writing School between what we do and the city, where we nurture new poetry and we develop new readers, I think is a sacred and wonderful duty to do.
"A poem can say in so few words something so precious and startling that it almost enters us."
Sitting alongside Duffy's love of language is her burning passion to find new writers – and give children the avenues to discover a love for books and writing. It is this type of work which will be a lasting legacy.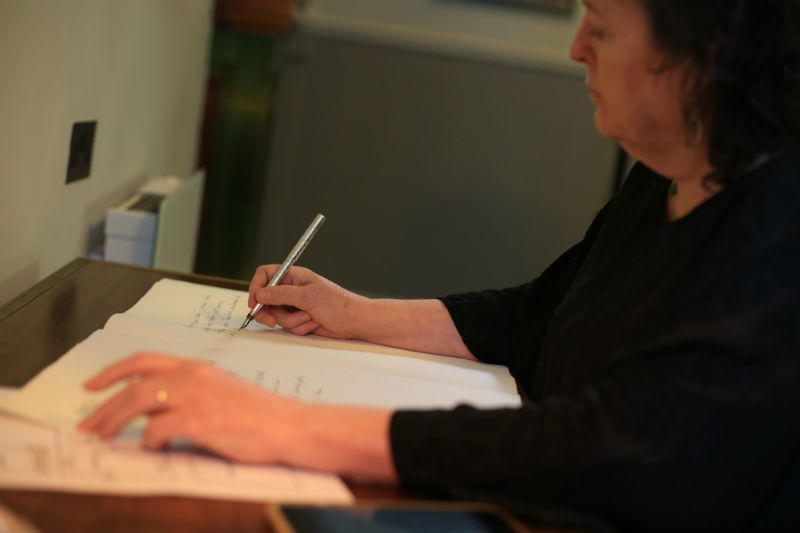 Through her tutoring and mentoring, she is helping turn students into poetry stars of the future. And by conceiving and initiating public engagement projects such as the Manchester Children's Book Festival and Mother Tongue Other Tongue she has opened the minds of children and helped them share her love of languages.
Duffy said: "I think one of the key ambitions of The Writing School at Manchester Met is to discover and nourish new writers and obviously we work across many genres, in children's and fiction writing and life writing. My contribution is within the writing of poetry. So that takes many forms; to identify the new poets, to work with them in traditional classroom situations, but also to take them out of the University into the city by devising various creative projects.
"I think it is really important for universities that have creative writing that they take it out into the city or town or wherever they're working. I don't think poetry is ever going to be as popular as football or the movies, but I do think there is a place for it in our civil life and it is important to be there, and be seen to be offering it to anyone who might want to read or write it.
"I don't think the whole world should read poetry because I'm a realist. It is our national art and part of our history, but not everyone is going to come to it. But then there are times in your life when you do come to poetry."
[Manchester Writing School] is a place where poetry is not only taken very seriously but is a way of life. It's what everyone is vocational about. So I feel very comfortable working here.
Duffy's childhood played a significant role in shaping her passion to help children discover the joy of books. She was a voracious reader when young, reportedly taking her four brothers' library tickets so she could loan as many books as possible.
"The first book I read was Alice in Wonderland when I was seven or eight and I completely fell in love with it – after that I was a complete bookworm and spent all my time reading," she said.
"I came from a working class background and my parents didn't read or buy books. I was supported entirely through my teachers and schools that I went to. In a sense, I owe my life to those teachers. So one of the things we had here as a vision for The Writing School to do was set up a Children's Book Festival and the University was completely behind that. We were able to reach out to schools in deprived areas of the city as well as the more obvious.
"Students would come, you would have writers from all over the country, best-selling writers like Jaqueline Wilson. Children were just flooding in hearing authors reading to them, doing their own writing, working with the writers employed by The Writing School and it spread from its beginnings right over the city. People wanted to become a part of something we'd started here."
She added: "Children are natural poets. They have a freshness of seeing that we lose as we age. So I think the place to introduce poetry is with children, which is why we have the Children's Book Festival. Children don't have the self-consciousness or lack of confidence until they acquire it or are given it by life.
"We always thought when Kaye (Tew) and I started the Children's Book Festival that the children who came to it would be our future students and possibly even our future writers. That was part of the vision."
Since its launch in 2010, Manchester Children's Book Festival events and activities have benefited more than 40,000 pupils, teachers, children and families in the UK and worldwide.
The Manchester Children's Book Festival is not the only initiative to bring literature and those who write it to an audience of children, schools and families. However, as the first initiative of this kind to be devised and delivered by a university, it has pioneered an innovative approach which draws upon the unique resources of an academic institution – its researchers and its students – to deliver sustainable, long-term social and cultural impact.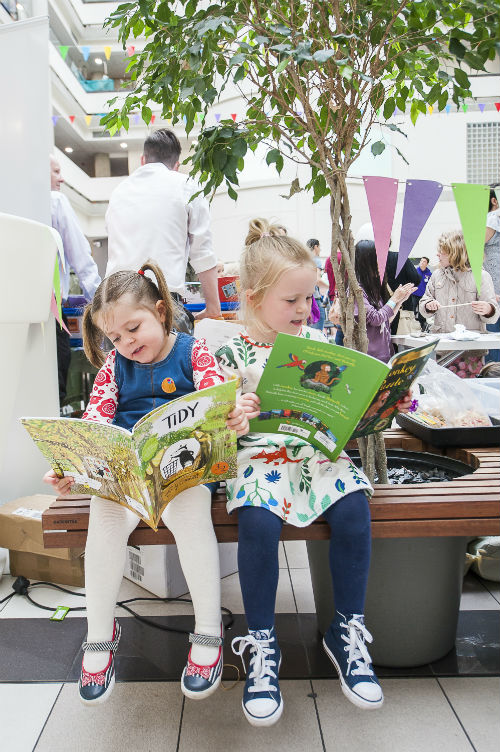 Out of Manchester Children's Book Festival, came another initiative, Mother Tongue Other Tongue – now a nationwide competition which encourages children to write either in their 'mother tongue' or a language they are learning at school.
Duffy explained: "With Mother Tongue Other Tongue what I wanted to do was find a way of encouraging children to write not only in English, but also in their mother tongues. Or perhaps try another language, so we have this exchange of languages to give young children the confidence and the respect that these different languages are due.
"Obviously Manchester is a very diverse city and that seemed the perfect project to harness all this talent, to find ways of building confidence, to involve teachers in our project and from our beginnings here this project has rolled out nationally."
Manchester has become Duffy's adopted home. Her daughter, Ella, who is now following in her footsteps as a poet in her own right, was born and raised here.
"I can't think of anywhere else in England that I would live," said Duffy. "Culturally Manchester is as important as anywhere. Manchester has always been a leader, it's always been a city that's up for it, not only culturally but in football, in television – my dear friend Tony Warren, who is an honorary graduate of this University, devised Coronation Street.
"We've had fantastic playwrights from Manchester; we've had great bands from Manchester; great painters from Manchester; and our cultural history is embedded in the very stones of the city.
"The Writing School at Manchester Met, speaking as a poet, is completely committed to finding new voices in poetry and I think we are probably the leading University now for poets taking MAs, going onto publish, being known as performers. I suppose I feel it to be a family and a very nurturing place for poets to come as well as a cool, vibrant city to live in."
And it is Manchester that is increasingly becoming an important centre for poetry. A large part of that is The Writing School which Duffy has been at the heart of for its 20-year history – and something she takes immense pride in.
"We've got fantastic poets here – Adam O'Riordan, Andrew McMillan, Helen (Mort). I think particularly with Andrew and Helen they are a much younger generation, so they are the future of poetry. And then our students are coming through, someone like Mark Pajak or Clare Shaw. It's a place where poetry is not only taken very seriously but is a way of life. It's what everyone is vocational about. So I feel very comfortable working here.
A poem can say in so few words something so precious and startling that it almost enters us.
"Poetry must always change and will always change, but there are so many fantastic poets in their early 30s – maybe younger – that are doing wonderful things. That's what poetry must do, it must change. The young poets must come through and working here helps that.
"I think when one first encounters new poets certainly what I'm looking for is a language that is living on the page, that is in some way different and fresh and surprising, so that one might almost feel envious of it or that this poet really needs to be read."
As well as delivering the future poets, the University is also going to deliver a new home for poetry in the city.
Duffy explained: "A great future project coming as soon as 2020 is the Poetry Library that we are building. This will be a testament in stone to what The Writing School at Manchester Met has been about for the last 20 years. It will be a brand new building and will offer poetry to members of the public, people who want to write, to students and it has been envisioned by all my colleagues here, all the poets here, blessed by the Vice- Chancellor, and I think that is going to be a fantastic legacy for the city."